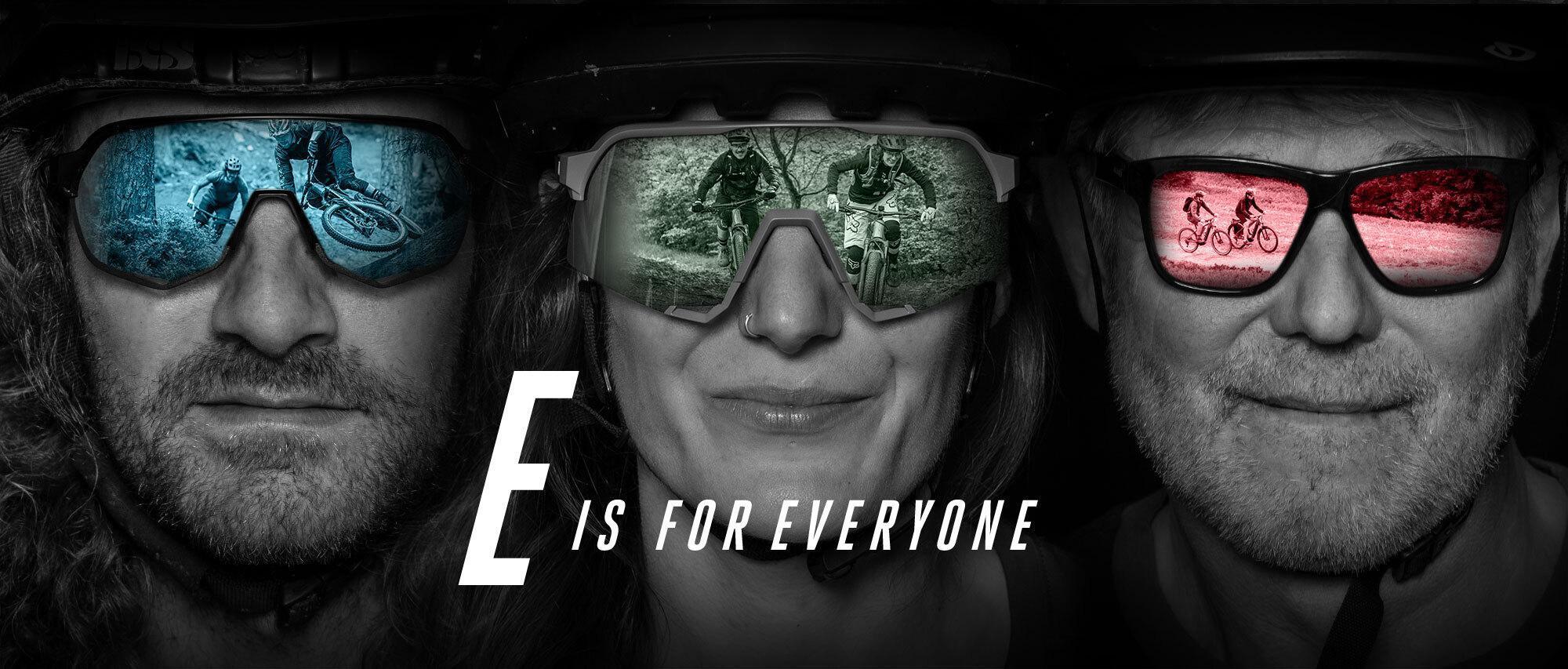 It's a match! The new Bosch Performance CX 2020 e-drive is ideally suited to our FOCUS SQUARED EXPERIENCE – and the technical and aesthetic standards we set for our e-bikes. We want to offer an agile and powerful e-bike experience in a slender, elegant design. An enjoyable riding experience is always our goal – this is naturally something our customers demand and it drives us to continually develop new and even better bikes. We have listened carefully to what you want and have four new models to answer all your prayers. Whether you're looking for a trail thrasher, an all-inclusive carefree equipment package or a relaxed trekking tour – we have the right e-bike for you.
&nbsp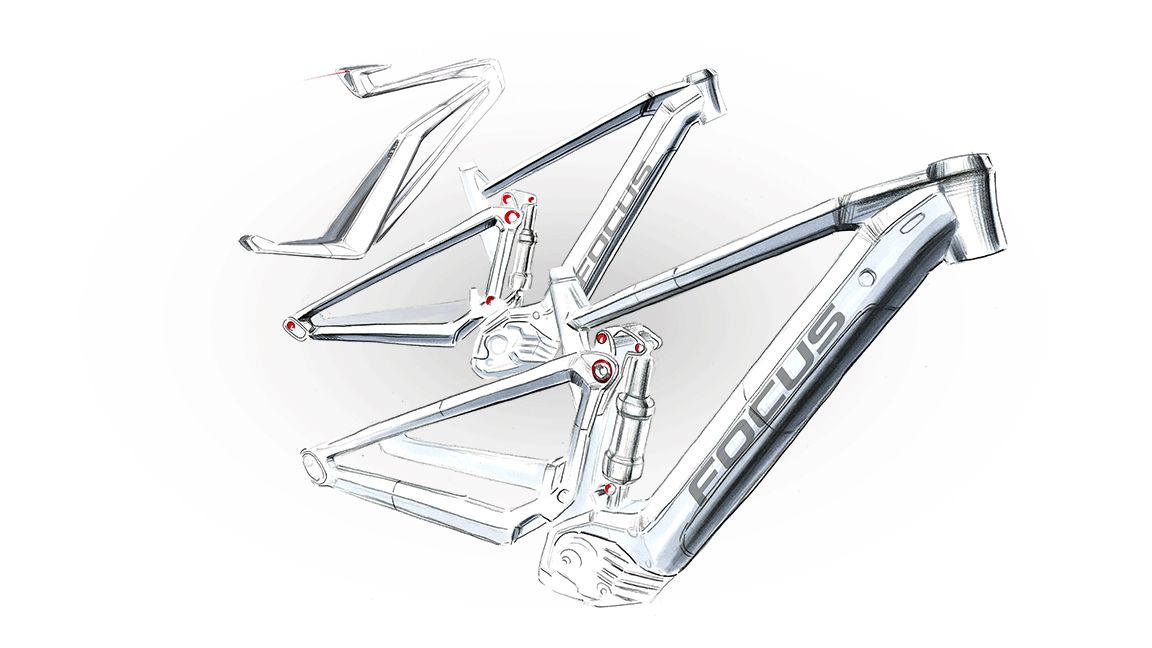 &nbsp
&nbsp
Our design standards are high – as always. It is no empty boast to say that today, we make the most beautiful bikes with Bosch e-drives. Our FOCUS 25 design survey was also a source of inspiration, of course. Form and function go hand in hand. Bosch is ready for us, and we are ready for Bosch. The SQUARED range is growing.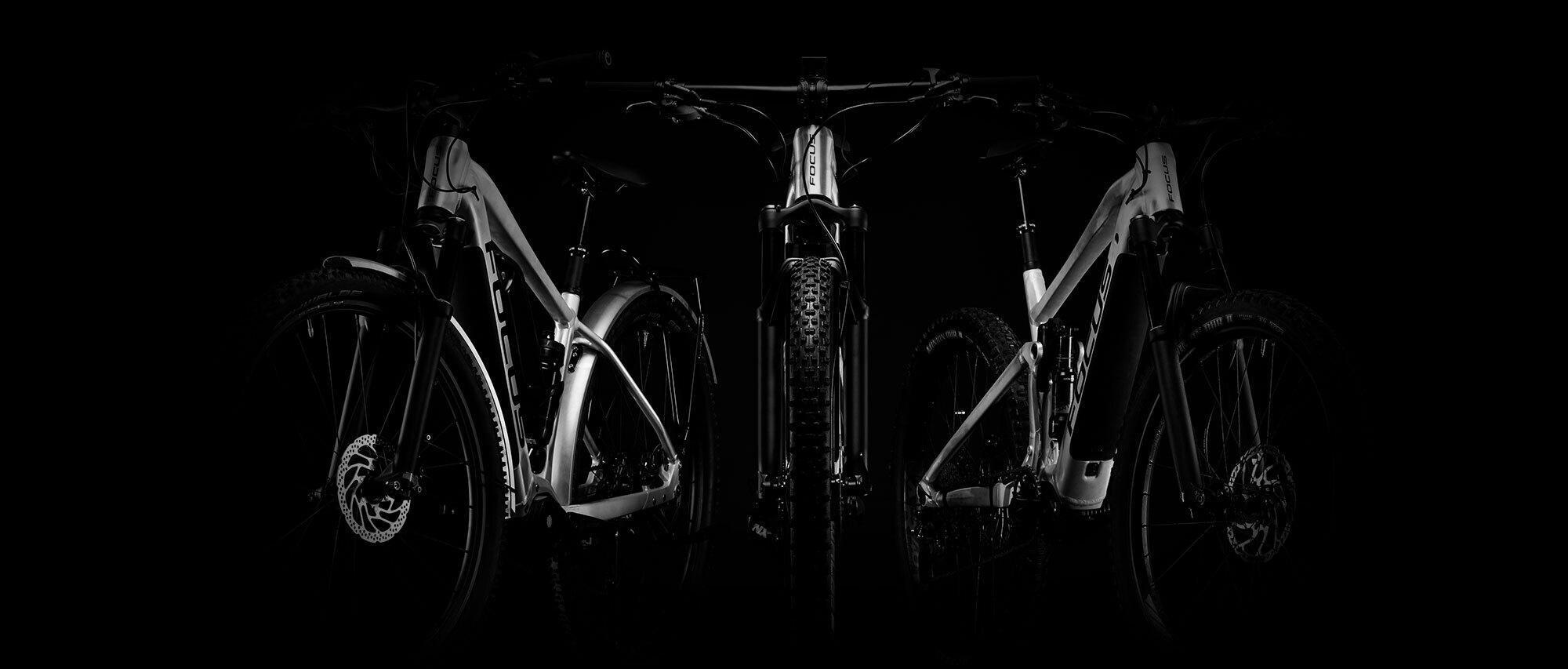 POWER AND RANGE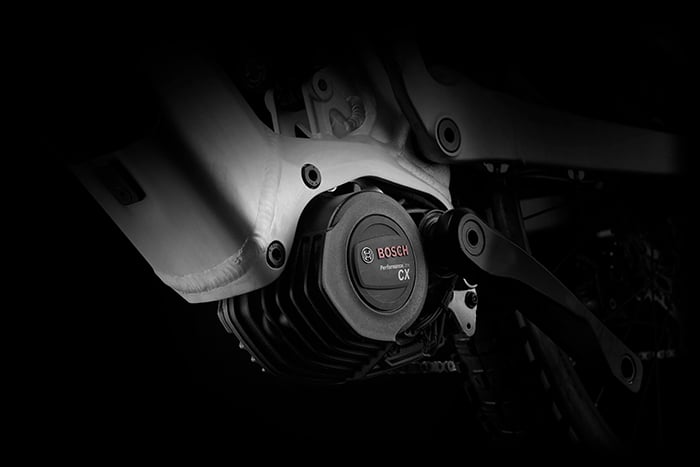 The new Bosch Performance CX 2020 e-drive (4th gen) provides a powerful 85 Nm motor and offers a long range thanks to its 625 Wh battery capacity. The battery is beautifully integrated into the down tube and the capacity can even be expanded to 1125 Wh on our JARIFA² and AVENTURA² using a second, external battery. Another characteristic is that, on models with 500 Wh you are able to use a storage box in the down tube above the battery. This gives every rider the range they need.
REMOVABLE BATTERY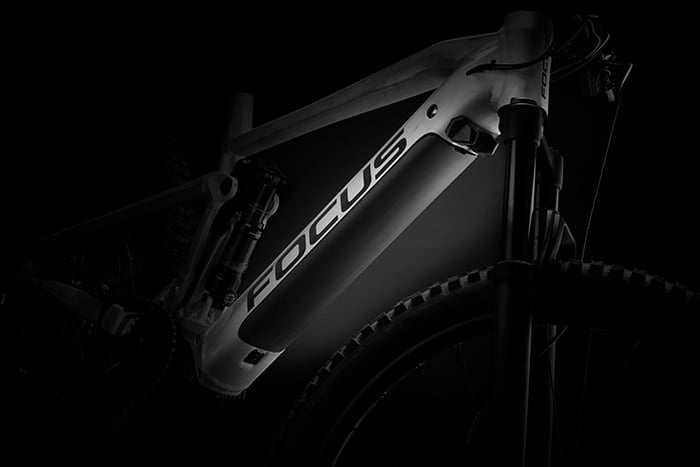 The new and more compact Bosch Performance CX 2020 e-drive (4th gen) has allowed us to combine two crucial e-bike features. Our new e-bikes offer an agile and perfectly balanced ride on trails, while still having removable batteries. We are therefore combining a fun riding experience and safety on any surface with the practicality of being able to remove your battery to charge indoors.
EMTB MODE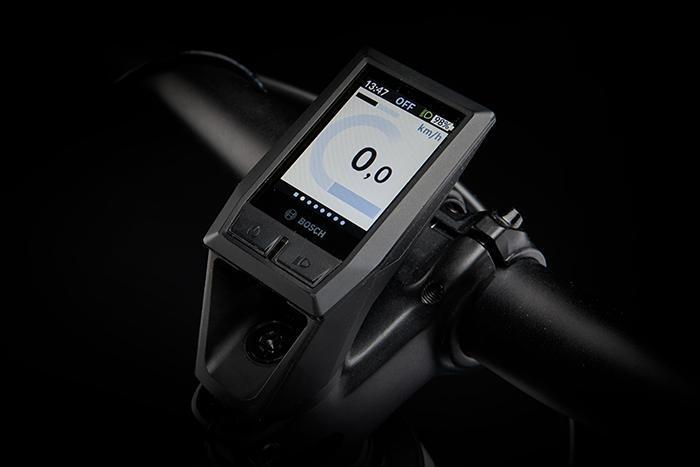 There are four levels of varying support available: Eco, Tour, eMTB and Turbo. The eMTB mode takes on a special function here: it switches between Tour and Turbo. With a maximum torque of 85 Nm, the motor dynamically supports the rider at anything from 120% to 300%. The graduated motor support automatically adapts to the rider's riding style depending on the pressure being exerted on the pedals. This improves off-road riding and makes steep ascents easier, in particular.
&nbsp
SUITABLE FOR ALL, BUT VERY PRECISELY OPTIMISED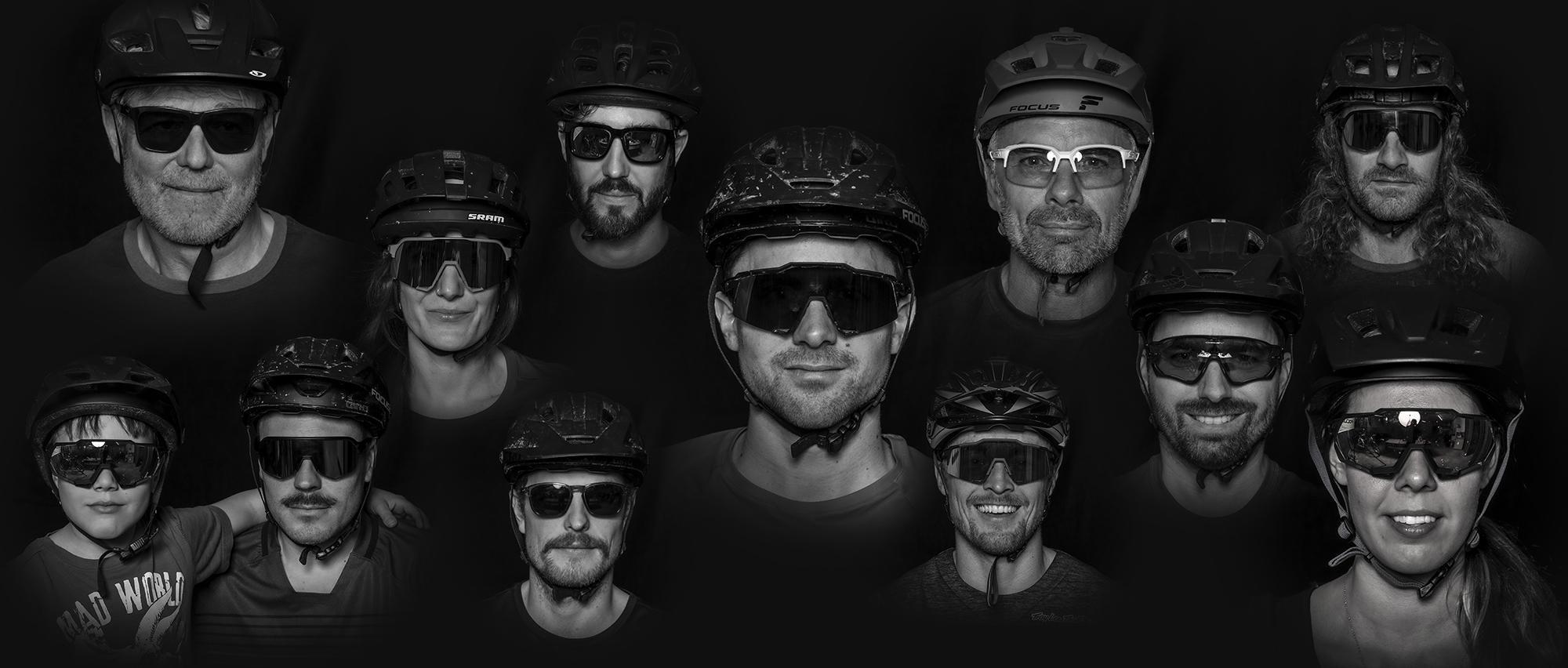 &nbsp
"We have listened very carefully to our customers and offer bikes that are suitable for any purpose."
BEN GEROLD, HEAD OF ENGINEERING
&nbsp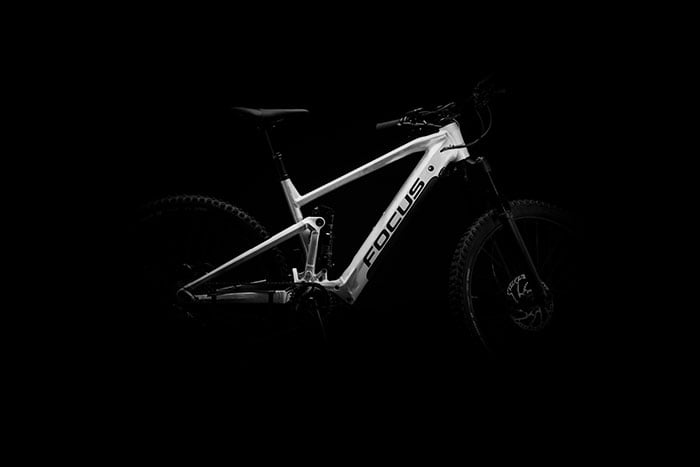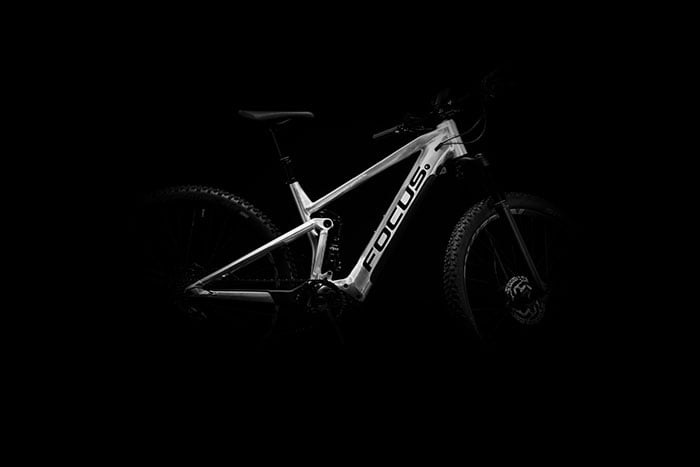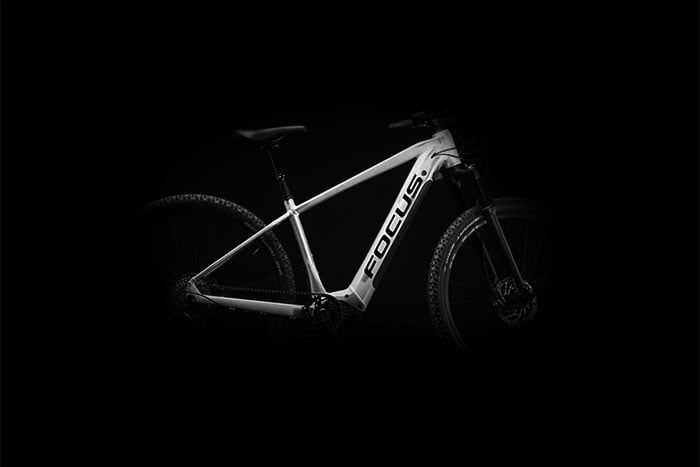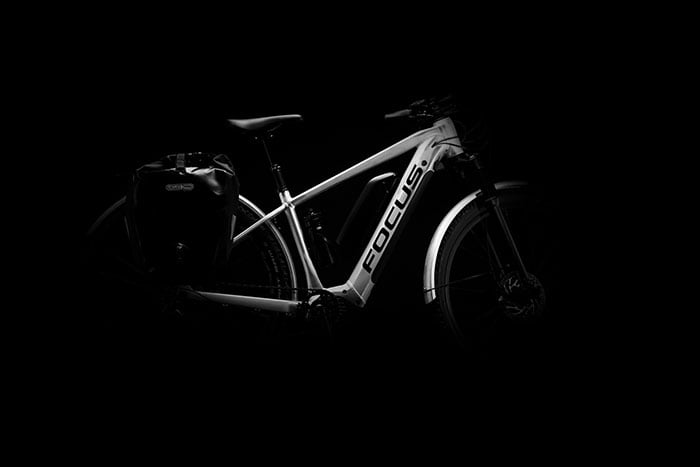 &nbsp
&nbsp
Cycling should, first and foremost, spark joy. That's why we at FOCUS always concentrate on an enjoyable riding experience, even when it comes to the shortest journeys. Of course, different people find different things enjoyable. With four bikes, we've got all our bases covered. While our 150 mm full-suspension JAM² is always clearly focused on the trail, our 130 mm full-suspension THRON² strikes a balance between trail and tour biking. With the option of completely kitting out the bike, the THRON² becomes a regular Swiss Army knife. On the other hand, the JARIFA² and AVENTURA² hardtail e-bikes have received a big upgrade in terms of comfort, but are still ready to head off the beaten track for adventure at a moment's notice. These specific requirements are reflected in the geometries of the bikes.
F.O.L.D. UPDATE
F.O.L.D. stands for FOCUS Optimised Linkage Design. Optimising means also adapting to new challenges, of course, which is why we have updated our patented kinematics. The chainstay is now more rigid, without forgoing the proven advantages of F.O.L.D.. How does that work? The guidelink now moves in the mainlink and it now consists of two components, screwed together. It is more rigid, because the forces exerted are now channelled directly through the link and no longer via the bridge. The integration of the guidelink also means that the linkage is more streamlined. The damper is now on the head, guaranteeing perfect kinematics and low weight with the new design.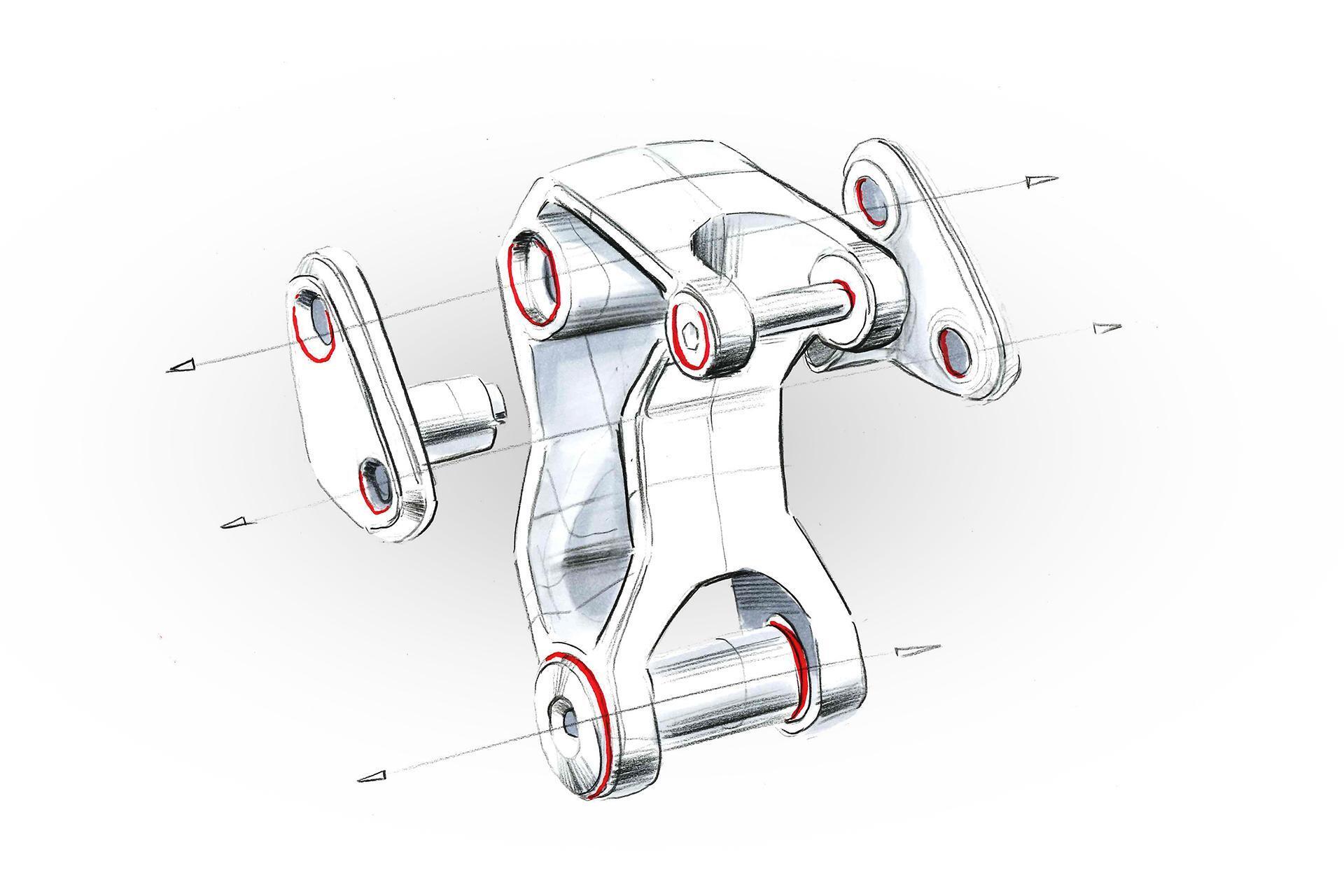 MORE INCLUSIVE
With clear differentiation between bike sizes, we are now able to cover a wider range of riders. Riders big and small can find their FOCUS bike. And of course, we offer the same riding characteristics across all bike sizes.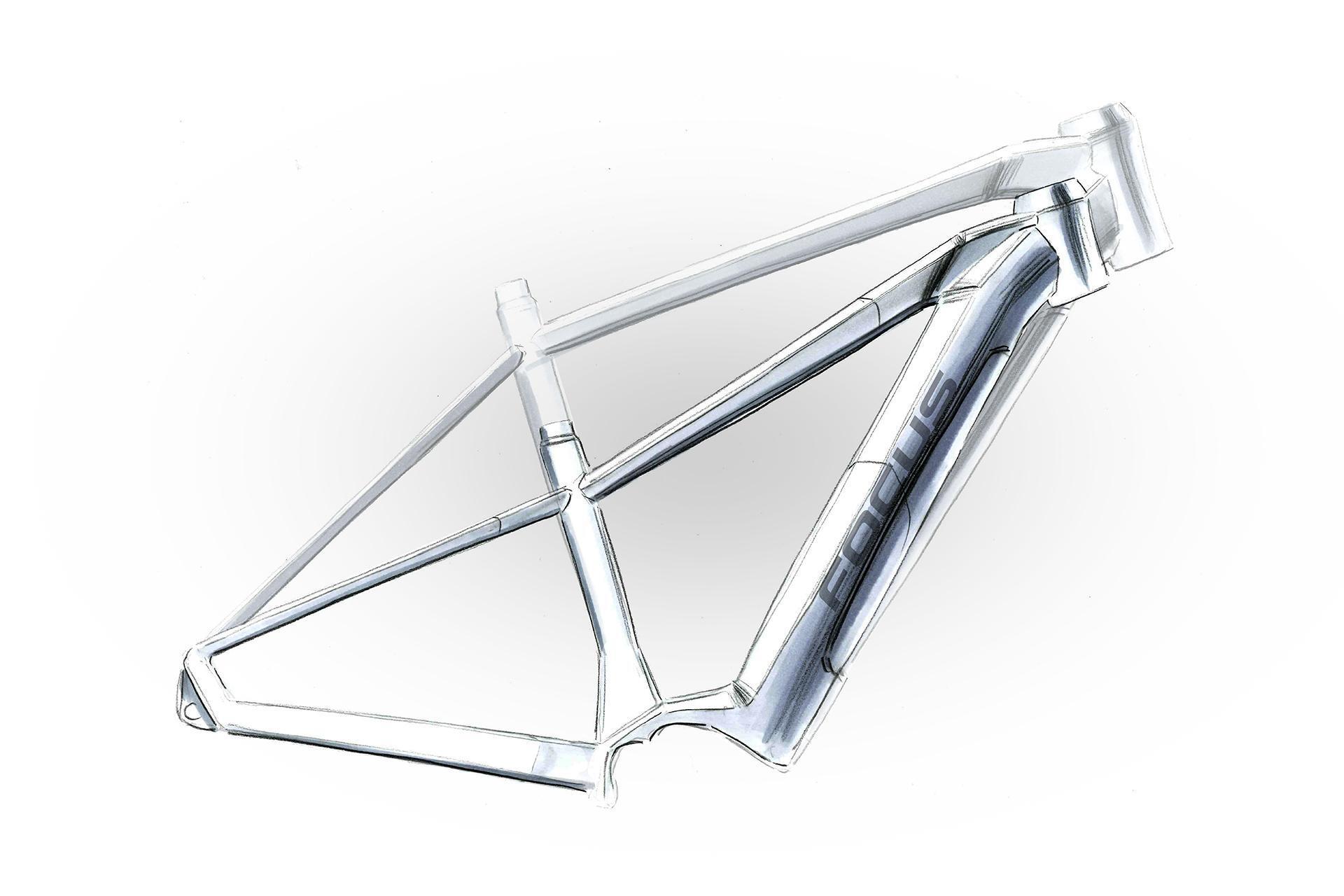 All about the new JAM²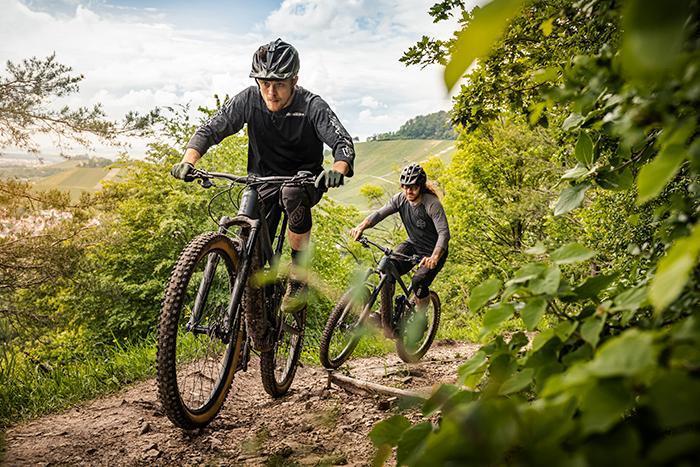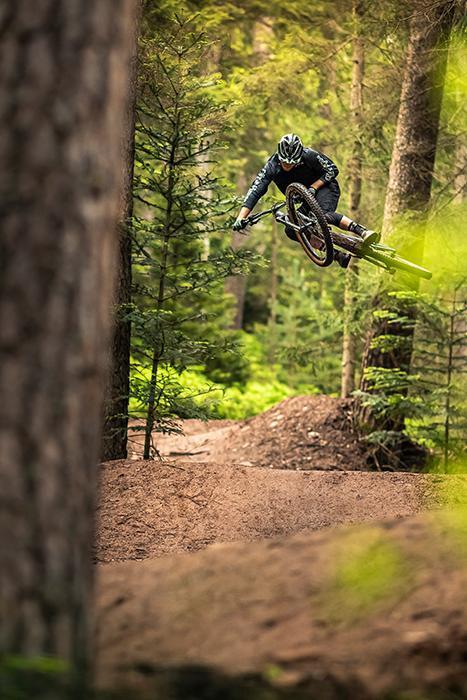 CONQUERS NEW MOUNTAINS
&nbsp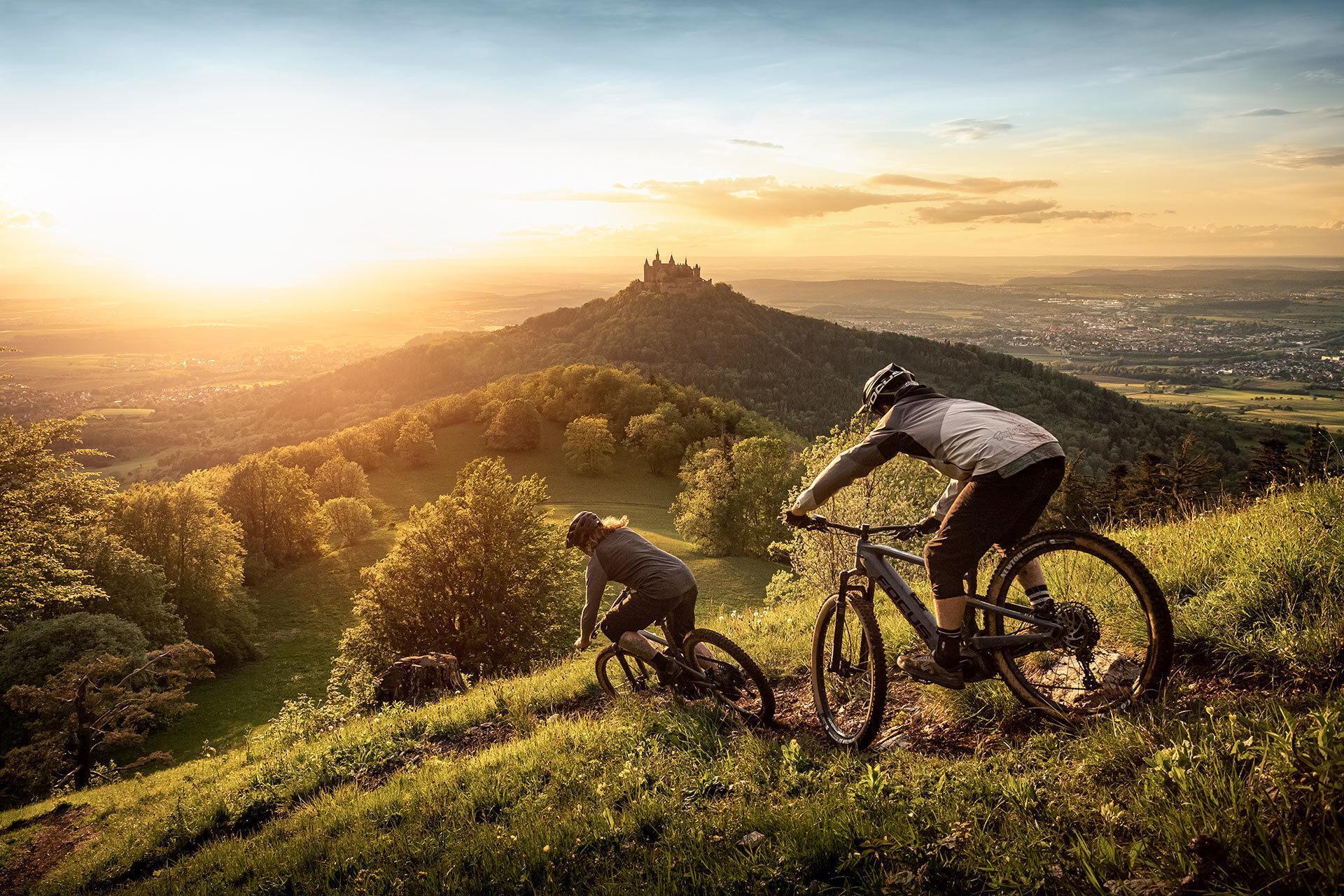 AGGRESSIVE TRAIL GEOMETRY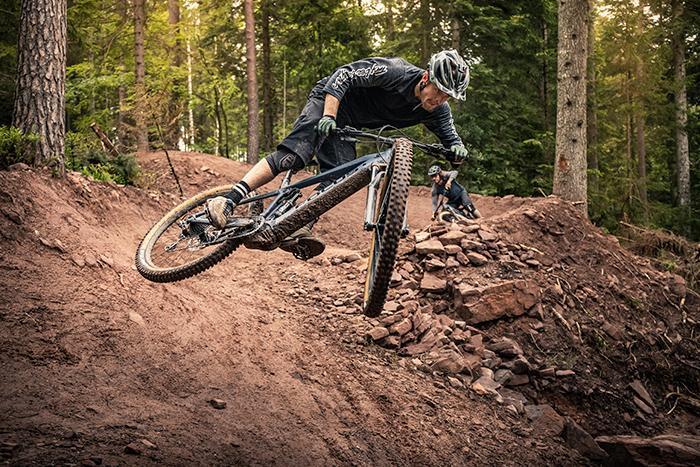 The downhill-oriented geometry of the new JAM² is more dedicated than ever to having fun on the trail. The chainstay is 30 mm shorter, imparting greater manoeuvrability, while the 1°-shallower steering angle and 20 mm-longer reach ensure smoother riding over rough terrain. And it is all supported with a 625 Wh battery capacity. Even more aggressive, even more agile, even more trails.
150 MM F.O.L.D. TRAVEL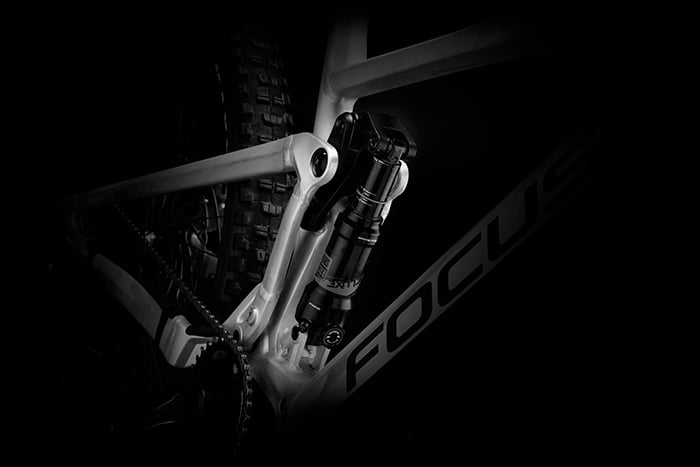 The 150 mm front and rear suspension travel of the JAM² is sure to put a big grin on your face. 150 mm suspension travel that feels like more. You'll notice the difference. Thanks to the two-phase kinematics, F.O.L.D. is extremely sensitive while still being sufficiently progressive and retaining sufficient reserves. Naturally, our F.O.L.D. chassis has been specially designed to meet the increased demands placed on eMTBs. We recommend 30% sag.
ALL WHEEL SIZES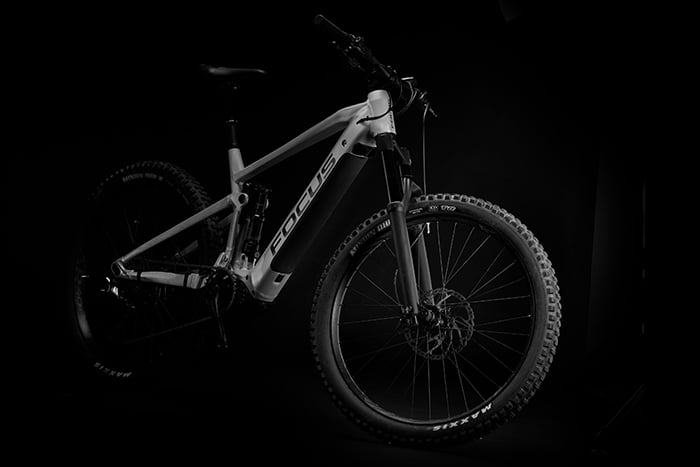 You can choose between two different wheel sizes based on your riding style and preference. Our wider 27+ tyres (model designation: "Plus") offer plenty of grip and control, while the JAM² with 29" wheels ("Nine") affords an impressively precise ride and will appeal to fast riders in particular. But even if you pick one or the other now, you always have the option to switch to a different wheel size later thanks to the FOCUS Flip Chip (see grey box).
&nbsp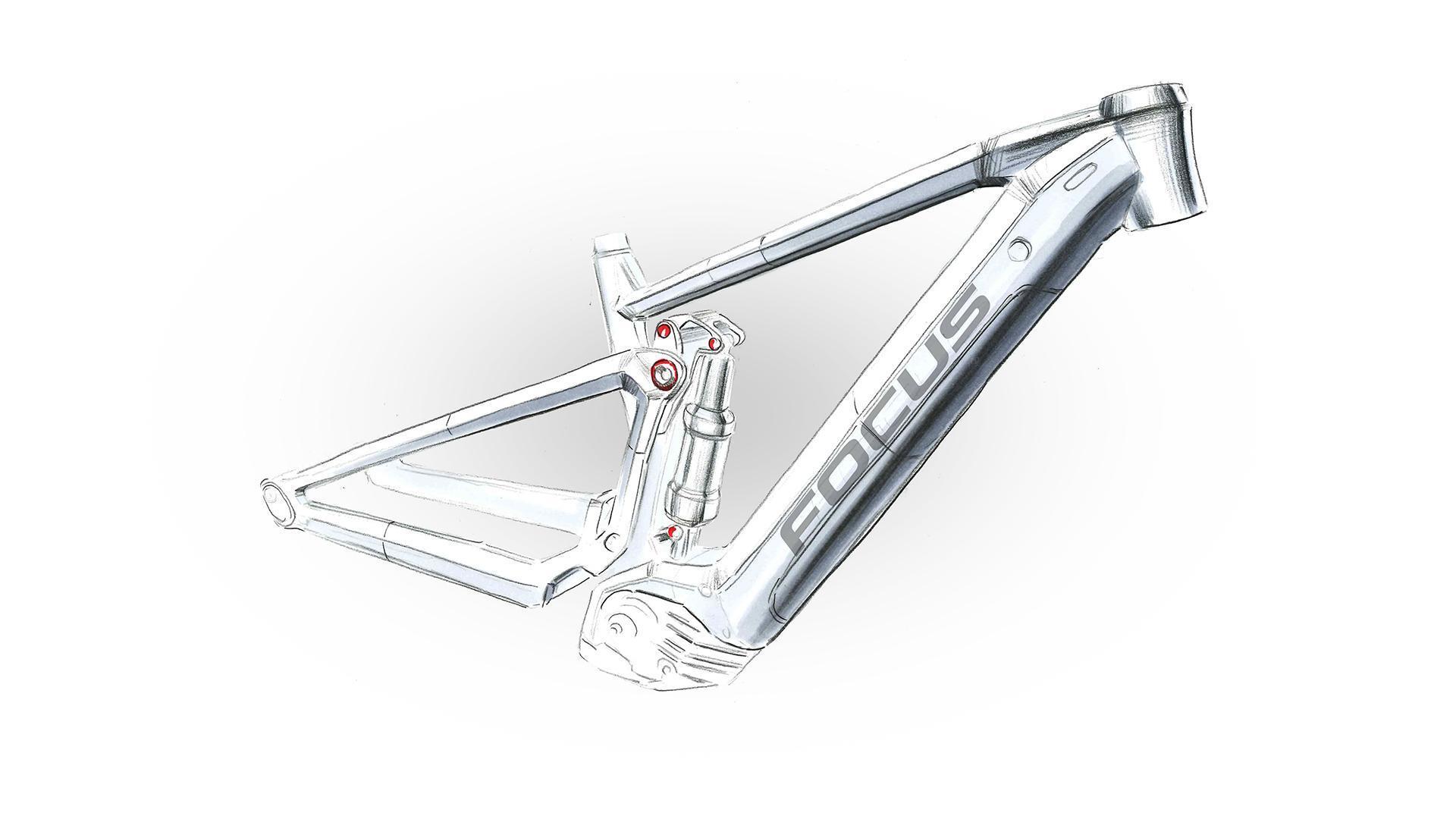 OPTION OF CHANGING WHEEL SIZE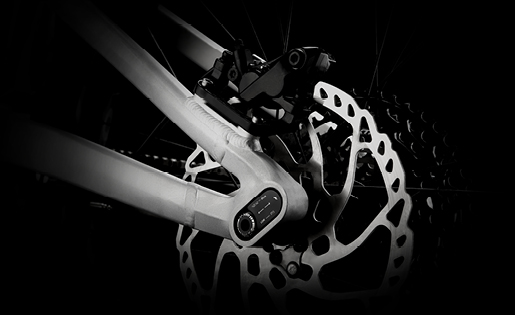 Thanks to the FOCUS FLIP CHIP you are not restricted to one wheel size when buying our JAM² E-MTB. There are two possible axle positions at the dropout: the "low position" is optimised for 27+ tyres, and the "high position" is ideally suited for 29" wheels. Your e-MTB's suspension fork can accommodate both wheel dimensions, so you can ride your bike with 29", 27+ or as a Drifter (29"/27+). The post mount adapter for the conversion is of course included as part of the purchase.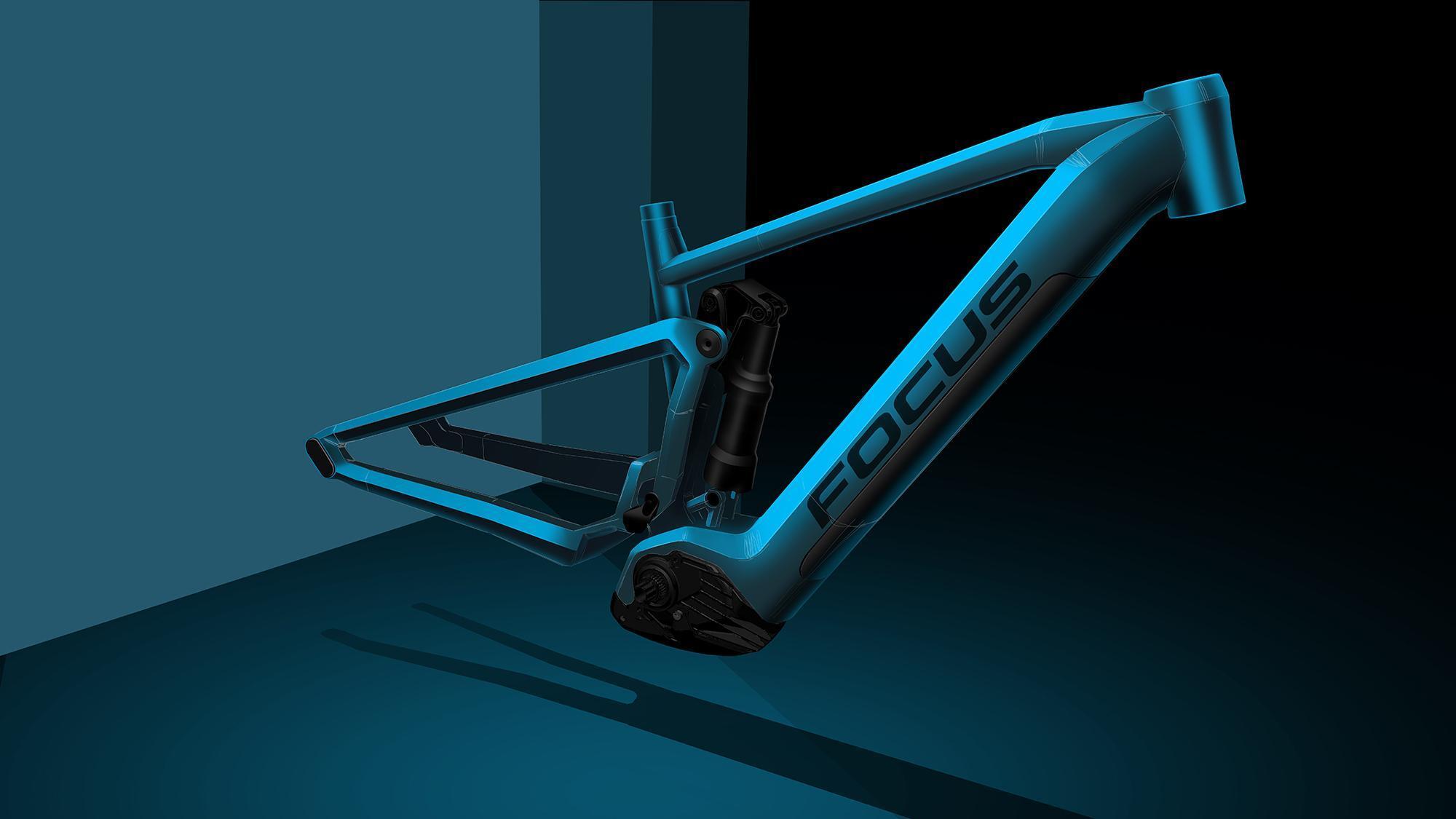 All THRON² information
MORE THAN JUST TRAILS
&nbsp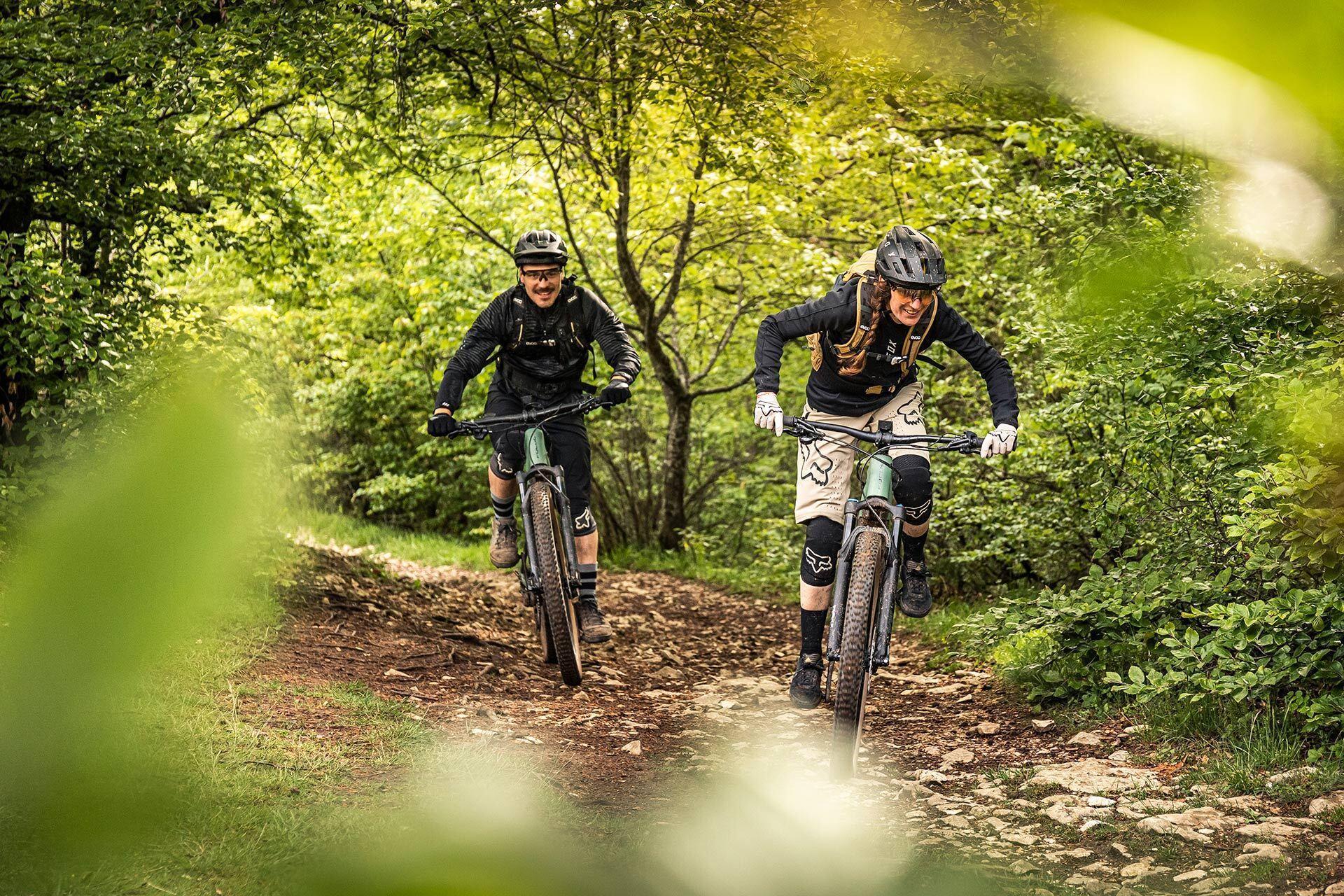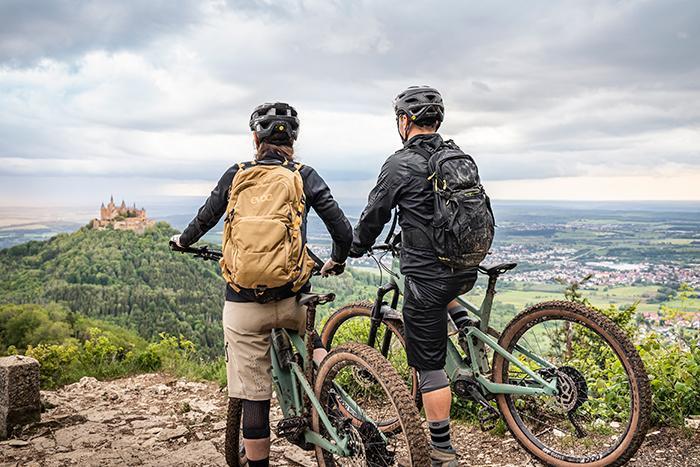 BALANCED TRAIL GEOMETRY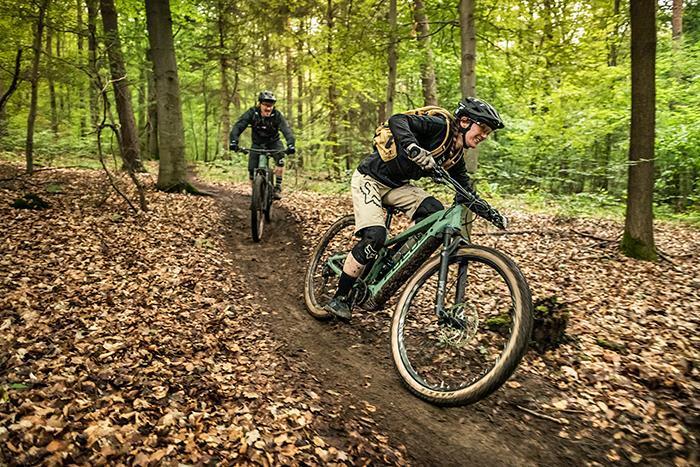 The THRON² offers a balanced, sporty ride – more than capable of taking on any trail, but also a bit more comfortable. In contrast to the more aggressive JAM² , the THRON² has a more upright sitting position without extreme stack (a little higher) or reach (a little shorter). The chainstays offer enough space to install high-quality alloy mudguards. Riding fun is not missed out – the THRON² is right at home on the trail.
130 MM F.O.L.D. TRAVEL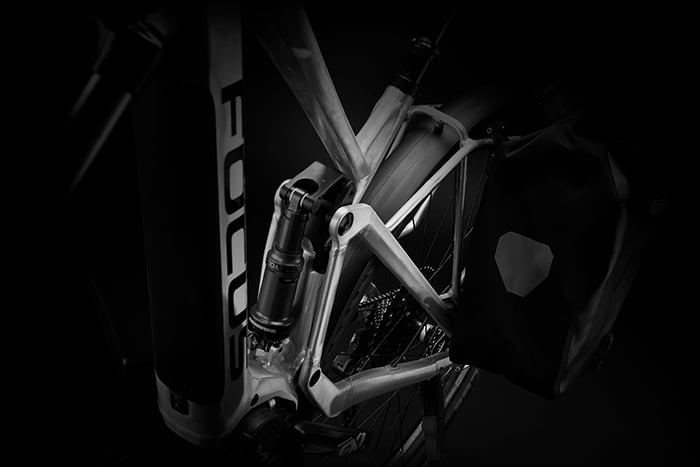 With 130 mm front and rear suspension travel, the THRON² is well equipped for long trail tours. Thanks to the patented F.O.L.D. kinematics, the full-suspension trail bike's rear triangle works efficiently every time you push the pedals, while the sensitive suspension absorbs all bumps, allowing you to descent safely and nimbly without losing any power uphill. Naturally, our F.O.L.D. kinematics are optimised for the particular demands of e-MTBs.
VERSATILE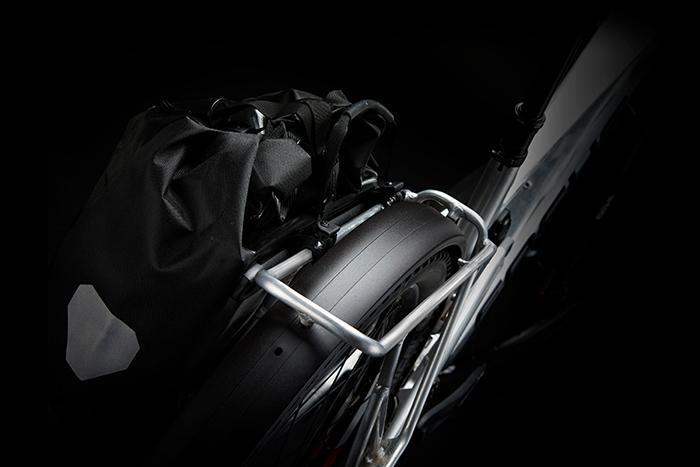 The THRON² is capable of anything from bikepacking and commuting to trail tours through alpine terrain. It's an all-rounder that will get you anywhere you need to go, supported by the powerful Bosch Performance CX e-drive. The key figures: Effective 130 mm F.O.L.D. suspension travel, 29" wheels with modern 2.6" tyres and 625 Wh battery capacity. Our fully equipped EQP models feel like SUVs (see grey box). You decide where the ride goes.
&nbsp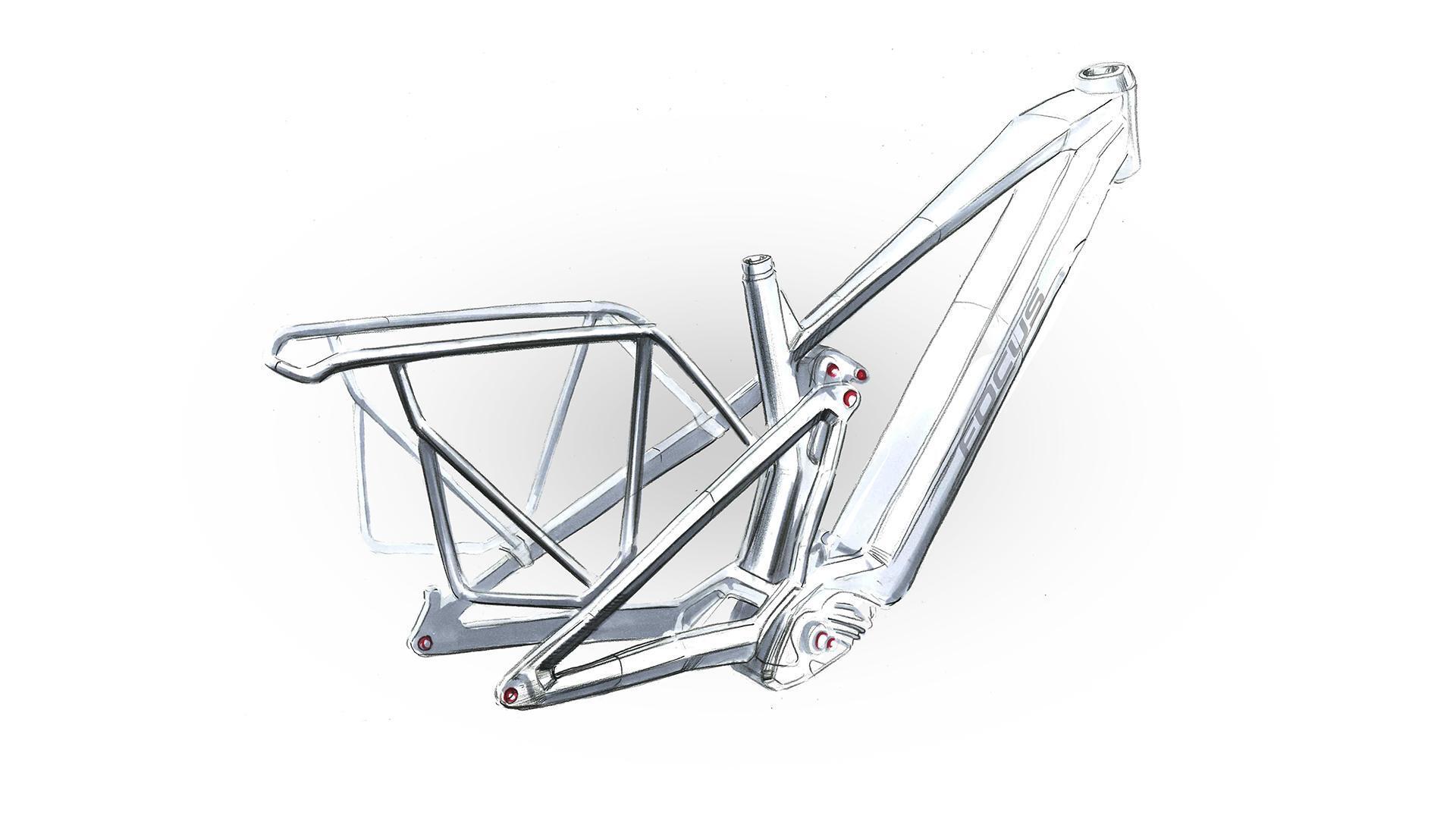 FULLY EQUIPPED
EQP models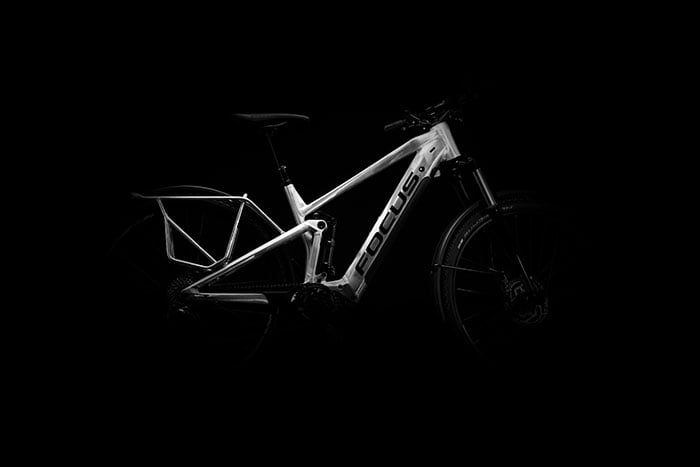 Our EQP models are equipped with pannier rack, mudguards, a stand and a light. The pannier rack has a 16 kg loading capacity, meaning you are prepared for any eventuality and can feel confident matching the bike up to any challenge. Trail riding today, bikepacking tomorrow. All of our non-fully equipped models have mounting options, and they can all be retrofitted with certain changes* ** to the build.
*fender set front only suitable for forks with respective mounting points (SR Suntour)**fender sets only suitable for tyres up to 57 mm width (measured)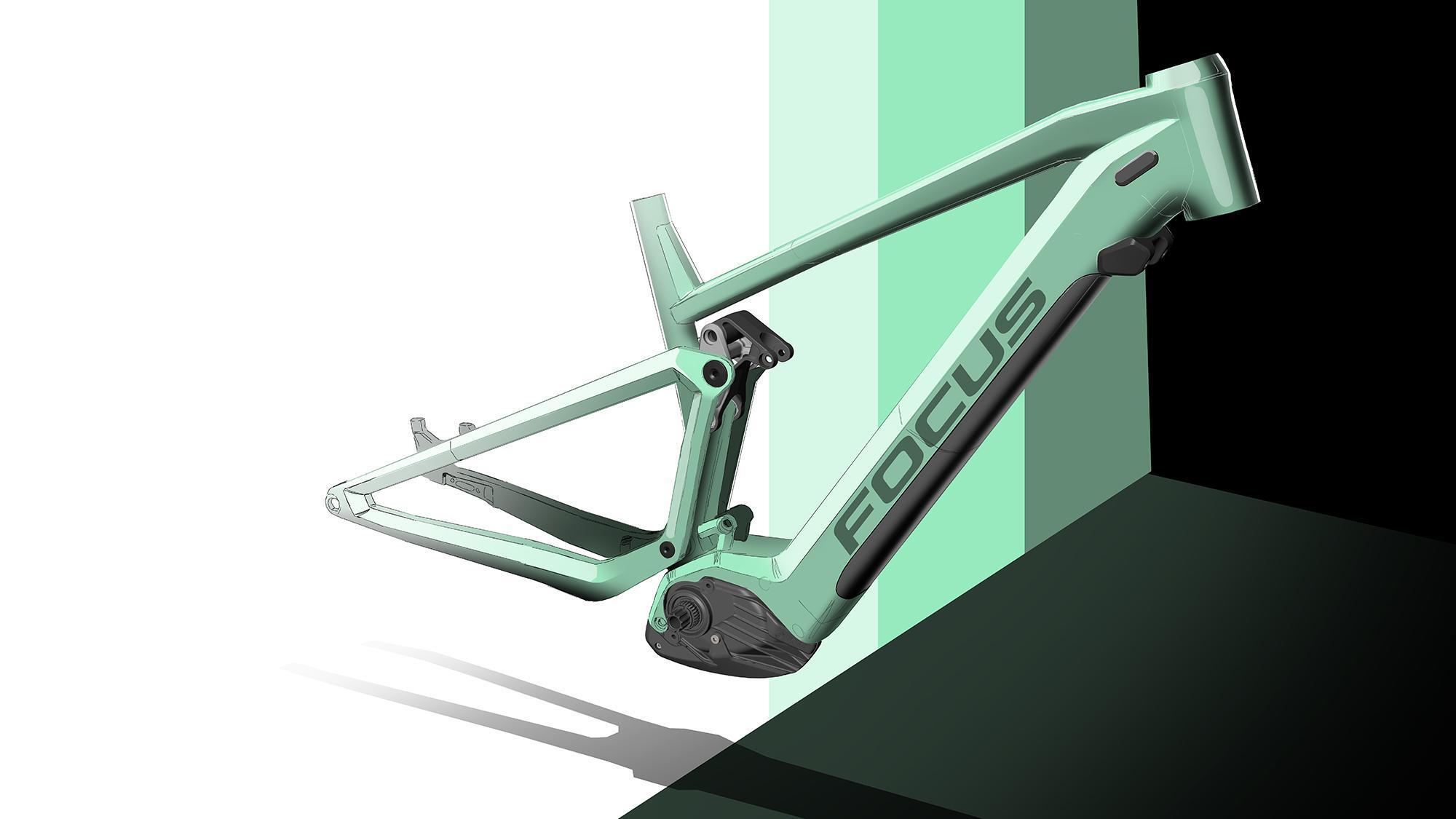 AN ESCAPE FROM THE DAILY GRIND

AWAKENS YOUR INNER EXPLORER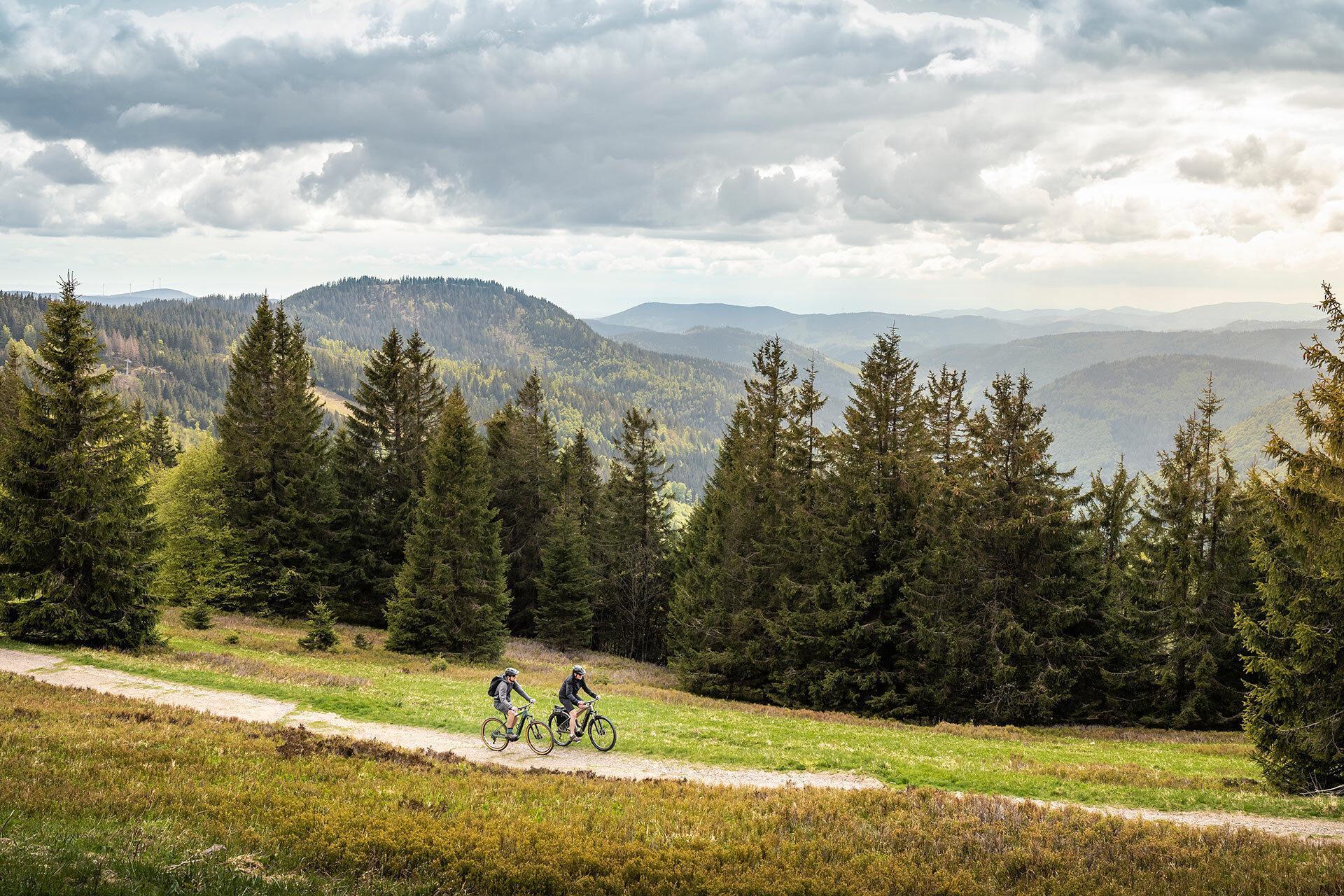 SPORTY AND COMFORTABLE
The journey to your destination should be fun. That is why our JARIFA² has been designed with mountain bike geometry, making it ideal for all types of terrain. A shorter chainstay makes the JARIFA² agile, while a 100 mm suspension fork and 29" wheels with MTB tyres ensure a safe ride. The 35° stem ensures a sitting position that is both comfortably upright and ergonomic. The AVENTURA² is even more comfortable thanks to the even more swept-back handlebars that come as standard. We are also bearing smaller riders in mind, which is why the JARIFA² is also available in S and XS sizes with 27.5" wheels.
FURTHER AND MORE UNIVERSAL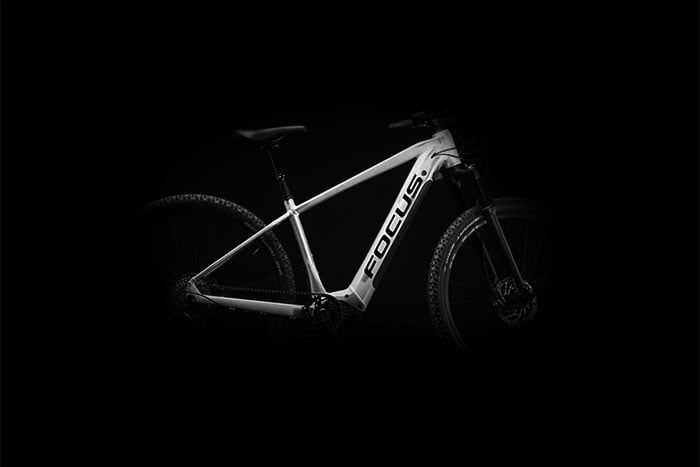 The new JARIFA² and AVENTURA² are our response to the high demands you make in terms of everyday usefulness and range. The battery capacity of the Bosch drive can be increased to 1125 Wh with an additional battery (see grey box). While the JARIFA² range is designed for easy and long-range mountain bike adventures, the fully equipped AVENTURA² models are focused on day-to-day transport. The Bosch smartphone hub allows you to navigate flawlessly and remain directly connected to the digital world.
FULLY EQUIPPED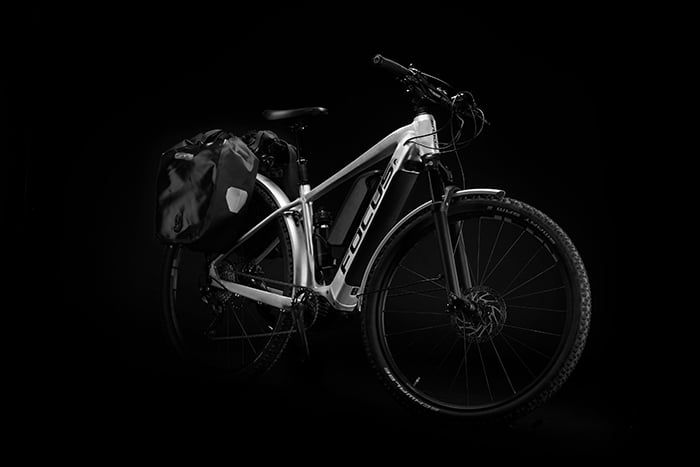 Regardless of whether your journey will last several days or you simply need to transport a lot of belongings: with its robust carrier (25 kg load), high-quality aluminium mudguards, stand and bright headlights, the AVENTURA² is equally well prepared for bikepacking trips and transporting heavy loads across the city. The carrier is designed so that the bags won't damage the paintwork. The JARIFA² can be equipped with all of these attachments, and can easily be retrofitted.
&nbsp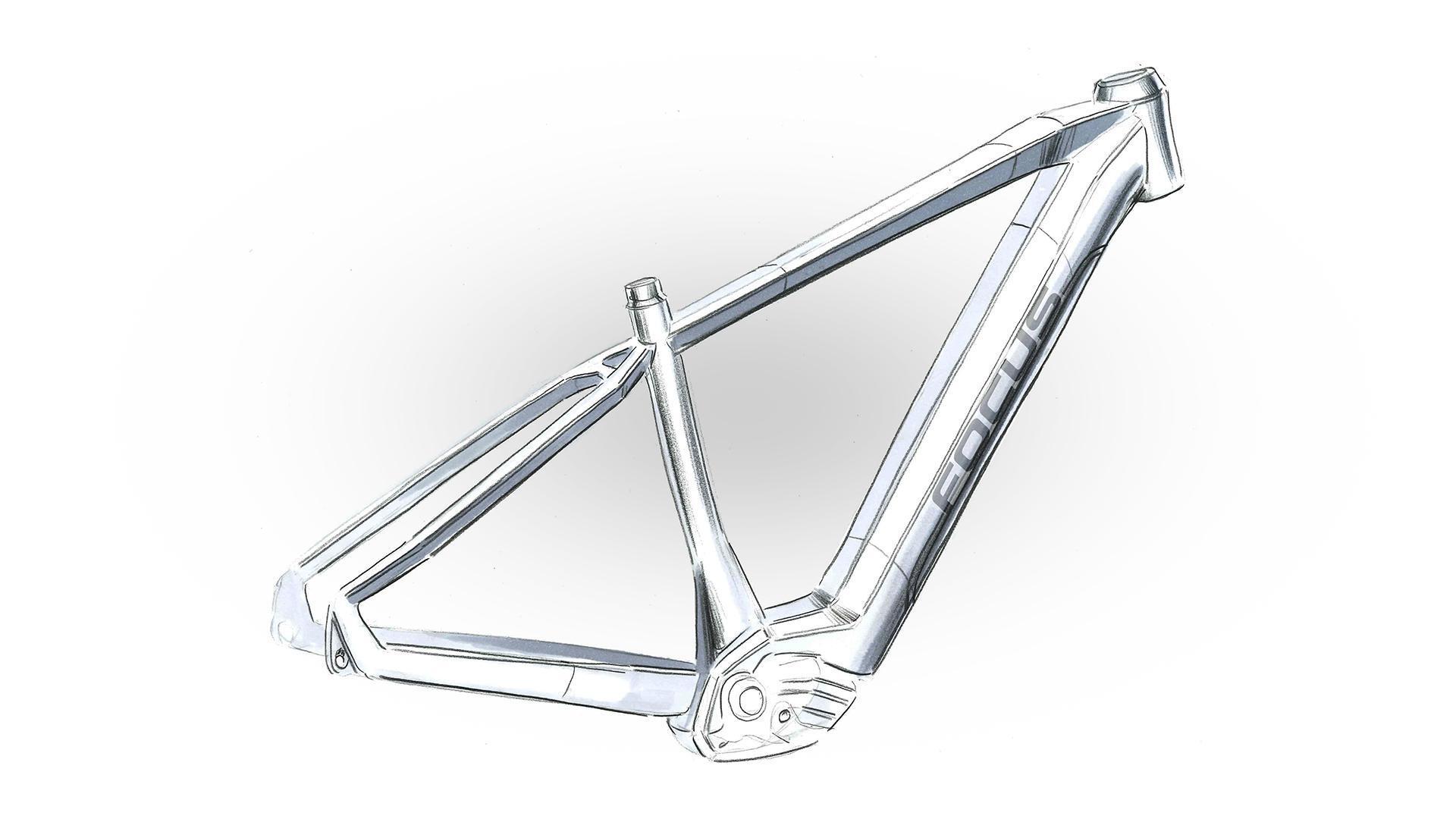 MAXIMUM RANGE
1125 Wh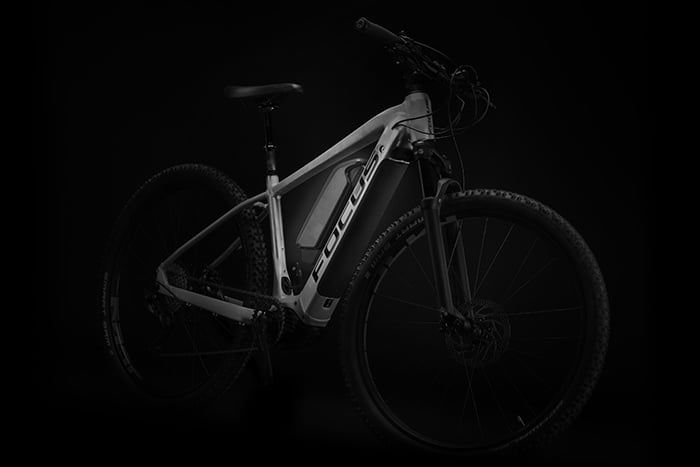 With Bosch Performance CX e-drives, the JARIFA² and AVENTURA² offer you a battery capacity of up to 1125 Wh. The integrated, removable 625 Wh battery can have its range extended with a second, external 500 Wh battery. Your dealer can easily carry out this upgrade, giving you access to the largest battery capacity on the market.