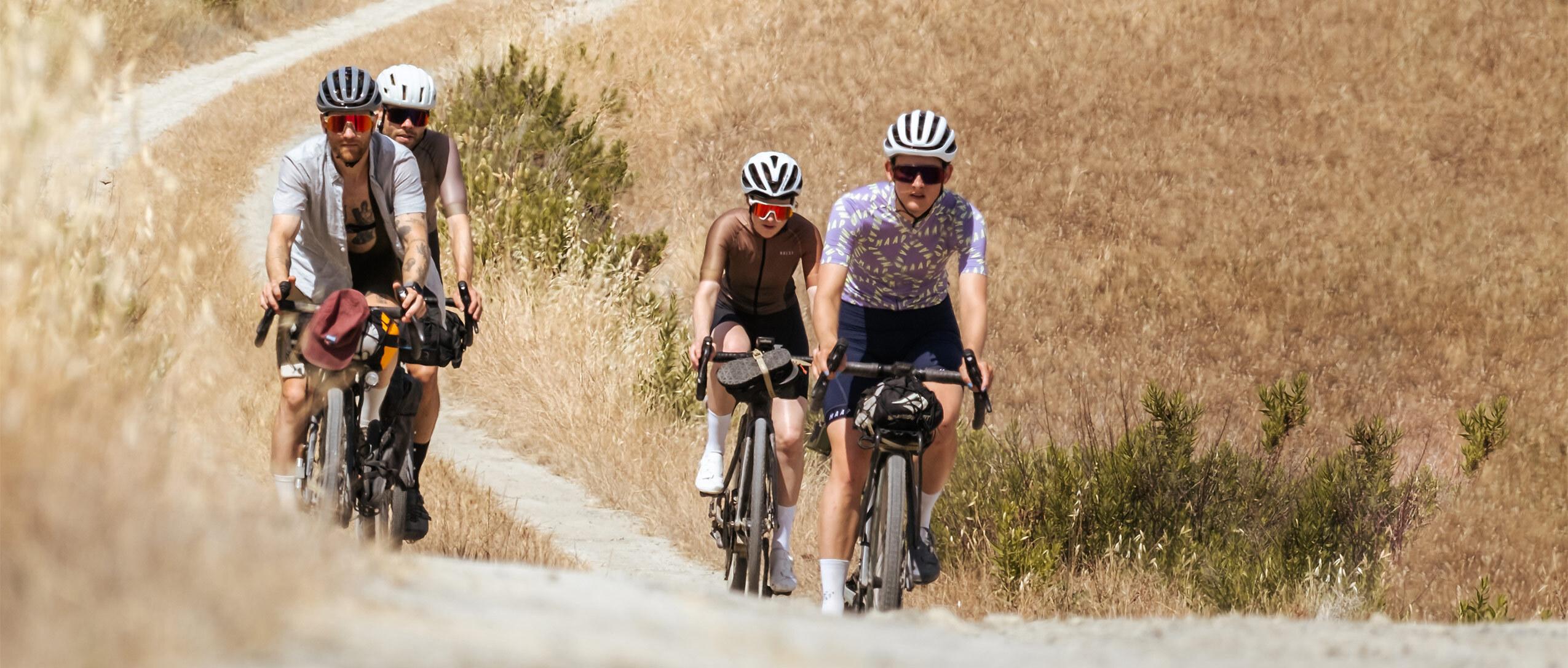 The Ride Beyond Crew in Tuscany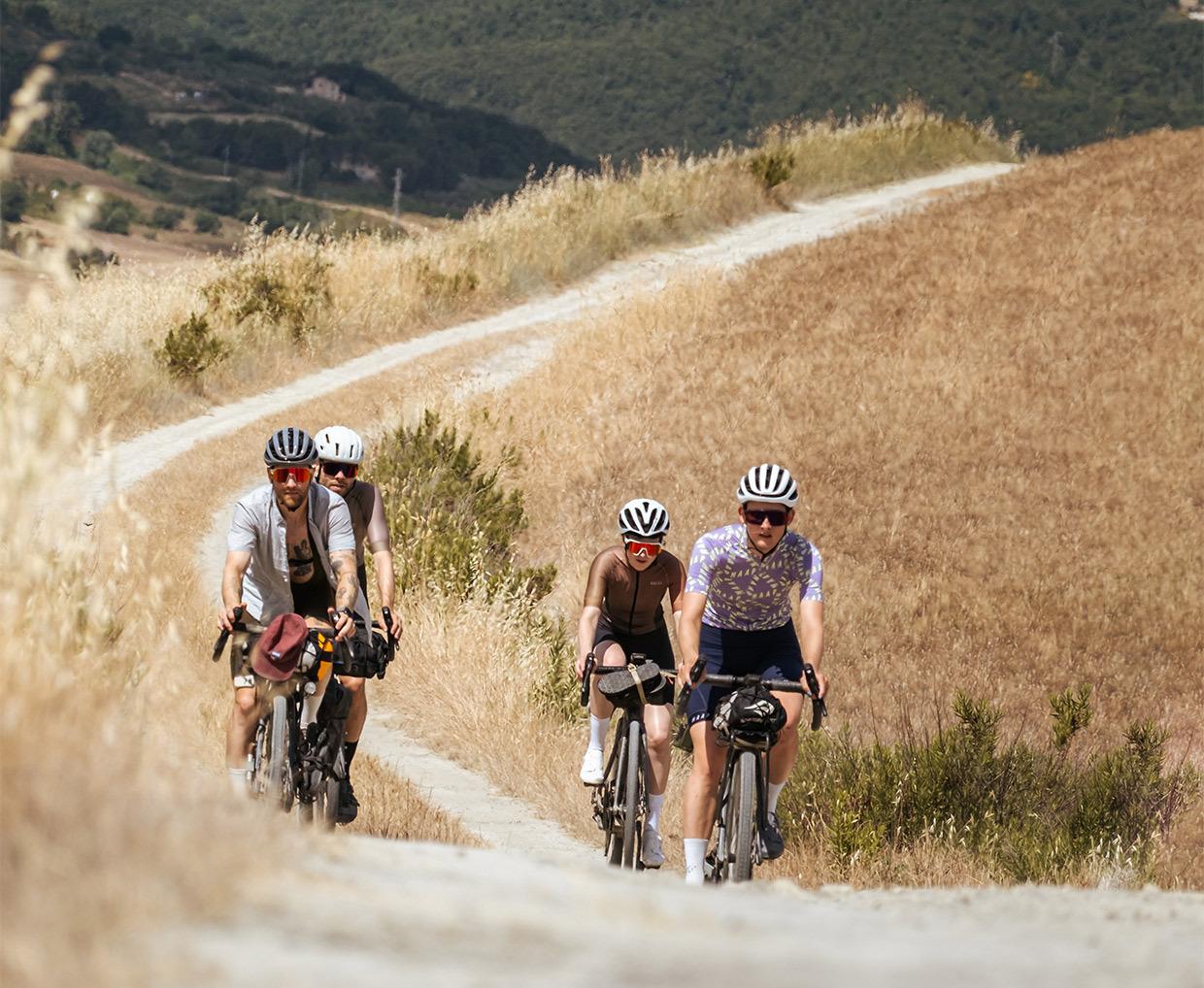 The Ride Beyond Crew in Tuscany
Disclaimer: The rivet on top of the ATLAS fork is NOT intended for mounting a front rack. The rivet is designed for mounting a light and is not meant to withstand higher loads as with a front rack. Please don't use it for that purpose.
Covid restricted the Ride Beyond Crew to their backyards. Now that life is opening up again, they wanted to explore and enjoy life with long rides in another country. Italy was calling...
Words by Lion & pictures by Mike
---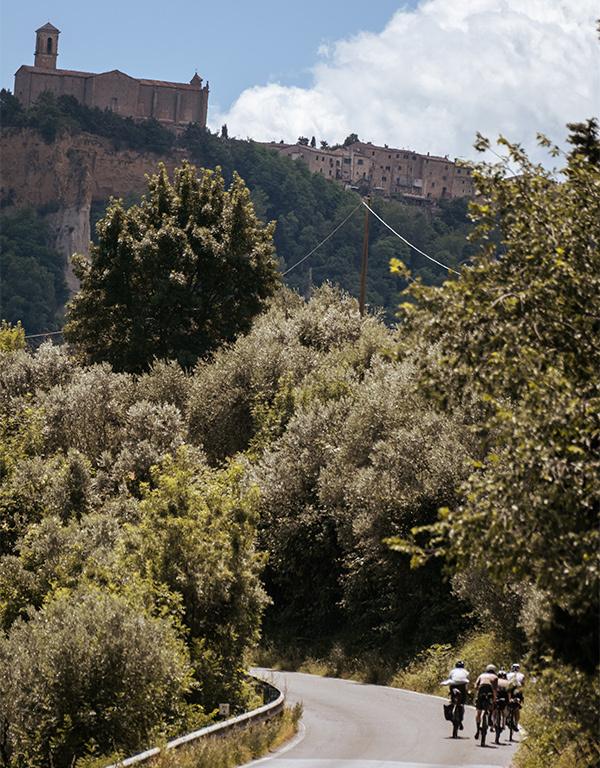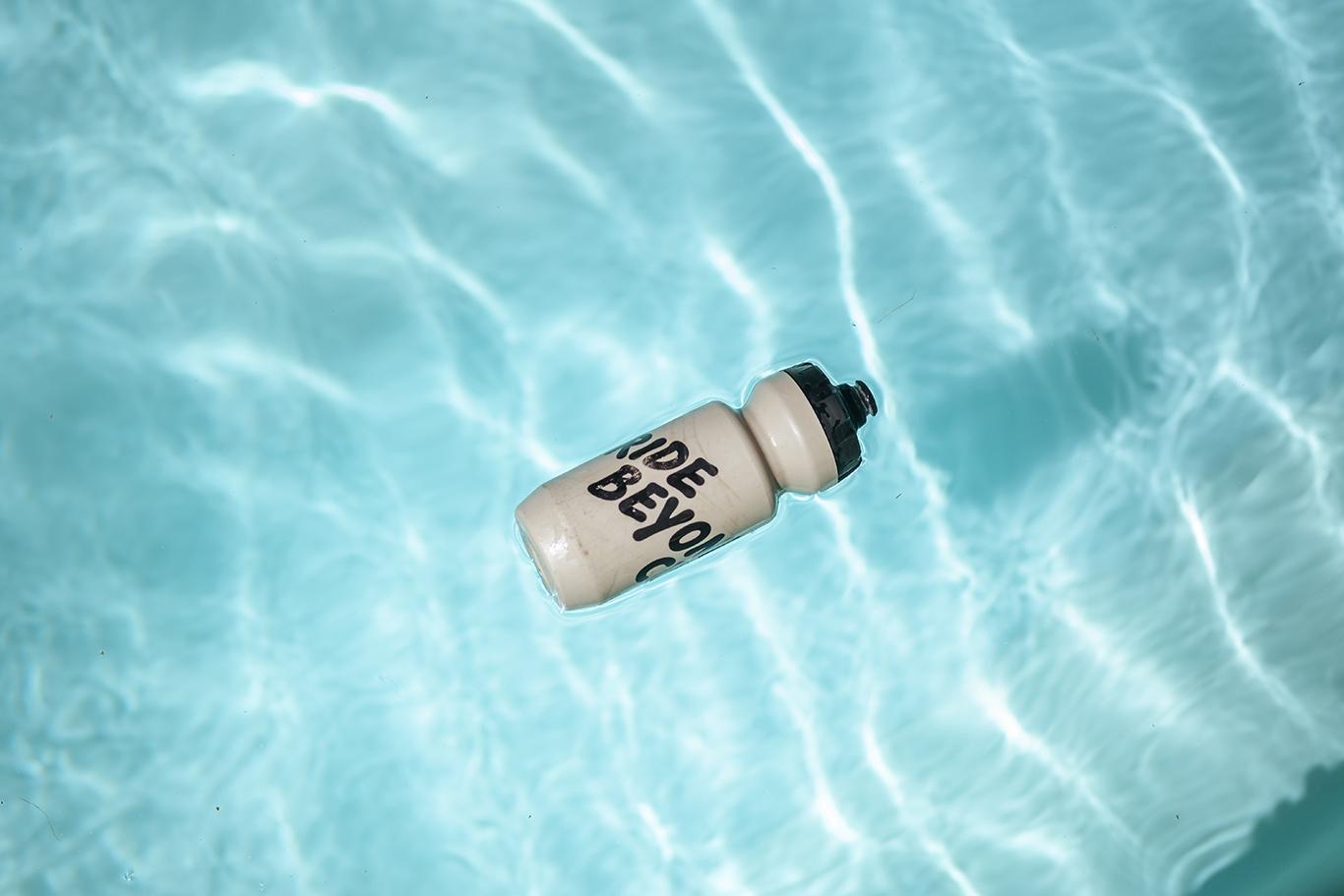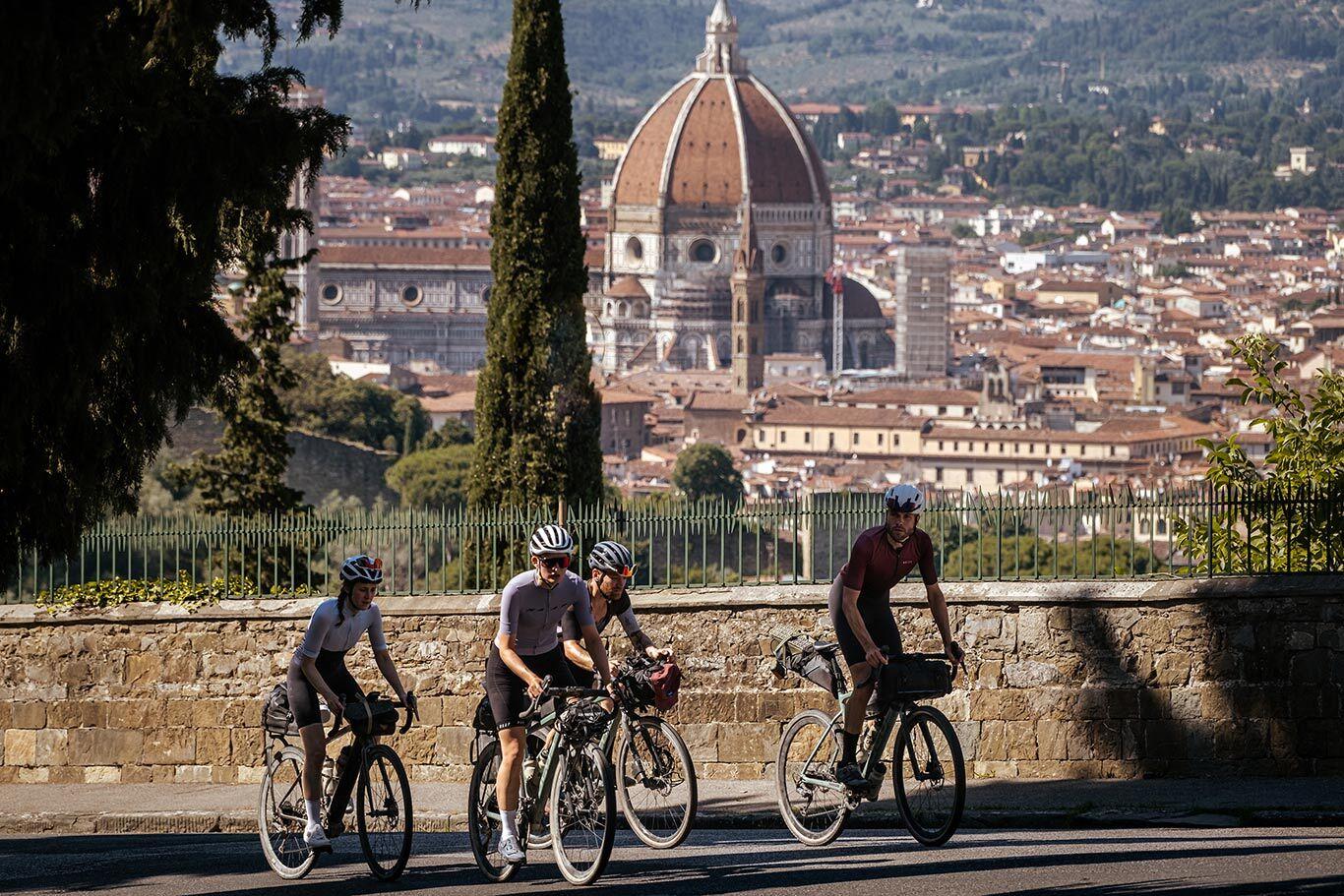 A year after the originally planned date, with lots of rain and flat roads in the Netherlands, we finally got the green light for travelling to Italy! So, we packed our bags, took a COVID test and travelled to Pisa for a seven-day gravel adventure with the Crew and our ATLAS. And man, after being stuck in the Netherlands, we were so excited when we arrived in Italy!
For this seven-day adventure, we decided to go for a light backpacking experience. Cycling from one Bed & Breakfast to the next and just taking our essentials and finding food and drinks on the go. After we set up our Bikes and solved some minor problems, we were ready to roll! (Pro tip: Bring your gravel shoes when riding your gravel bike!)
On the first day, we rode from Pisa to Collemontanino with a lunch stop in the harbour city of Livorno. We thought it would be nice to arch our way from Pisa along the beach of Livorno to the inland of the beautiful Tuscany. Although we got a glimpse of the sea, we wouldn´t recommend you to follow that route. Because the beach was completely screened with private beach clubs and a lot of industry along with traffic around Livorno. So, better skip that part.
After lunch, we continued our route, not knowing what type of paths to expect. The route turned out to be quite challenging. We crossed forests with many steep, rocky paths. Lion crashed pretty badly and switched to her Sandals halfway up the climb. But hey! that is also part of an adventure! We arrived in Agriturismo Le Valli for our first stay just in time for dinner. The house, the view and the delicious food was the best recovery we could have wished for. If you are in this area and you are looking for a place to eat or stay, we would recommend this place!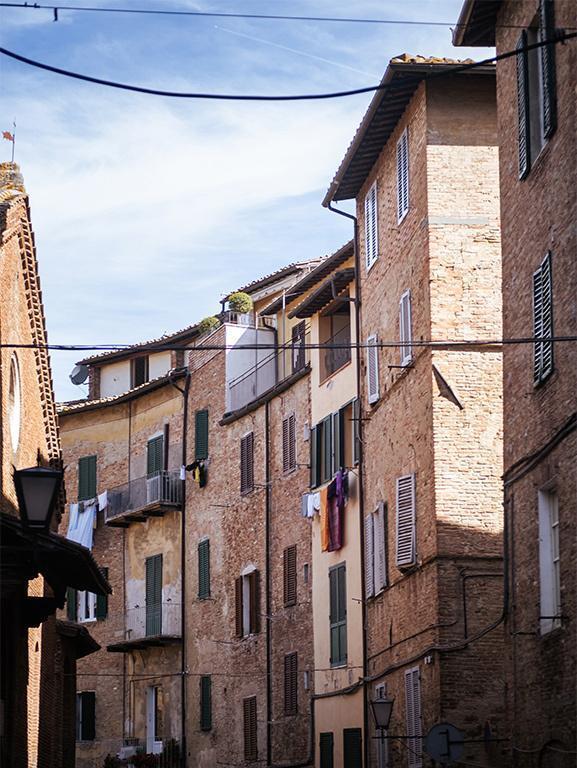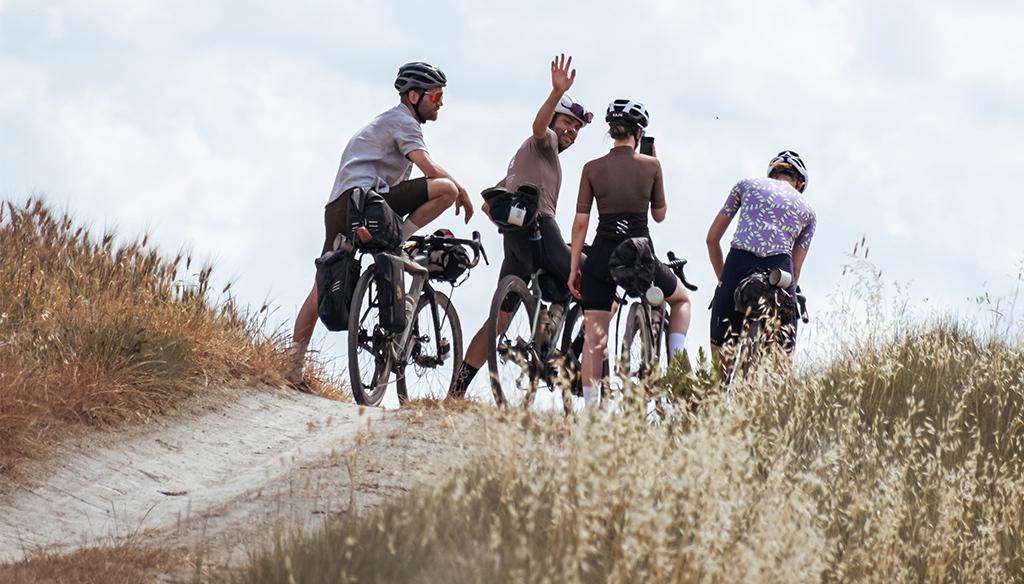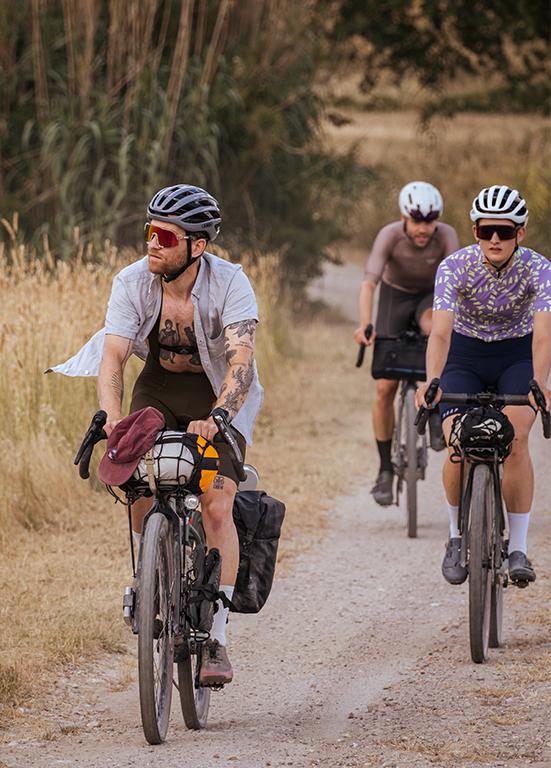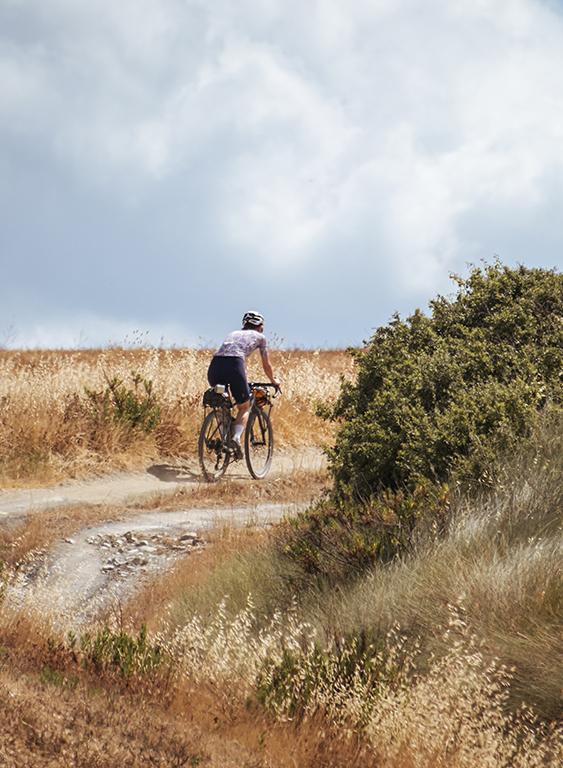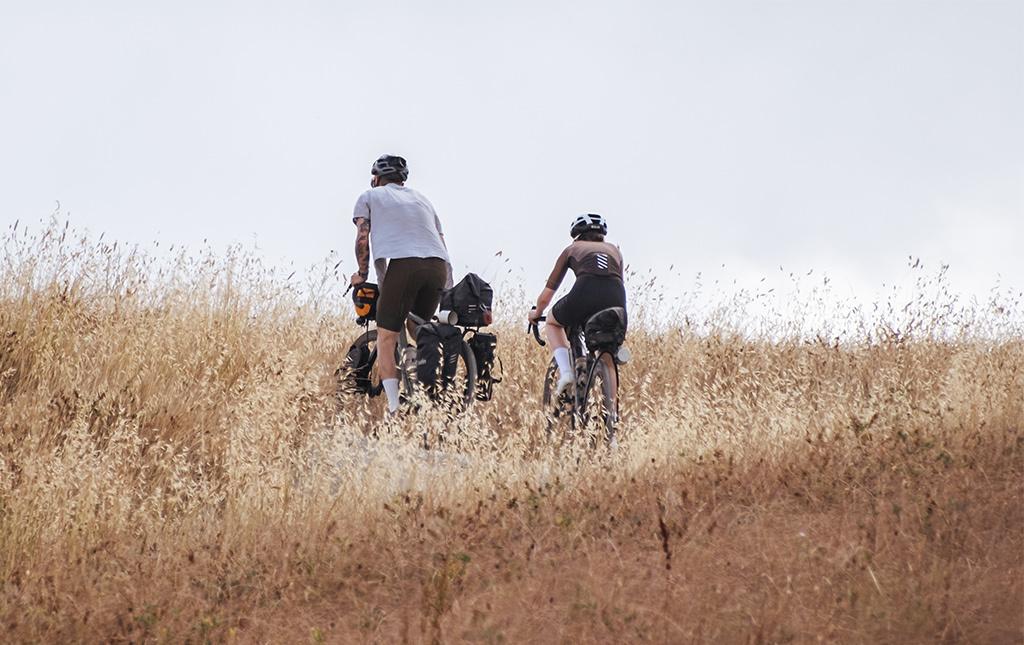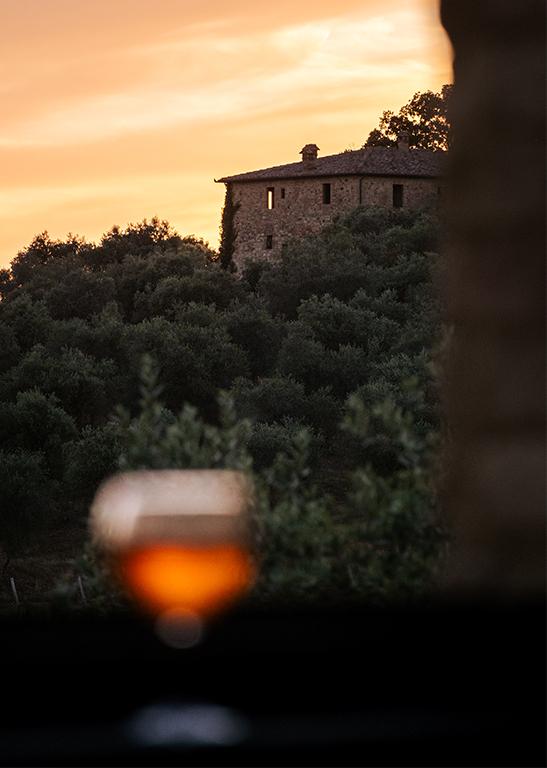 After a good night´s sleep and luxurious breakfast, we headed our way to Siena. Narrow unpaved paths through an infinite golden landscape marked this day. The first stop was in Volterra. Located on the top of a hill, which we had to climb up about 600 meters, but we were rewarded with a beautiful view over the surrounding area and an unsurpassed lunch. Three courses later and having full bellies, we continued our ride with a serious `hike-a-bike-challenge´. Good music on our little travel jukebox and crocodile gummi bears dragged us through. Two hours later than planned, we arrived at Castelnuovo Berardenga, just 20 km outside of Siena. Martijn's brother and his family surprised us with a BBQ and enough Aperol Spritz that some of us regretted it the day after. Luckily this was a rest day for us!
TOWARDS
BEAUTIFUL FLORENCE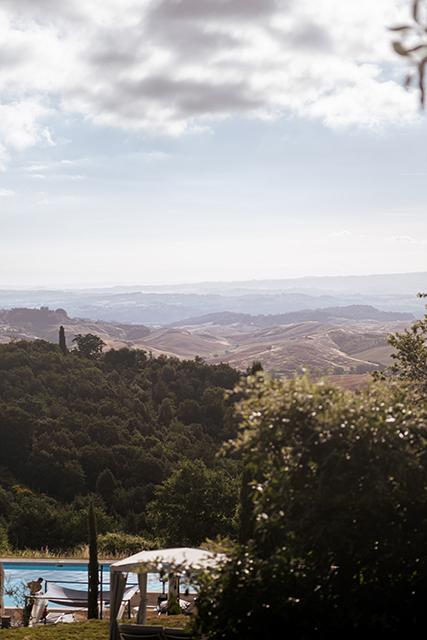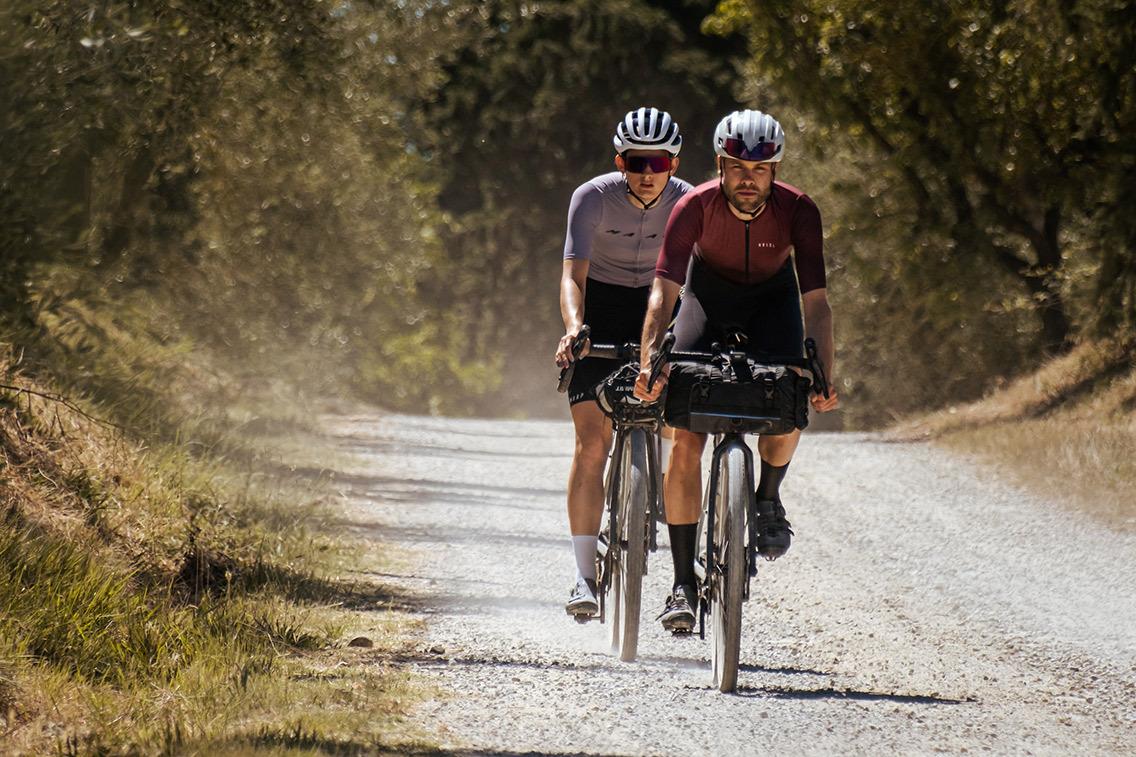 Taking the third day off for resting, swimming and sweating out the Spritz, soon we were ready to hit the road again towards Montefiridolfi. For lunch, we accidentally found a nice and humble Tuscan restaurant `Ristorante A Casa Mia´, where we had delicious pasta and coffee. Continuing our way to beautiful Florence, we arrived at Piazzale Michelangelo, which is famous for its panoramic view over the lower situated city centre. To cool off, we had ice cream and pursued on the Viale Guiseppe Poggi, a beautiful road that slowly descends into the city centre of Florence. Since it was pretty quiet in the city (probably caused by the travel regulations), we were able to cruise through the city on our ATLAS Gravel Bikes, passing the main highlights of Florence. One last stop in the city for an aperitive (no more Aperol Spritz for Roel!) we headed on a farm outside the city to our B&B, where we were awaited by Giancarlo, Helene, and their three teddy bear dogs.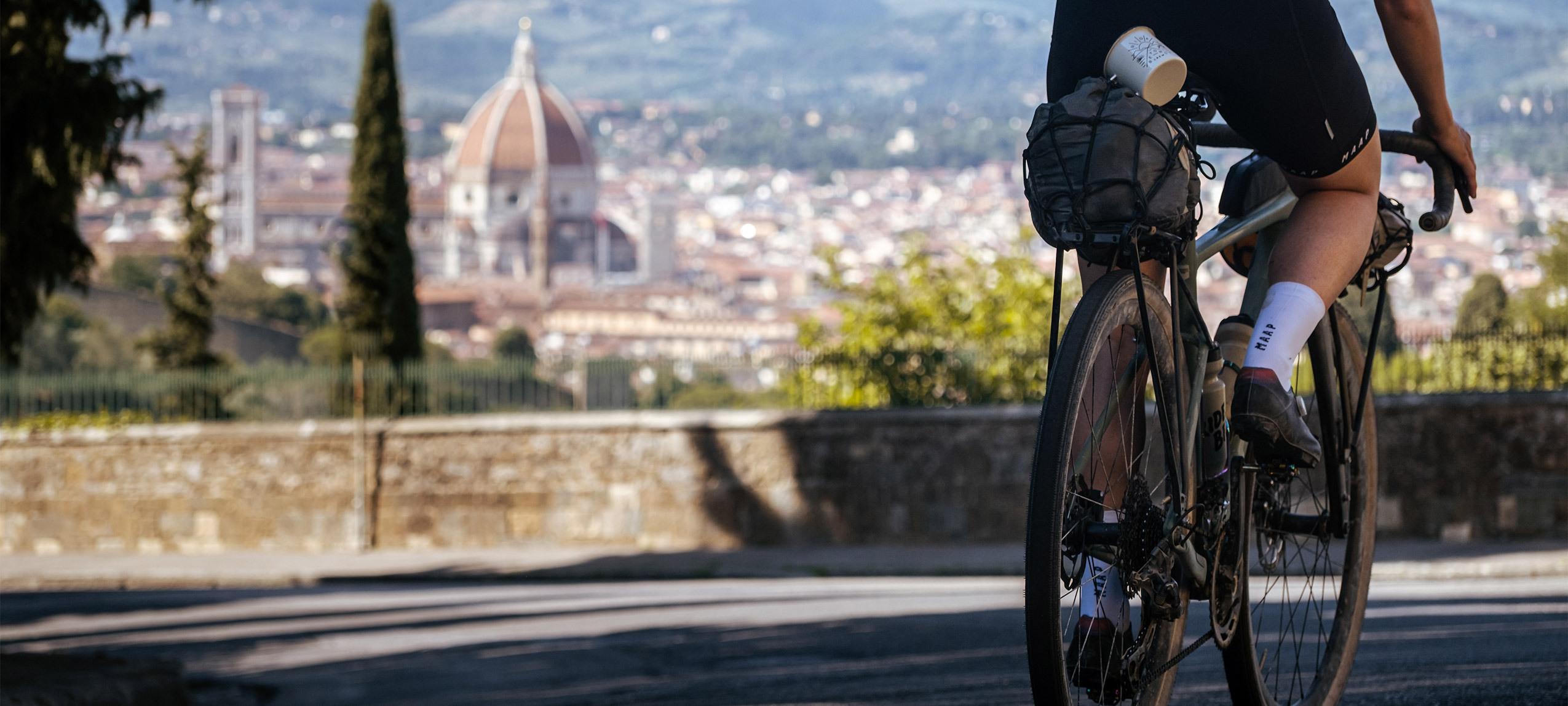 DUSTY ROADS AND ITALIAN TUNES
The fifth day was warm and dusty. Lots of coke and water breaks as well as good Italian tunes helped us to keep our spirits up and not to get too cranky. When we arrived at our stay in Lucca, the only thing we needed was time to rest. Our low energy level decided to stay one day longer than planned. Walks around the city (which was lovely), watching the Tour de France and a lot of snacks helped us to get back on our Gravel bikes. Definitely try the little ice cream place `La Bottega del Gelato´. We became huge fans of their apricot and salted pistachio ice cream.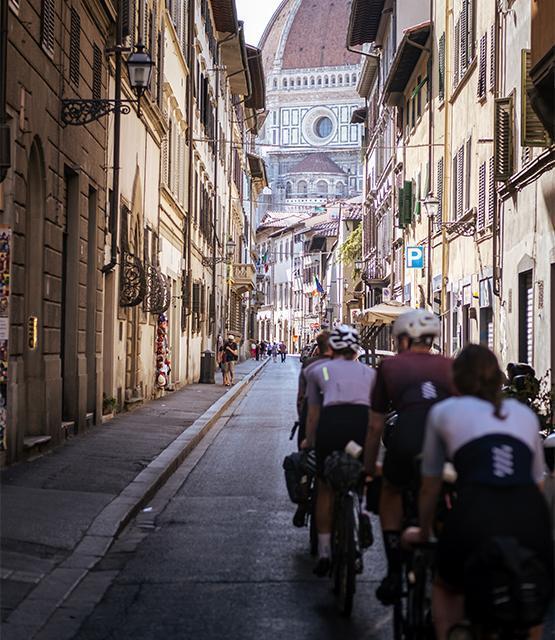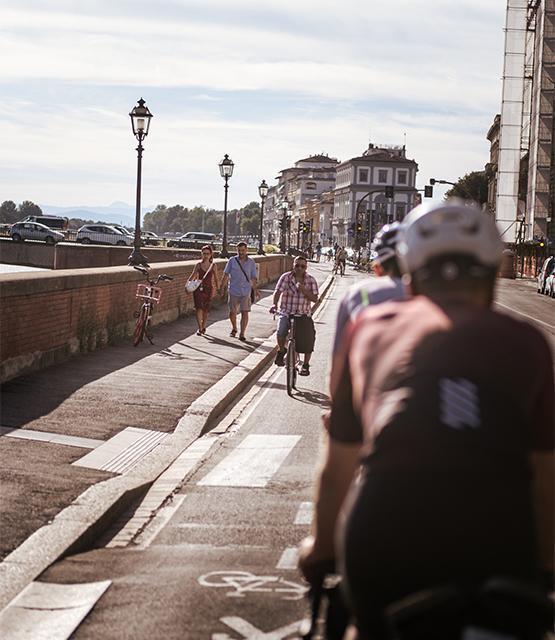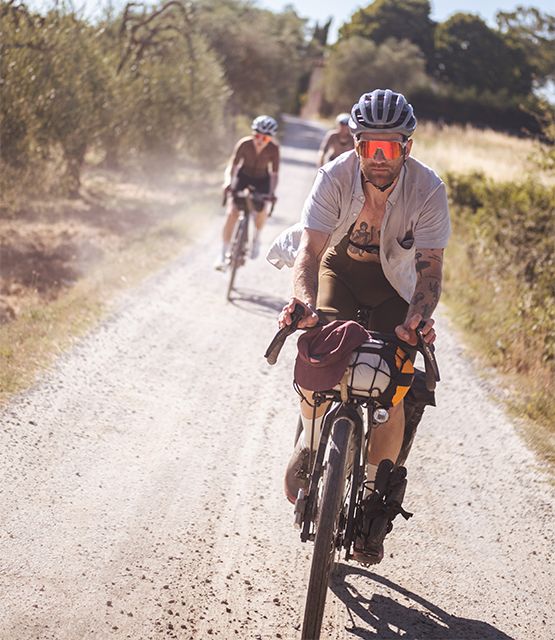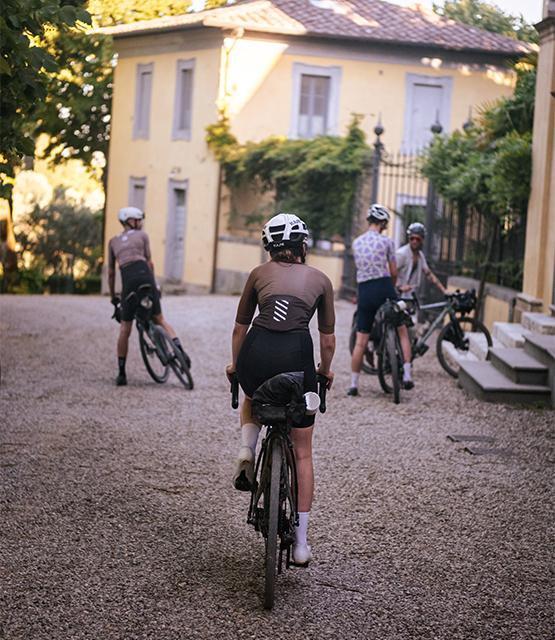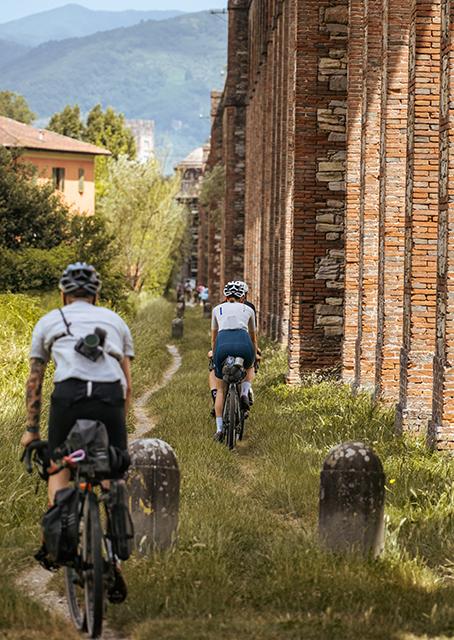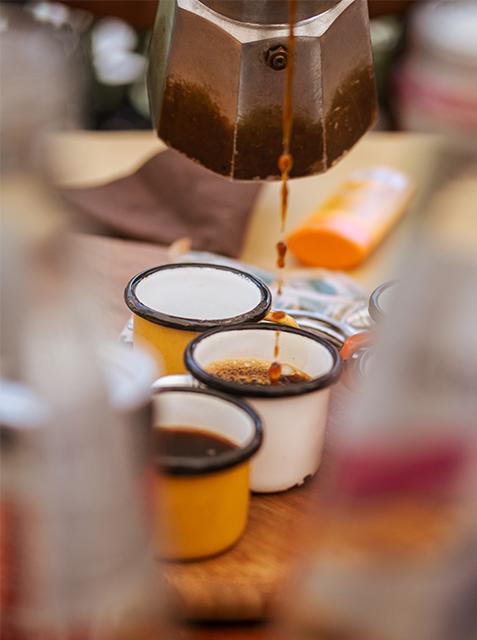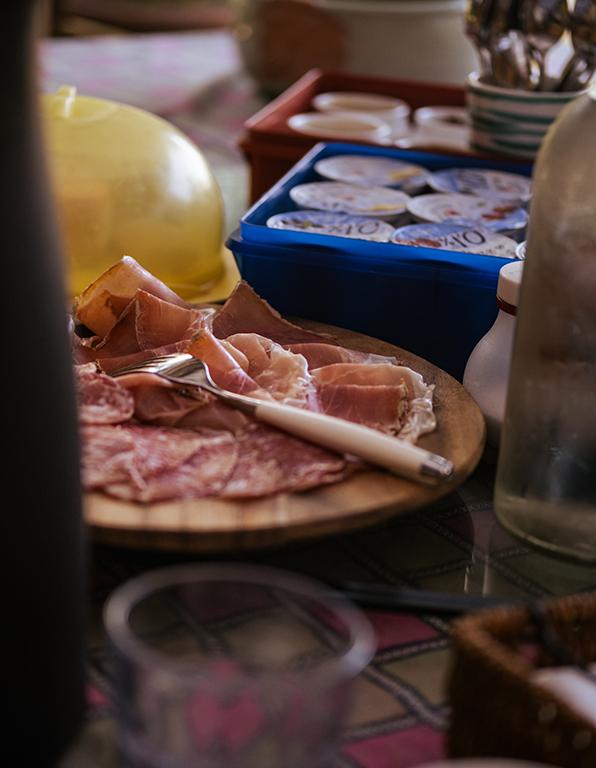 The last stage of our ride from Lucca to Pisa was a rather short one. We rode along an old viaduct, had a pit-stop swim at Mike´s friends' place, and accidentally ended up at the best lunch spot of the Week, at `Vineria Di Piazza´ in the city centre of Pisa (if you didn´t post it, did it even happen?).
The week passed by so fast and within the blink of an eye, we were on our flight back home again. For now, we are back home to prepare for new adventures, and we will let our Italian bruises and dirty bikes remind us of this awesome trip. I can see a Tuscany Gravel Adventure 2.0 coming sometime in the future!