review 15.05.2018
Winner of all categories - MARES Rival 1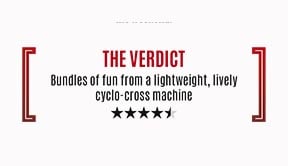 Cycling Plus awarded the MARES Rival 1 with 4,5 of 5 stars meaning the MARES wins the 25th Anniversary test of the magazine against five competitors. Lightweight, light handling and speed stability are the highs the testers discovered. The magazine's recommendation is that you should buy it if "you want a competition level cyclo-cross bike that's capable of much more."
The testers really enjoyed the riding quality:
"Over rough ground the 960g frame tracks perfectly."
"Spot-on high-speed stability and low-speed manoeuvrability mean the Mares really challenges what's acceptable terrain for a drop-bar bike."
"So, while it looks very much a racer's beast when you're riding it's far more comfortable proposition than you'd think. "
But also the details and the versatility of the MARES overwhelmed them:
"The bike itself is very nicely focused (pun intended) for cyclo-cross racing It's just that the Mares is so good we feel it would be a shame for it to only come out for competitive hour-long blasts come the weekend."
"The details are very special, with the front and rear thru-axles using Focus's own RAT system axle."
"At just a smidge over 8 kg (58 cm) it's lighter than both the more expensive Ridley and Trek, bikes built for road-racing, not mud plugging. It's impressive just how light the Mares is, especially when you consider that it's only shod with budget A-class wheels. Step up to a set of race-level wheels and you'd shed a good half a kilo."
"Defines the real go-anywhere drop bar machine."
"Bundles of fun from a lightweight, lively cyclo-cross machine."
The verdict: Our winner is Focus's fantastic Mares. The Mares has all the off-road muscle und prowess you could want but at a weight that doesn't put you at a disadvantage anywhere else. Switch the mud tyres for something more compatible with tarmac or mixed surfaces for a bike on which you could pretty much do anything.
For full report check out the 25th Anniversary edition of Cycling Plus magazine in April 2017.