Tortour. A name that Fabian Scholz and Max Hilger simply could not misinterpret. Nonetheless, the cyclocross stage race turned out to surpass their worst expectations. It was a story full of muck, pain and friendship.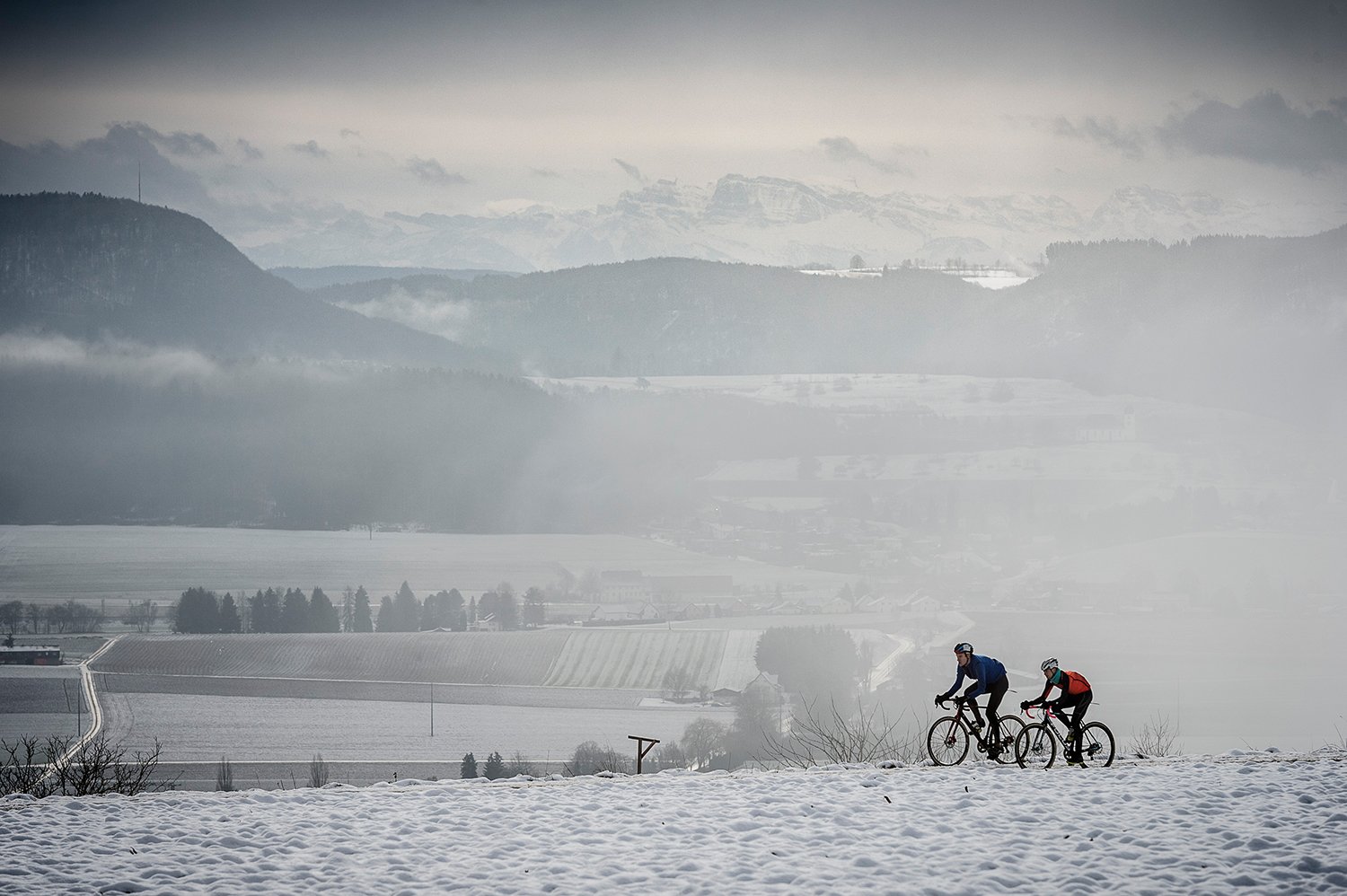 Just let me lie down. Just let me stay here on my back. Just don't make me run any further. My feet are submerged in the mud, the bike is killing my shoulder and there is no sign of any end to this steep slope. But Fabi keeps stomping on. So I have to do the same.

Three months ago we first received information on the world's first ever TORTOUR event. What a totally crazy challenge! TORTOUR is the first cyclocross stage race in the world. It starts with a 20 km prologue followed by two stages of 97 and 90 km. It takes you all round the Swiss Canton of Schaffhausen and includes 3750 metres of climbing. There are no roads, it is all up hill and down dale. I use that figure of speech in its truest sense. My mate Fabian Scholz declares himself prepared to take on the TORTOUR with me, making up a two-man team.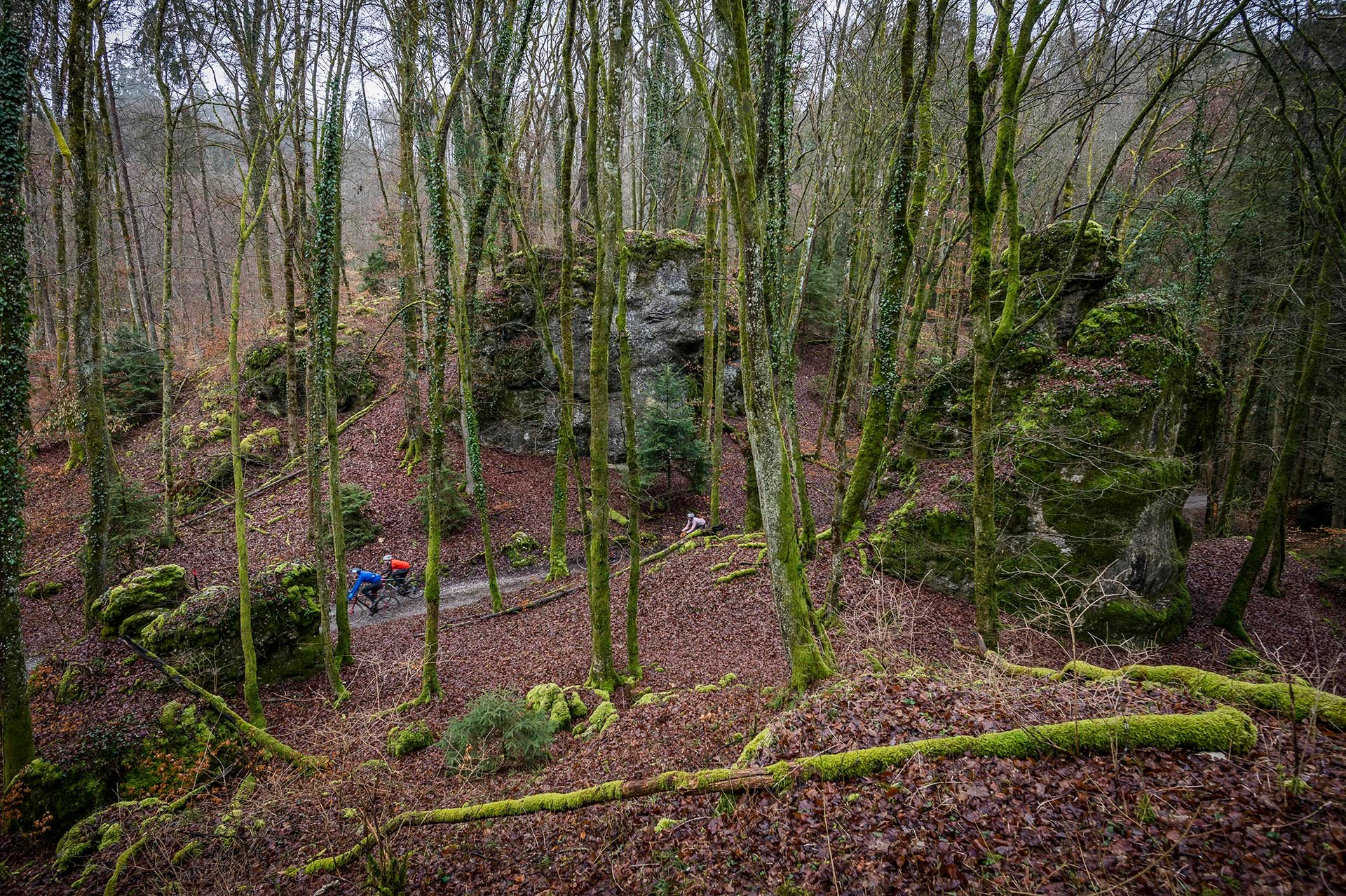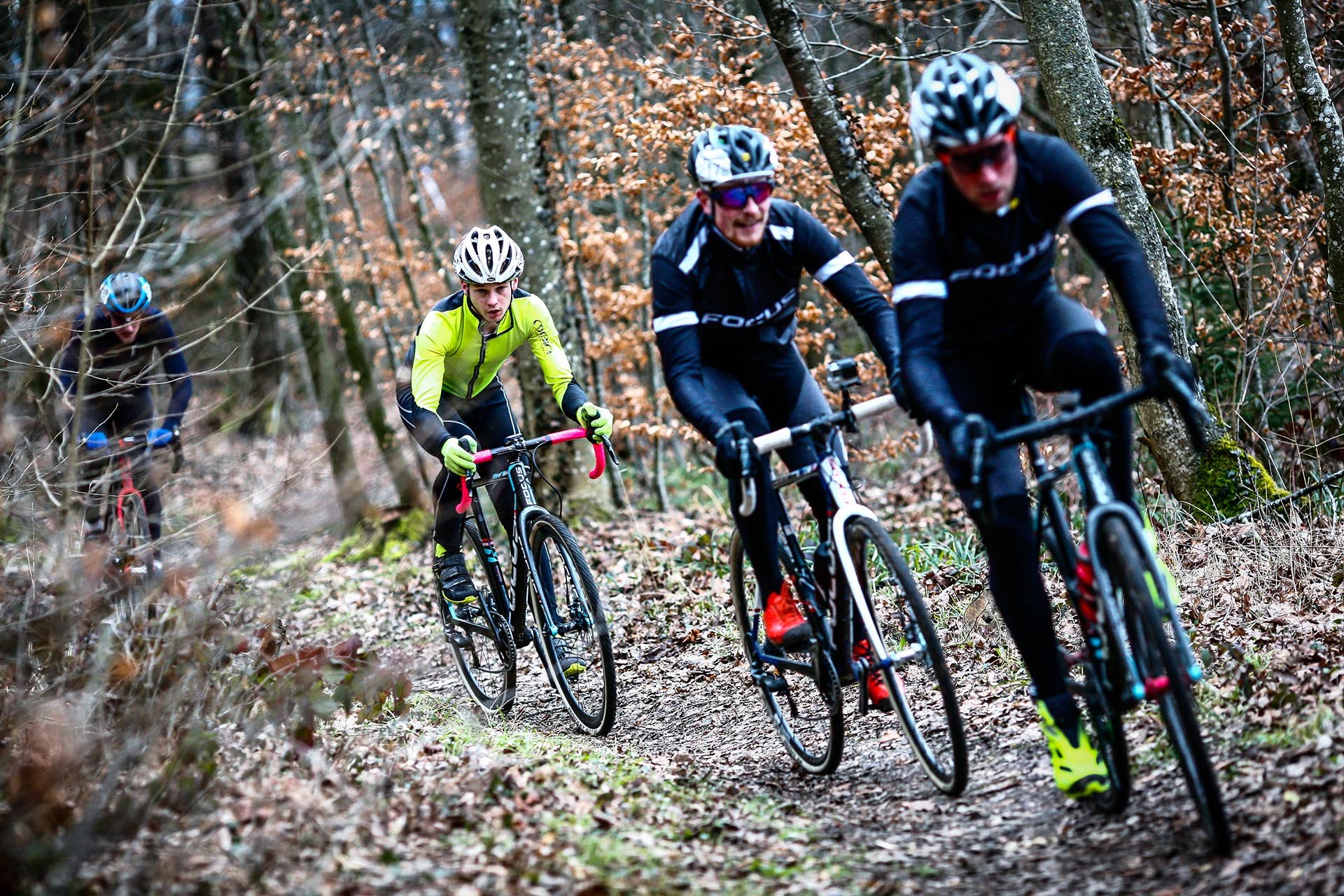 On the start line for the prologue we start to get nervous all of a sudden. My mind is assailed by a flurry of doubts: "How badly has my fitness been set back by that recent bout of 'flu? Can I really manage this? How bad will the weather be?" I turn towards Fabi for a fist bump. He fist bumps me back, and then we're under starter's orders.
Three. Two. One. The pack tears off.
Just like a road race we are thundering down dry dirt tracks in moderate temperatures. Bang into racing mode, full steam ahead in the slipstream, awesome. In the middle of the race I notice that Fabi is no longer on my wheel. Reluctantly I give up my slipstream and wait for Fabi. His face a bright red, he lashes out at me: "Too fast!" Together we ride to the finish line, joke about the speed of the race, complain about the lack of trails and get down to some serious bragging. In the evening it starts to rain.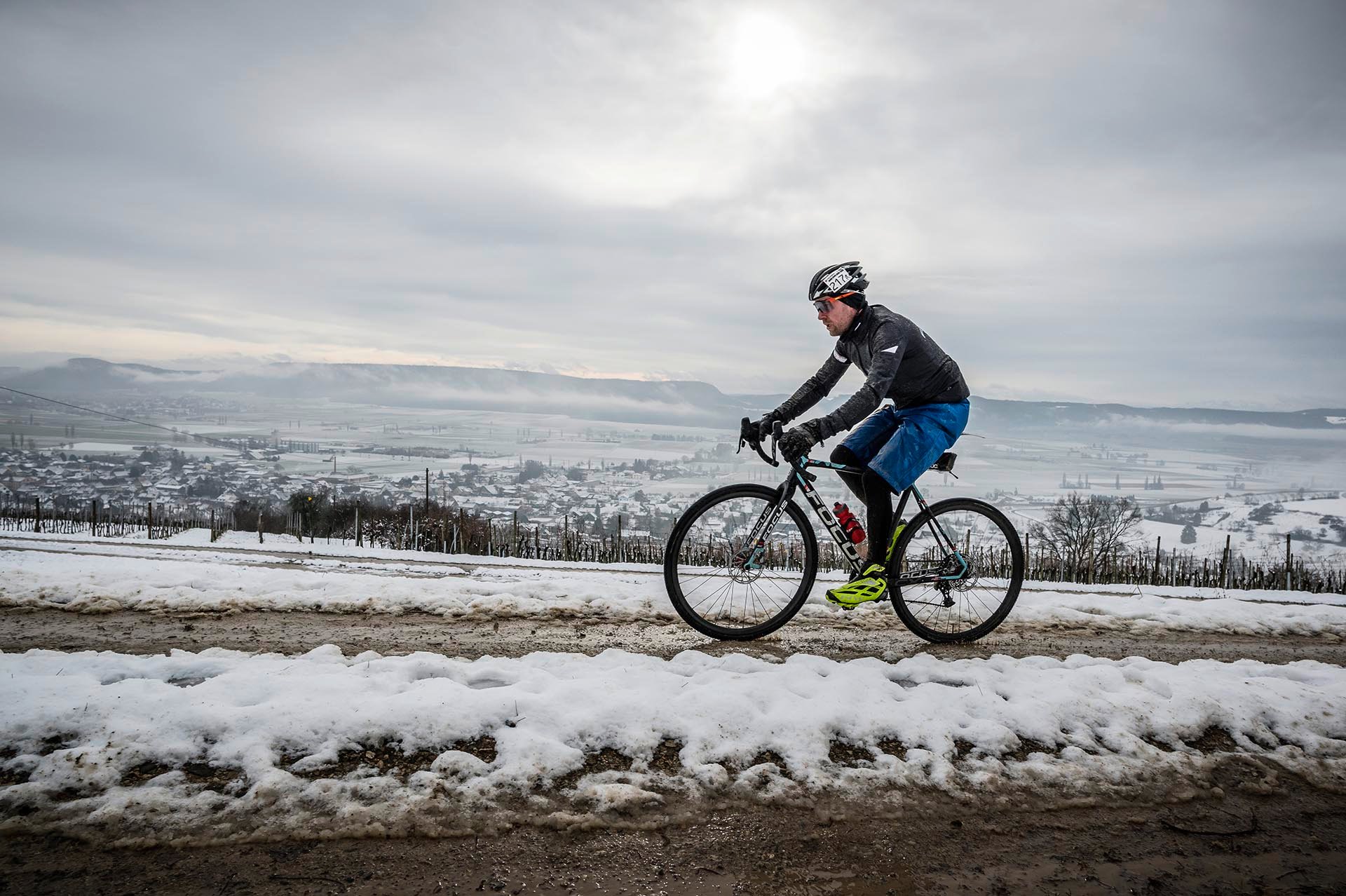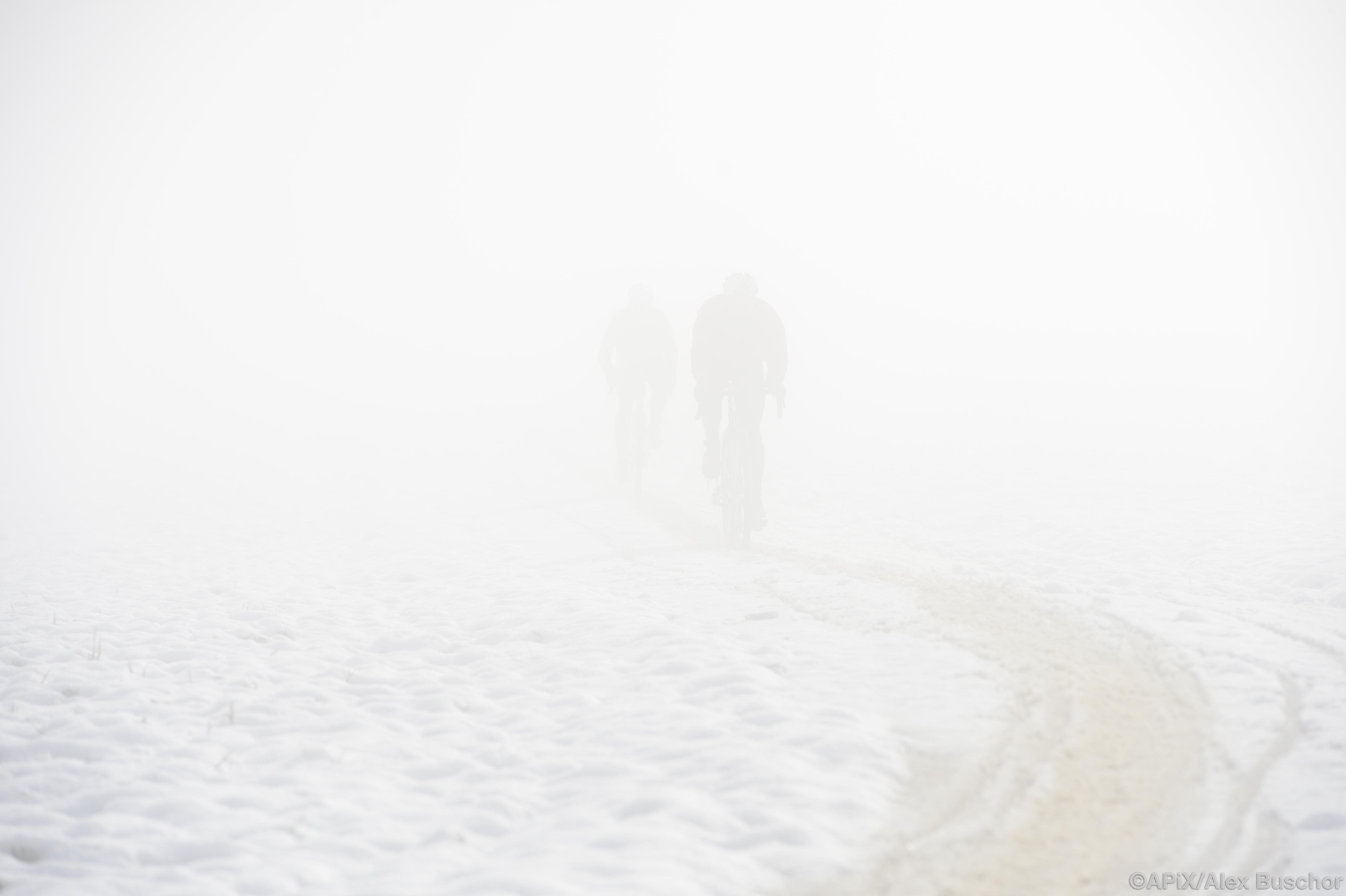 Change in the weather
The following morning the weather has completely changed, and the forecast is for rain and snow all day long. Temperatures just a few degrees above freezing and climbs going up to 900 m above sea level don't make matters any easier, and the stage profile grins back at us with a jagged-toothed sneer. All the same, we set out to launch a spirited attack on the first stage and stay up with the leaders from the off. Fabi groans: "Please just let it slow down!" I let his words of caution disappear with the headwind and instead encourage him to take advantage of my slipstream. I'm feeling good. Snow is glistening in the sun as it filters through mist and dense forest. Fallen trees and deep boggy sections stimulate our thirst for adventure.
We are well placed in the race, and on the technical sections and downhills we keep on overtaking other riders. But at the same time we are saving plenty of energy to keep our pace up through the deep sections of mud and snow. This is where the TORTOUR reveals its hard side. There is barely any freewheeling whatsoever. And the same goes for tarmac. The organisers send us straight across fields stretching for kilometres, where the slush lies almost as deep as the distance we can see in the dense mist.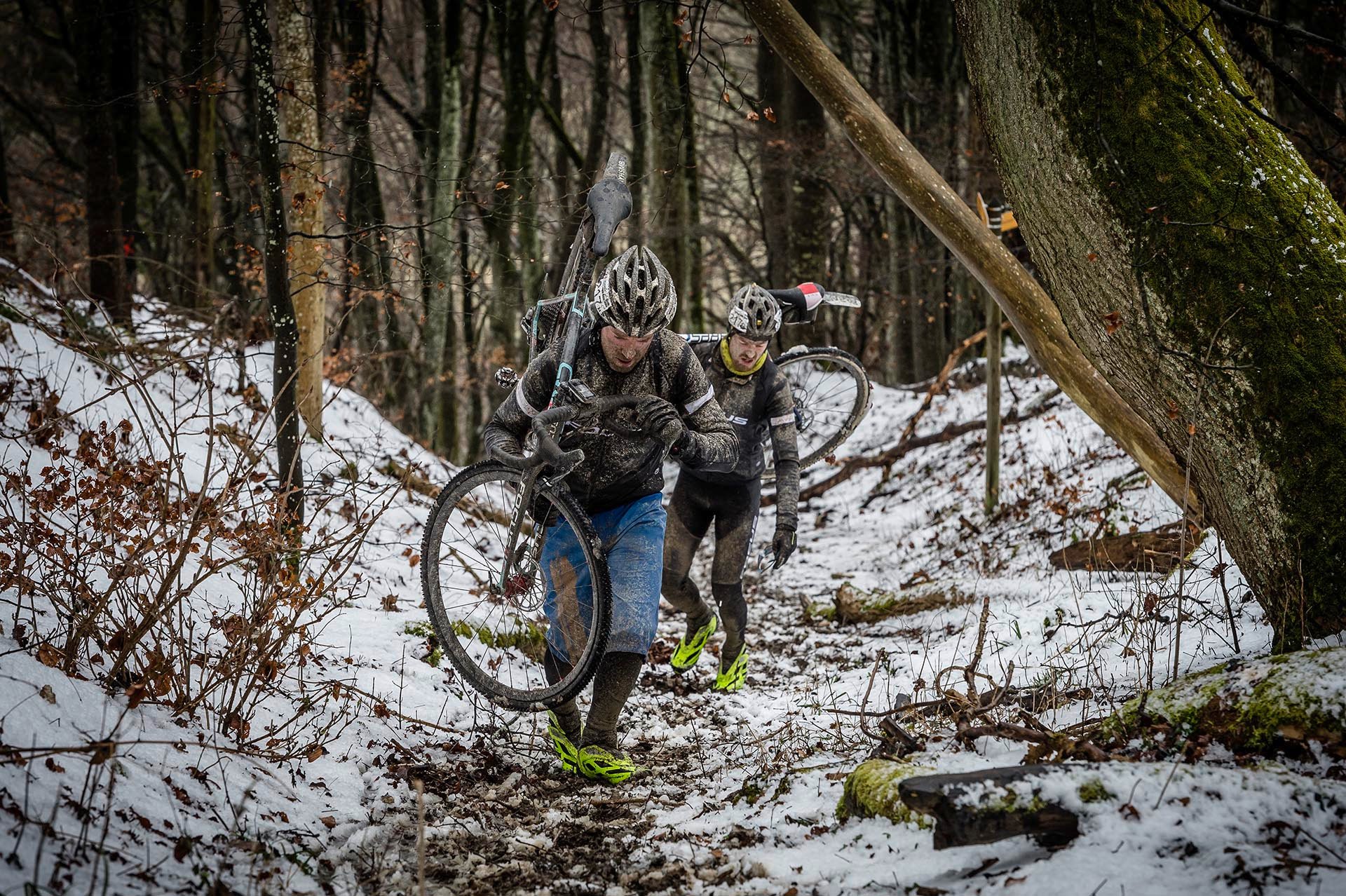 "THIS IS JUST BEYOND BELIEF!"
At the 60 kilometre mark I hit the wall. It takes me by surprise, and I hit it time and again. After each bend, as it transpires that we have to keep on climbing, my legs just keep turning to jelly. The organisers have built in one obstacle that hardly any of the riders was expecting. For a full 1.5 kilometres we have to carry our Mares. Uphill for 300 metres of altitude gain. "This is just beyond belief!", curses Fabi. Our shoes are sinking into slippery leaves. I put my Mares down. Are those the flames of hell I see? Since when has it been an uphill climb to the underworld? Fabi trudges on up. I follow. Fabi yells at me: "I'm only doing this because of you!" And I only keep going for your sake, Fabi.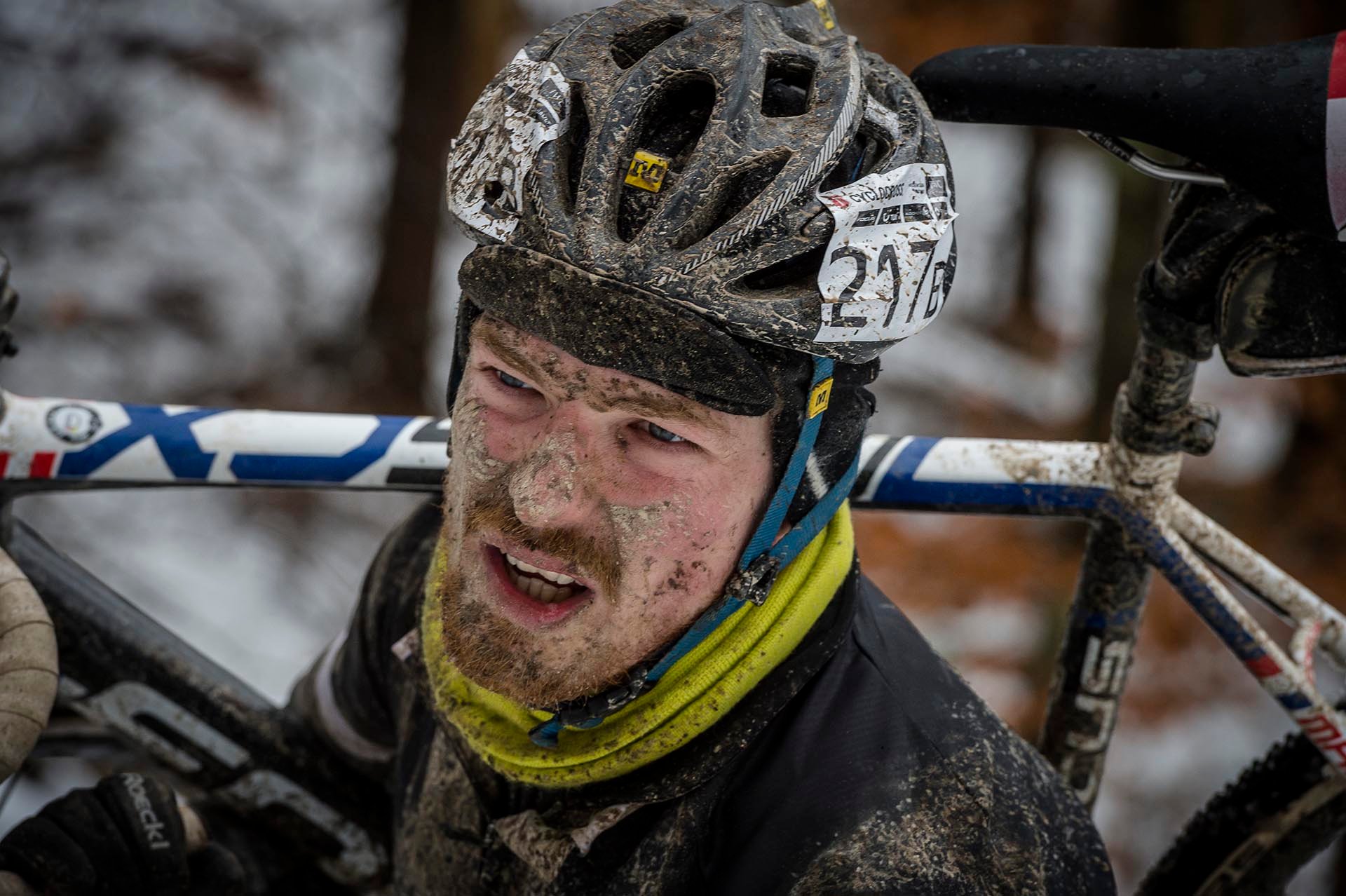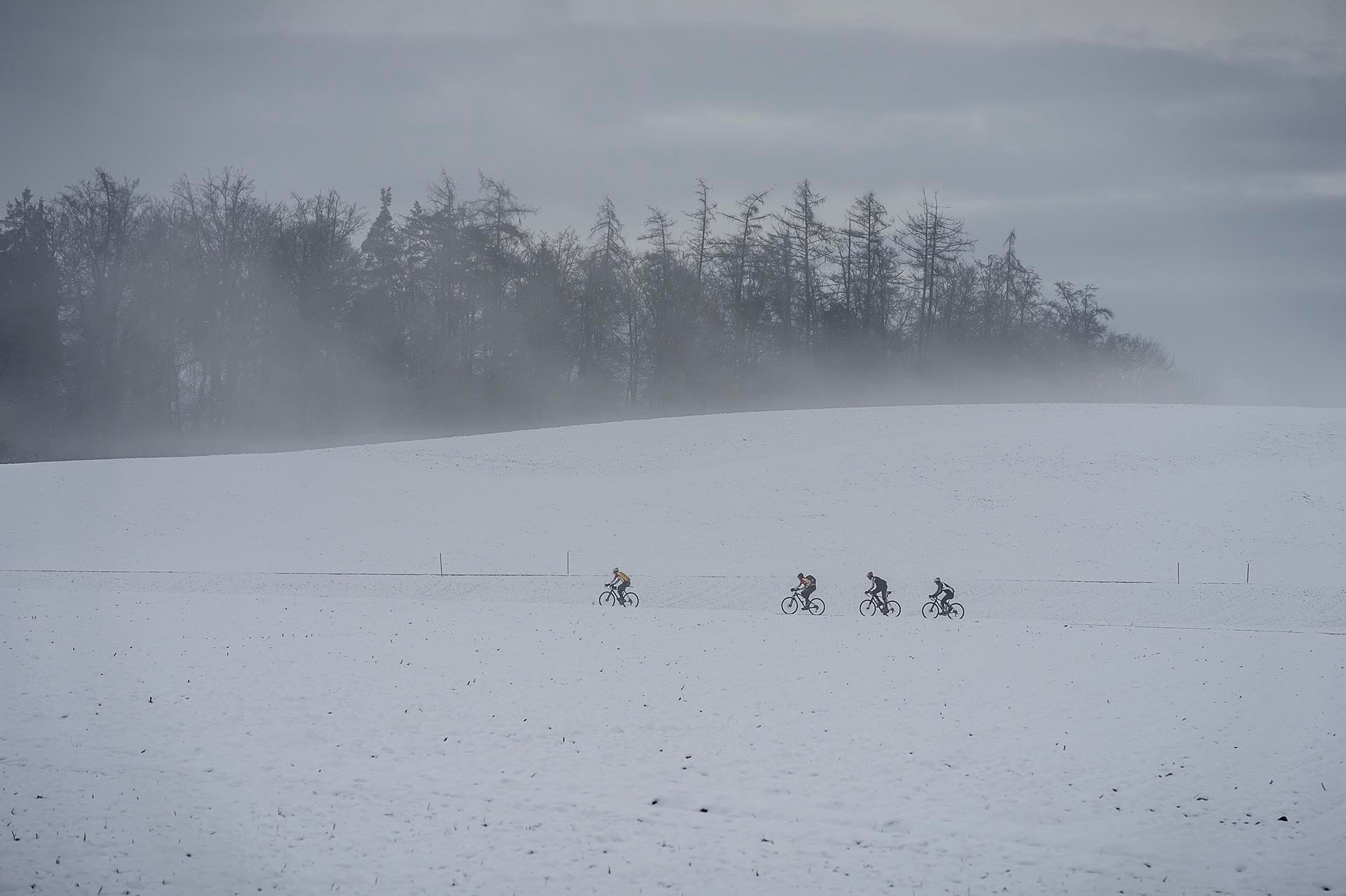 After finally reaching the summit, we barrel down the scary downhill. Sharp rocks the size of ostrich eggs lie hidden beneath the mixture of mud and snow. All our limbs are wet and frozen to the bone. Our hands feel twice their normal size and numb – totally useless for any precision manoeuvres. Braking is becoming a matter of luck. If one of us were to get a puncture, the effect on our morale doesn't bear thinking about. But the Mares copes with every obstacle in its path. We haven't had a single mechanical for the entire race.
Now we are faced by another endless, winding ascent – the 'crowning glory' to round off the stage. By this time Fabi and I have stopped speaking altogether. I just keep on constantly fist bumping him. This became our ritual many moons ago, and it has to perform a number of functions all at the same time. It helps to keep our spirits up, but also makes sure that neither of us is just about to fall off our Mares. I no longer dare ask Fabi how he's feeling. As long as he keeps fist bumping me back, that means we can make it. Stoically, and intuitively in step with one another's rhythm, on we ride. Our shared tempo is the only thing that keeps us from simply getting off the bikes.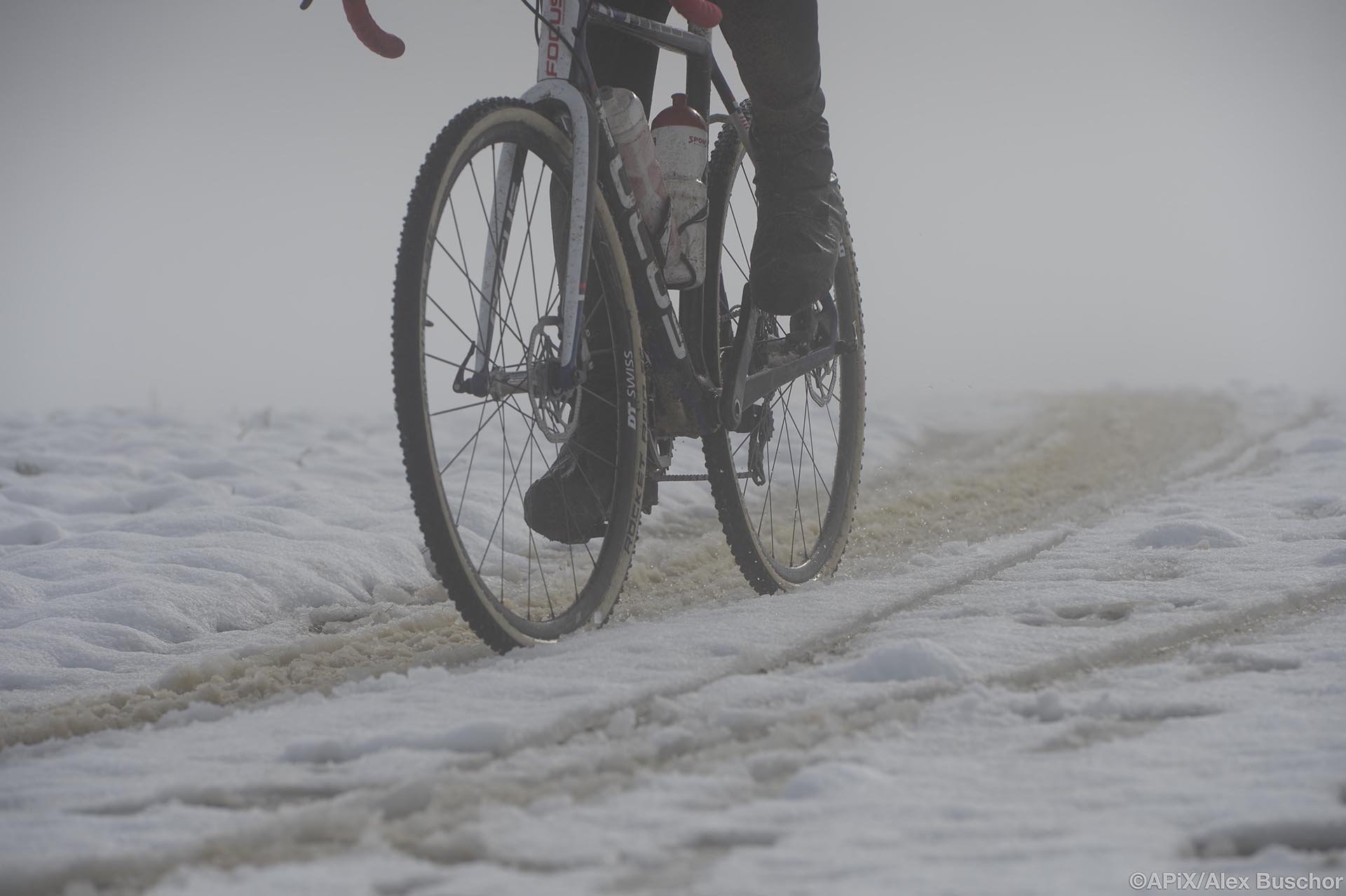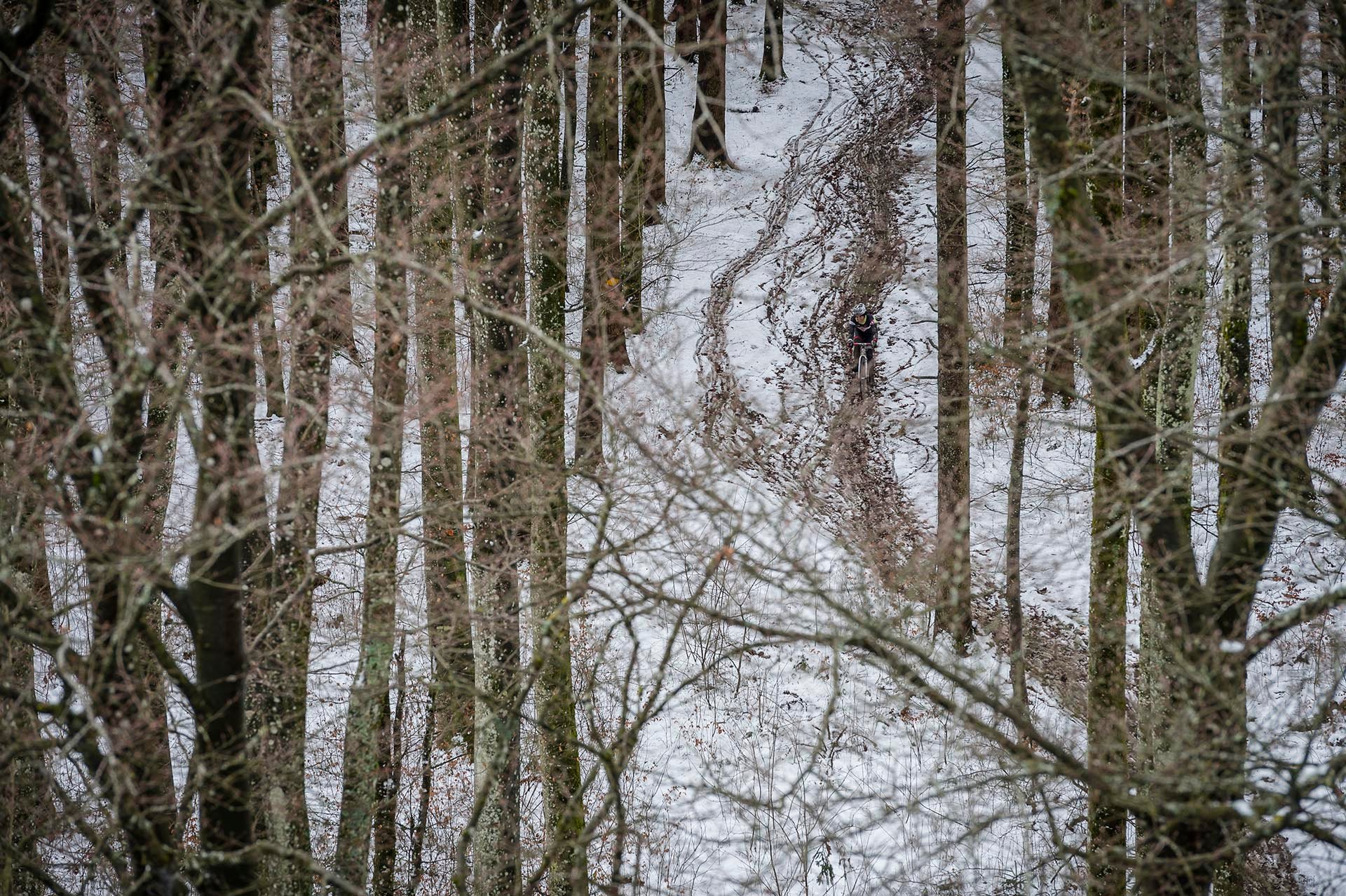 Whilst that long section carrying the bikes robbed us of all our strength, now this long and unrelenting climb assaults our morale. Somehow or other we just have to keep climbing. And in fact we do make it right to the summit. Yesterday evening we memorised the route in great detail. From here on it's all downhill. What a fallacy! At 900 metres above sea level the snow starts getting really deep. And the route now goes constantly up and down. We battle our way through the forests. Incredulous, drained of energy, empty. Time and again we come upon snow fields that are impossible to ride across, forcing us to carry our bikes. We are suffering like true heroes, but also beginning to entertain some serious misgivings because this route appears to have no end.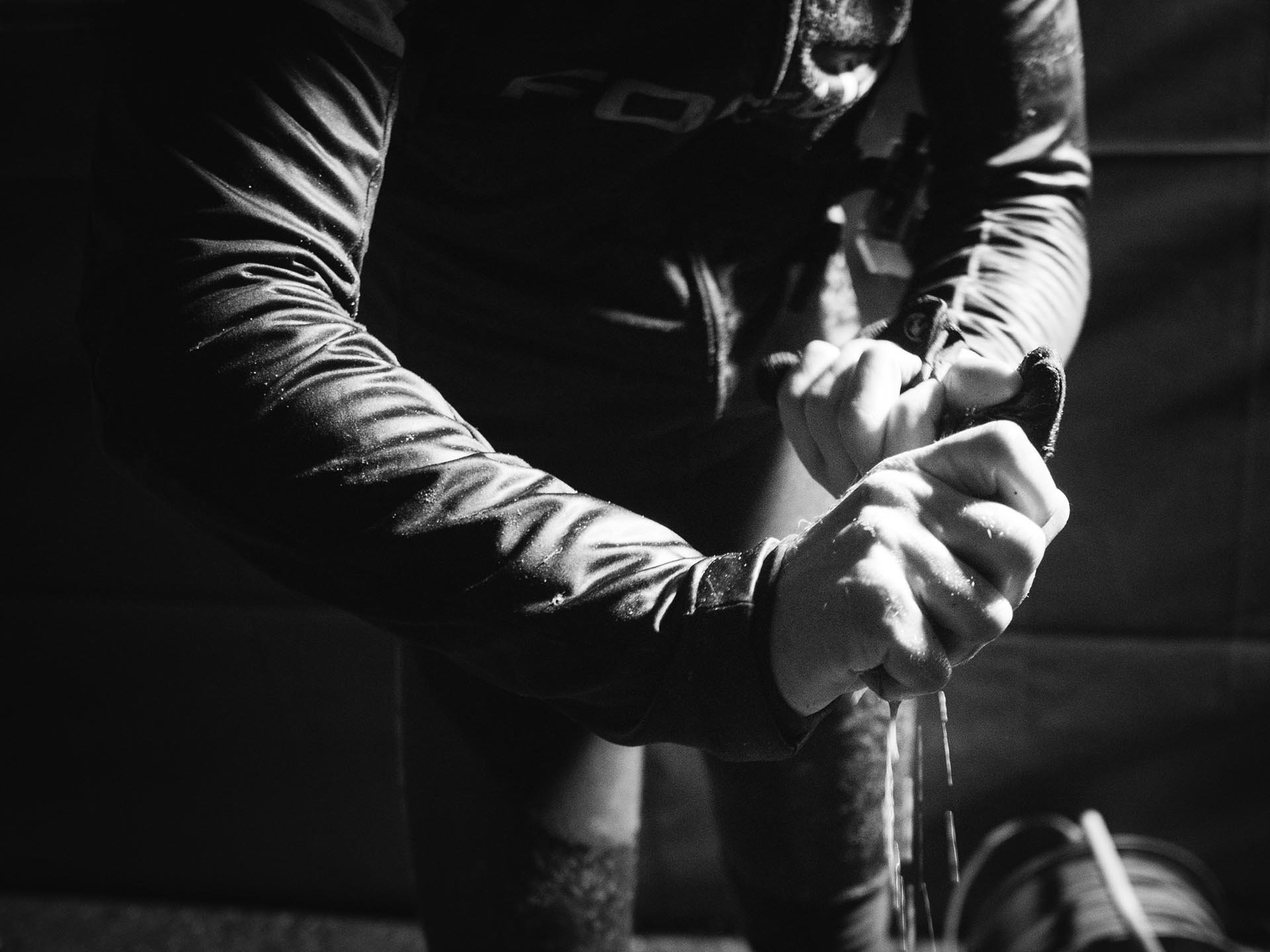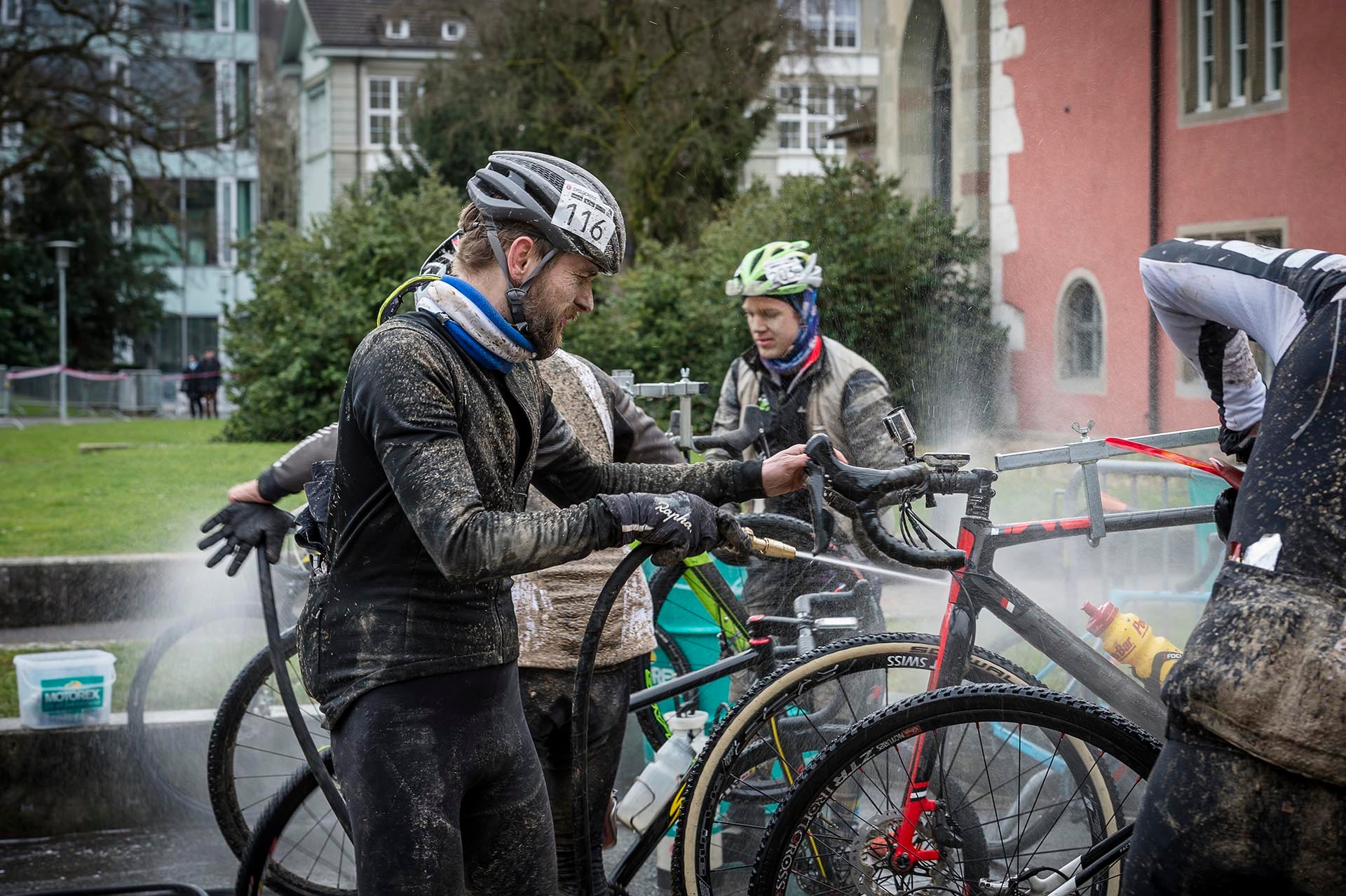 Then suddenly we spot a man standing in the forest and urging us on. In his Swiss German dialect he tells us we haven't got much further to go. He actually asks us: "Do you want a Ricola sweet?" I cast a wild look towards Fabi, who simply shakes his head. The man is no apparition, Fabi has seen him too. I use my last ounce of strength to heave my body back onto the bike. Towards the valley, towards the finish line, towards a warm shower.
At the finish we lick our wounds and try to talk our spirits back up again. All the time there is one question that I just can't get out of my mind. How on earth can we survive another day like that? In the hotel we run through tomorrow's stage one more time. Although tomorrow promises fewer metres of climbing, with the first stage in our legs such calculations are meaningless. Hanging in there. That is the only thing that will count tomorrow. Fabi gives me a fist bump, and I give him one back. He flicks the light off.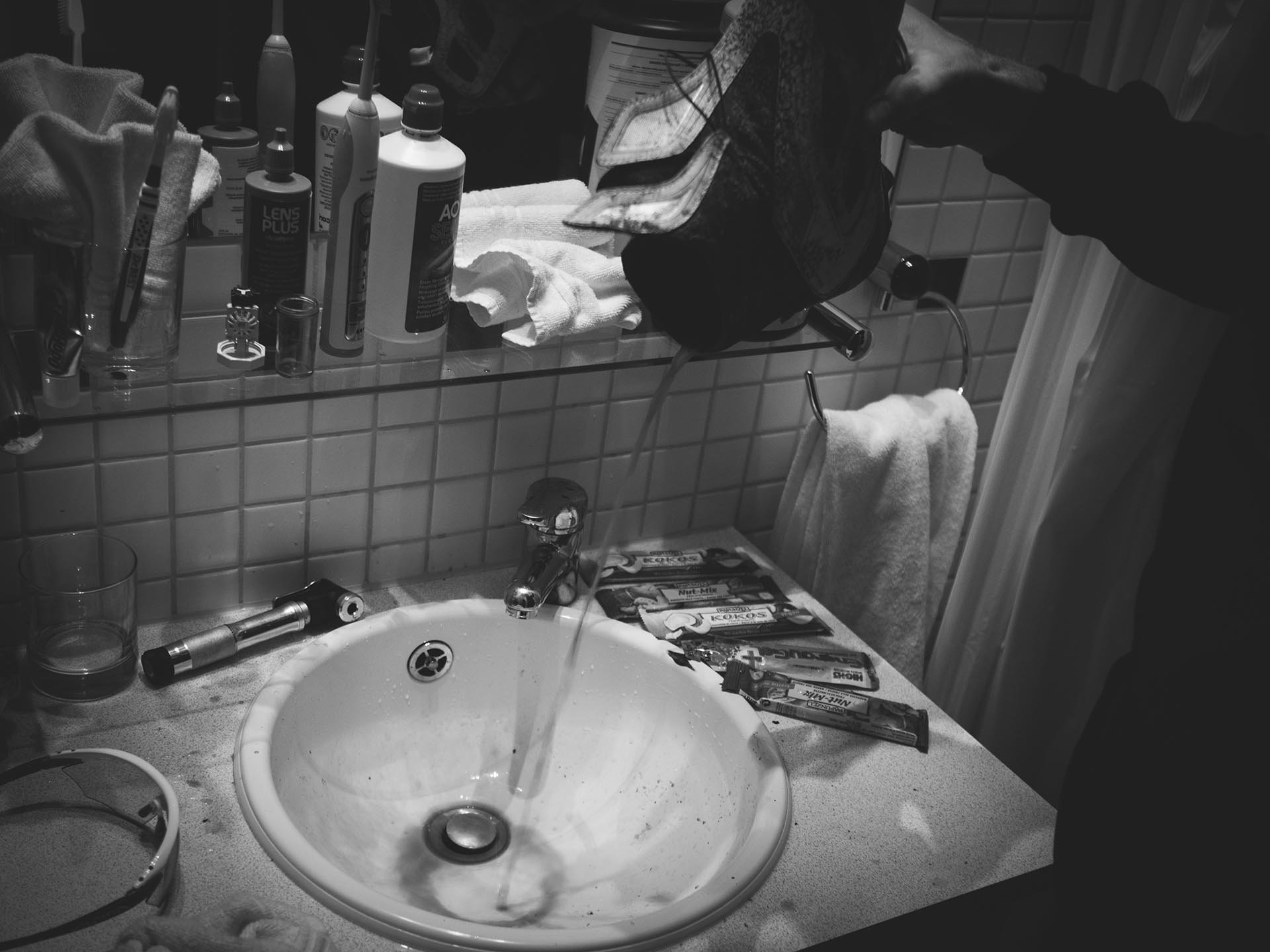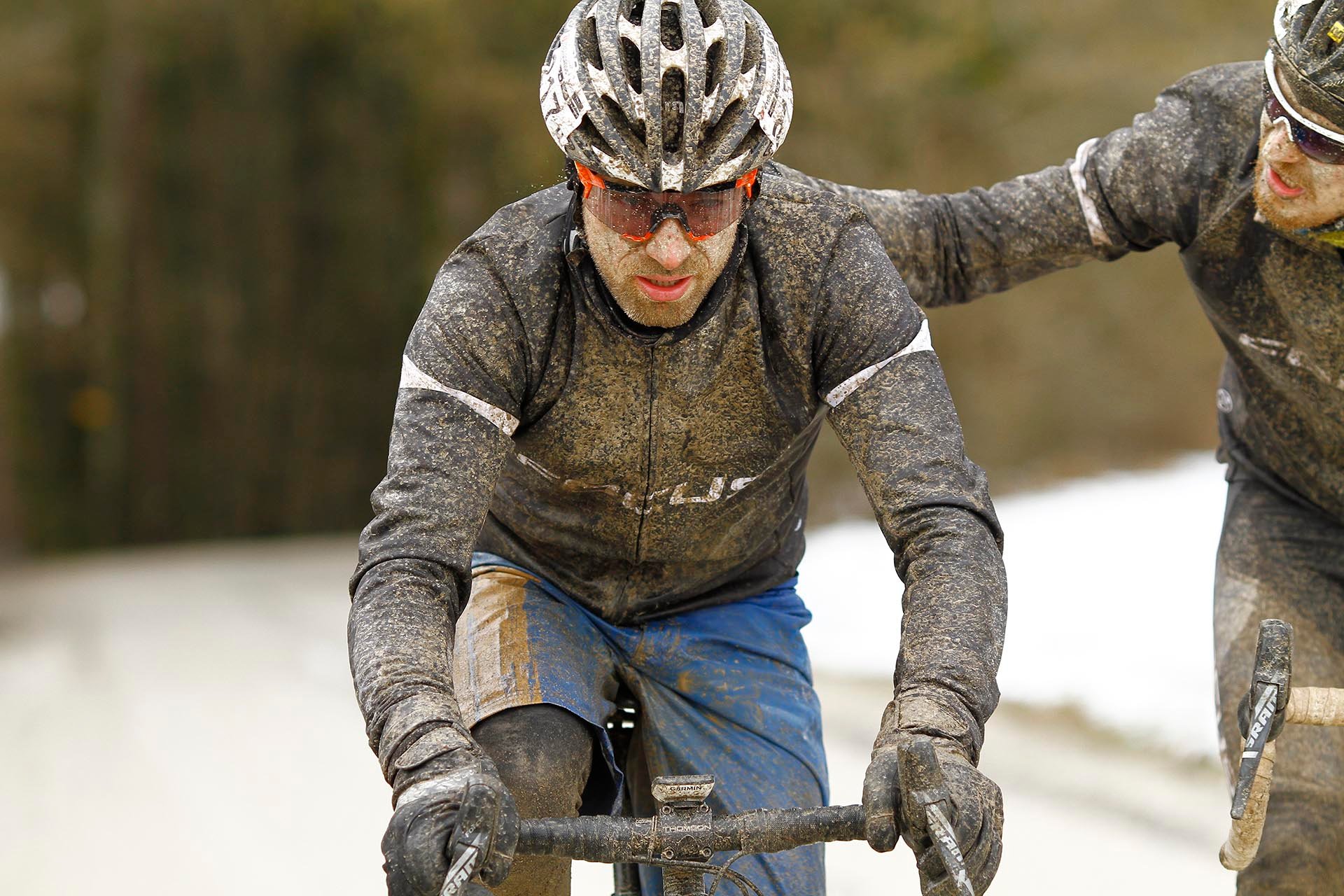 The following morning there we are actually back on the starting line. The field seems to have halved in size; yesterday has clearly taken its toll. This time we set off at a slow pace and let the pack get away; it's a struggle to get our suffering bodies into gear. I am starting to contemplate a day without end. However, after the first long hill the highlight of the day awaits us. There are three kilometres of single-track to raise our spirits. Exhilarated by this opportunity, we launch into some single-track fireworks. I attempt to stay on Fabi's wheel. We fly past the competition on our Mares, and even see some riders carrying their bikes. As I drift round one bend with particular aplomb I unleash a lusty whoop that causes some dismounted riders to scatter in alarm.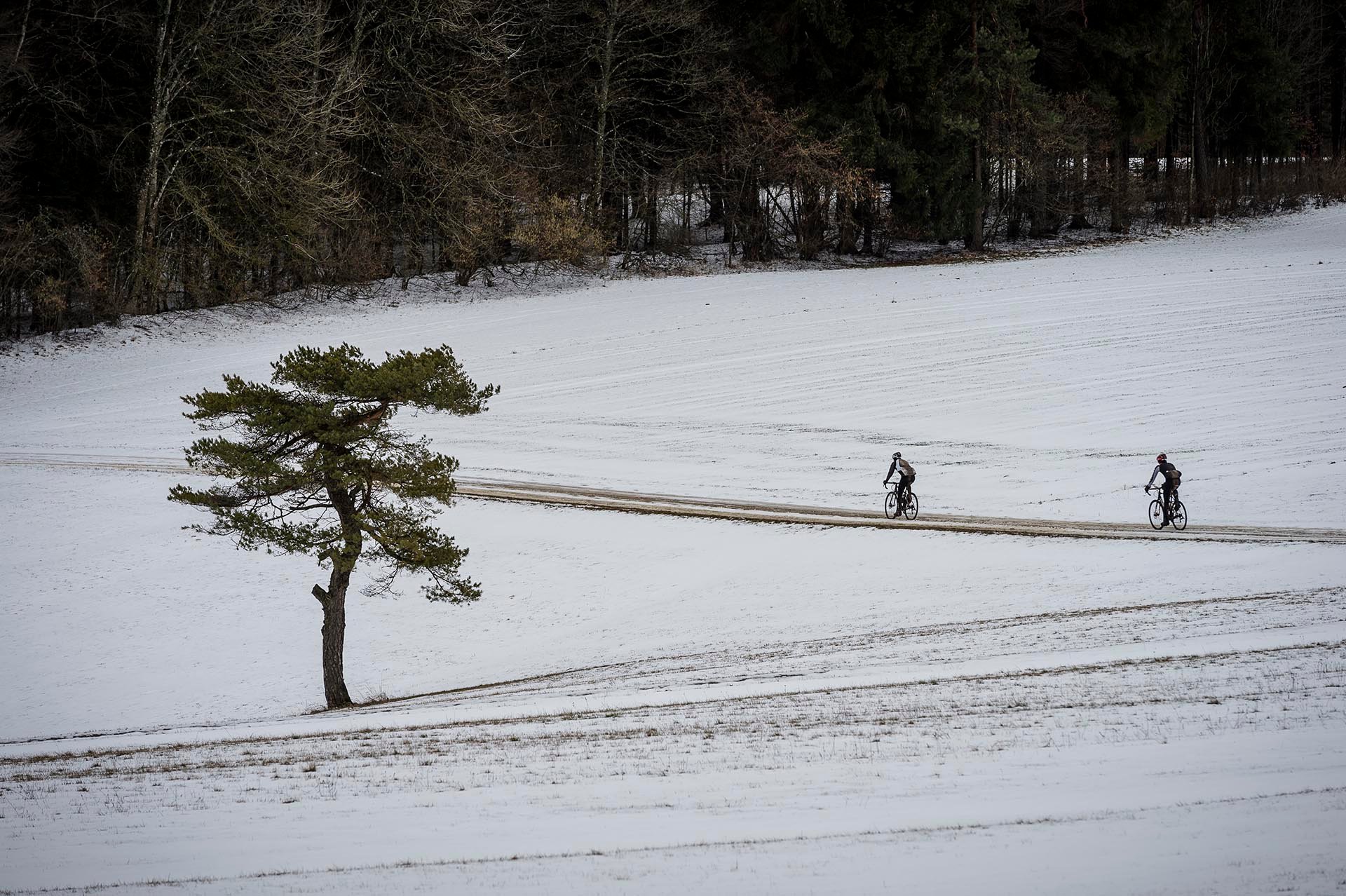 Rock Stars?
We get cheered like rock stars for our descending skills. "Great descending, guys!" almost drunk from all the adulation, we miss a fork in the route that is actually well signposted. Our injection of motivation lasts for precisely 20 kilometres. After a running section and more dirt tracks we find ourselves back in fist-bumping mode. The lads from the rapiro racing team overtake us – and feel sorry for us. This is about the worst thing that can happen to us. They want us to take advantage of their slipstream. That means riding faster than we want to. I yell at them: "Just carry on!"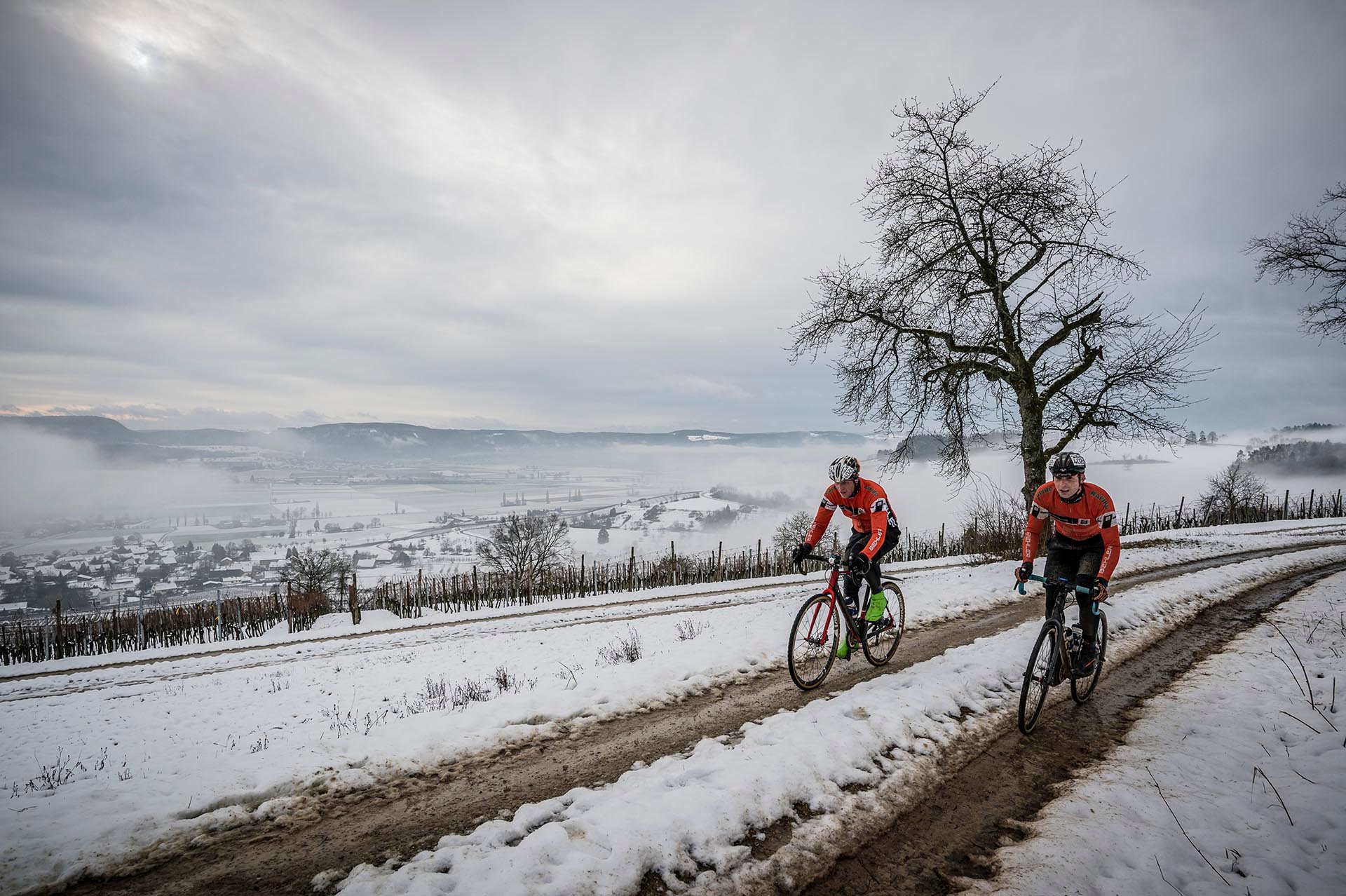 But the lads don't listen. So on we go in their slipstream, up hill and down dale, through vineyards, along the River Rhine and through idyllic little towns. I am no longer taking anything in. I have pretty much lost it somewhere between the gravel and the mud. It can't get any worse. A raindrop hits my glasses.
In the pouring rain I am hanging onto the rear wheel of the Rapiro lads, and Fabi is doing the same to mine. Surely there can't be much more of this stage to come, but that's what we thought yesterday too. The gravel crunches under our tyres. I am trapped in a tunnel of pain, but I am not alone there. I look over at Fabi and invite him to fist bump, brothers in pain. Our forward progress is no quicker than snail's pace. How come this wretched surface seems to be dragging us backwards?
At some point we really do get to the finish and cross the line side by side. The time for fist bumping is over, and I give Fabi a great bear hug. I clasp him so hard that water pours out of our clothing. "16 centimetres," Fabi croaks in my ear: "I have just grown 16 centimetres taller."