article 30.03.2016
Anja Kallenbach in Majorca
Anja Kallenbach has just returned from the training camp in Majorca – with ample kilometres of training under her belt. Anja absolutely loves cycling and has already been all over the place on her FOCUS Cayo. In this column she gives you regular training tips, travel recommendations and advice on nutrition.
I have just got back from my first training camp. Whilst there I cycled my first kilometres of this year. I'm sure you are all thinking to yourselves: crazy about bikes, yet only just getting back in the saddle now? Spot on, that is the first training tip I have for you: during the winter simply do something else. Since taking up cross-country skiing in the winter I have been enjoying a lot more success on my bike. High up in the Black Forest it's not unusual to bump into a certain number of professional German cyclists who, like me, know how beneficial it is to do something different from time to time. In this way I am training entirely different groups of muscles, and come spring my motivation to get on my bike is virtually boundless.
This year, like every other year, I spent Carnival Week down in Majorca. Majorca is a truly fabulous place to cycle in the spring! And spring has sprung already, with the almond trees in blossom, the meadows full of flowers and a pleasant air temperature of 18 degrees – just right for cycling. Majorca also has numerous small roads where you only see other cyclists, with hardly any cars on the road at all.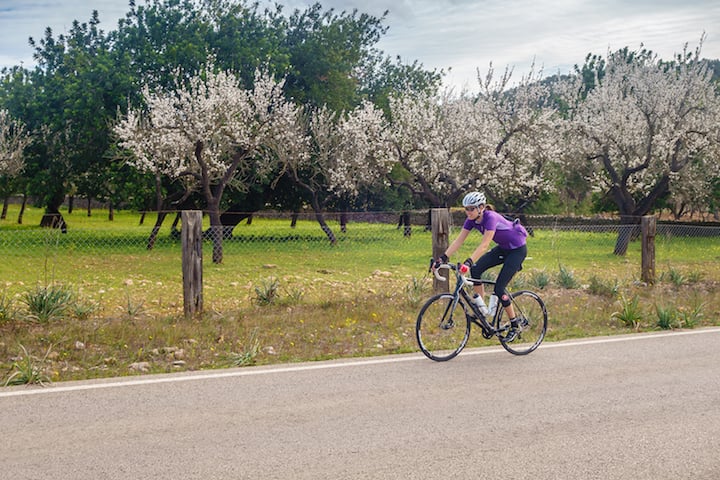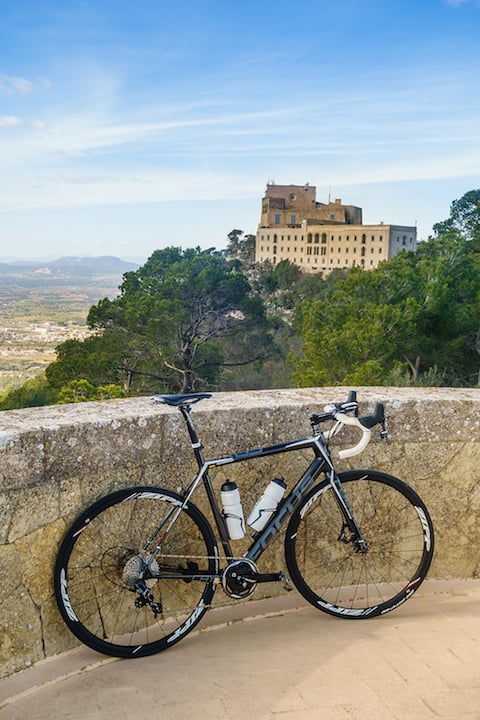 Training control – yes or no?
I took my own bike with me simply because it fits me so perfectly. And I even took my Quarq powermeter with me too. That was really a huge help in terms of my training control. I should explain that I am not a person who sets out with a training plan and strictly adheres to the number of kilometres, hours and sections that have been specified. My view is that, first and foremost, cycling should be fun. What's more, I also want to enjoy the landscape rather than keep my eyes glued to the speedometer to make sure my power output stays at a certain wattage. I also allow my training to be dictated by how I'm feeling on any given day and by the weather. Having said all that, I do follow a specific training programme to make sure that my fitness level is spot on for my racing season in June/July. With this goal in mind, basic endurance training – in other words riding long distances at a relatively slow pace – is initially the most important thing. This means that I start off by leaving the fast groups to go out ahead, and often simply let others overtake me.
Of course, the basic endurance training in the spring has one major downside for me: I have to ride mainly on the flat. That is really not what I am all about! Needless to say, even in Majorca I just couldn't resist incorporating at least a few small climbs. Sant Salvador and Randa are a must! We generally set off at around 10 o'clock in the morning. At this time the temperature is already pleasant. The aim is to have at least 100 km on the clock if the weather permits.
Eating is important
Of course, before the ride there is always an extended breakfast buffet, which really is quite something in Spanish hotels. The question is: what are the best foods to choose for cycling? Thank goodness I don't have a great problem in this area, but a period in a training camp is not a good time to go on a diet. For a long day in the saddle we need energy in the form of long-chain carbohydrates. This energy is released slowly and remains available for a long time. The classic source of such energy is muesli. I always prepare mine from oats, seeds and dried fruits because that way I know that it won't contain too much sugar. On top of that I have fruit for their vitamins and a cheese roll to put in the back pocket of my cycling jersey. I really don't go for energy bars when I am out training, I only eat them when I'm racing. They usually aren't particularly healthy, and they don't taste all that great either. Majorca has plenty of wonderful cafés where for a couple of euros you can buy a slice of the famous almond cake or a delicious bocadillo, perhaps filled with Spanish serrano ham. Having said that, I do always have a gel handy for use in an absolute emergency. Other than this, the back pockets in my jersey contain a map of Majorca, a rain jacket (the weather here can turn extremely quickly) and, of course, a mobile phone for emergency use. You're quite right, you most definitely need a jersey with three back pockets, which is unfortunately not yet standard with most manufacturers. The Focus jerseys, on the other hand, are great for proper women cyclists as they have three large rear pockets. In the evenings I make sure that I take on board plenty of proteins for my muscles and their regeneration. So I eat mainly fish with vegetables and noodles or rice.