review 14.05.2018
Winner by a mile - JAM² Plus Pro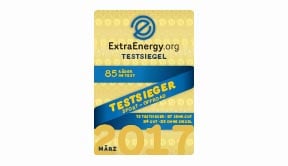 BIKE Bild magazine has declared the JAM² Plus Pro the e-bike test winner*. The JAM² outperformed all other bikes in the test and was awarded 29.5 out of 35 BIKE Bild stars, leaving its competitors trailing in its wake. The testers were particularly impressed with the level of pure riding fun and the assist factor on the mountain.
"Top trail bike. The Focus wins with outstanding drive and mega riding fun."
"The long experience with normal MTBs has paid off because the Jam² makes a great impression straightaway. 'A brilliant trail bike' was the phrase used by an enthusiastic Marco Hösel, off-road expert and test rider. The bike's motor offers gentle but powerful assistance and gets the rider up any gradient. It not only gives a smooth ride, but is also amazingly quiet".
Conclusion: with its outstanding drive, the Focus sets a new benchmark for electric mountain bikes.
"The drive characteristic of this bike takes riding fun to the next level, such that cycling on the Focus Jam² is an amazing eye-opener – it may even win over hardcore old-school MTB bikers with a dogged aversion to e-bikes!"
Verdict: clear winner with impressive performance on difficult trails. Perfect propulsion and ultra-quiet motor.
The complete test can be found in BIKE Bild 1/2017.
Extra Energy also put the JAM² Plus Pro through its paces in its comprehensive test of 85 bikes** and crowned the bike best Sport off-road pedelec:
"Trail bike with amazing handling. This powerhouse with optimum comfort and thick lugged tyres ensures a great ride. The Focus JAM² Plus Pro is test winner in the "Sport off-road" product group".
Further information can be found at www.extraenergy.org
*12 bikes were tested and awarded the following number of stars: 1 x 29.5, 2 x 26, 2 x 25, 1 x 24.5, 1 x 24, 1 x 23.5, 2 x 21, 1 x 17, 1 x 16
**13 test winners, 27 x "Very good", 24 x "Good", 22 no rating