review 15.05.2018
Test winner - JAM² Plus Pro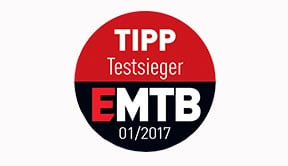 The German specialist magazine EMTB invited the ten most interesting bikes of 2017 to participate in a comparison test*. The clear test winner, the JAM² Plus Pro rode straight into pole position with the top rating "Super". The testers loved the JAM² both in the laboratory and on the trail and it came out top in a comparison of the best – not least due to its most innovative concept.
So what was the focus of this test? Pure innovation and performance. The testers were extremely impressed with the ride characteristics and design of the JAM² and the versatility of the T.E.C. pack.
"The JAM²'s 1* rating in this category was well deserved. In particular, the additional battery option considerably enhances the versatility of the bike."
"With just an integrated battery, the bike would have been a clear winner in the aesthetic category – had there been one. The JAM²'s details were also mightily impressive, for example the integrated speed sensor and its outstanding geometry in all riding situations. Its equipment and features also leave nothing to be desired".
"Overall, a very sophisticated concept. With its additional battery, the JAM² offers the broadest area of application of all the bikes in this test".
The JAM² also beat all other bikes hands down when it came to range.
"With its modular battery system, the Focus Jam², as previously stated, was the clear range champion".
Verdict: this time round, the most coherent and harmonious overall concept comes from Focus. Testers were thrilled with the modular battery system, ride performance and aesthetics of the JAM².
You can read the complete test report in the 1/2017 issue of EMTB magazine.
* Included in the test category: Bulls, Cube, Flyer, Haibike, Kreidler, Lapierre, Mondraker, Thömus, Trek. The FOCUS JAM² Plus Pro was the sole test winner. Three bikes were rated "Super", four "Very good" and three "Good".