E-ALLROUND

How to find the perfect allround e-bike
Do you want to know more about allround e-bikes? You've come to the right place. We'll explain the differences between the e-bike categories, have interesting facts about drives and batteries and show you which parts you should look out for.

Touring/ sport e-bike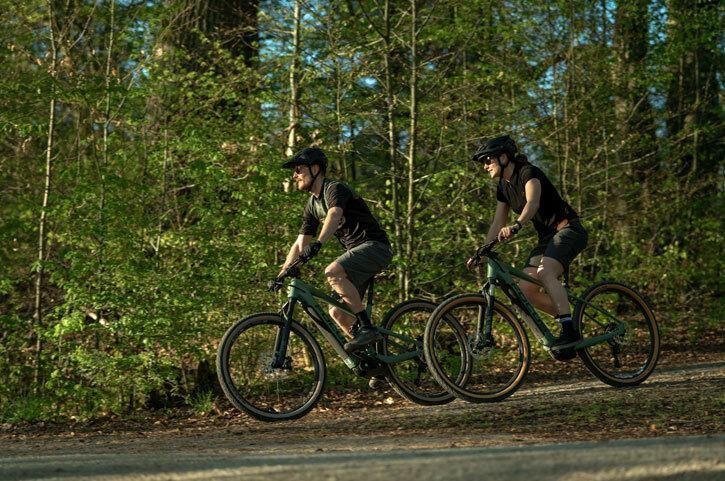 Do you want to go on adventures with an electric bike that you can rely on in every terrain? If yes, have a closer look at our FOCUS touring and sport e-bikes. In this segment, you'll find the JARIFA2. Touring and sport e-bikes are perfect for everybody who wants to go for longer rides, collecting miles and – on top – wants to fulfil some sporty ambitions. Mountains, woods, but as well fields and forests are the natural habitat of touring and sport e-bikes. Of course, you can also go for a day trip or a Sunday ride with this kind of e-bike. Sounds good? Check out the JARIFA2
Trekking e-bike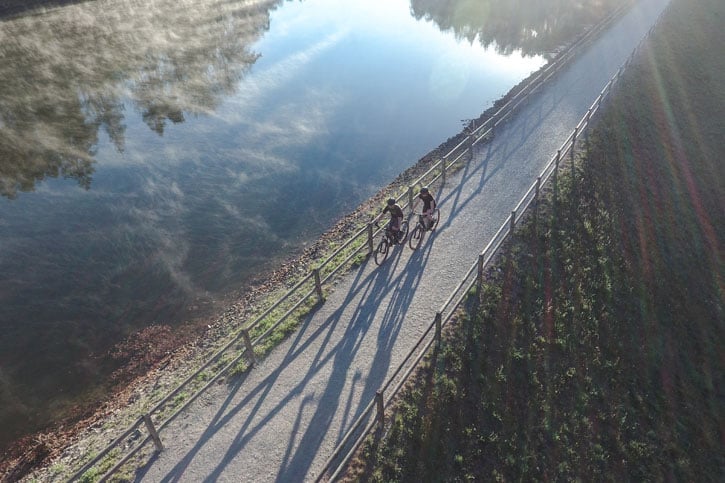 They are probably the most versatile type of all e-bikes. The best selling category is named trekking e-bikes, and they are not only made for touring on gravel roads but likewise for everyday life in the city. Trekking e-bikes will take you safely to your destination of your cycling tour and will support your commute to the office and your daily ride from A to B. Even if you are spending a lot of hours pedalling, you will feel comfortable on a trekking e-bike. For daily rides, it provides a lot of comfort and a pretty reliable performance. If you are interested in one of these multitasking allrounders, the FOCUS AVENTURA2 will be exactly the right e-bike for you.
Urban/ city e-bike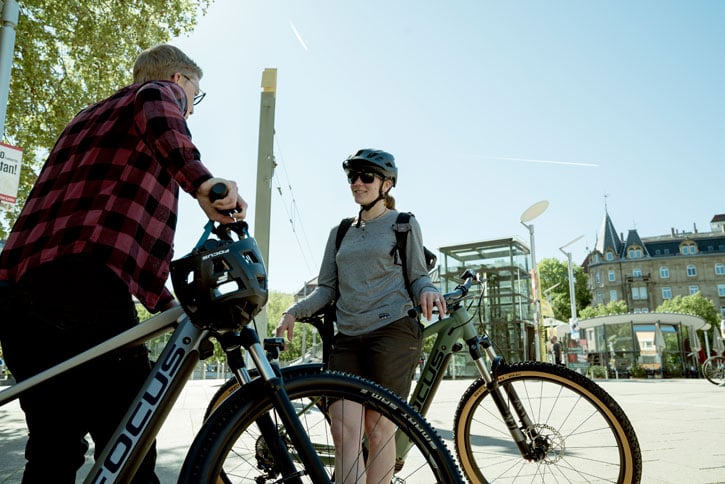 In the segment of urban or city e-bike, you can find your companion for every day use. It doesn't matter if you just want to get quickly to the farmer's market, to the kindergarten or to the office, city e-bikes are sturdy and the right choice for short distances in the urban jungle. You get support and power out of an electric engine that protects you from getting sweaty. But of course, your urban e-bike also takes you to your Sunday trip to the park and into nature. The FOCUS PLANET2 is ready for your rides through your town – delivering comfort and safety.
How does it feel to ride an allround e-bike?
All three families of allround e-bikes are slightly different in their riding character. They are united by the fact that they are straightforward and are providing safety and comfort to all kinds of e-bike riders.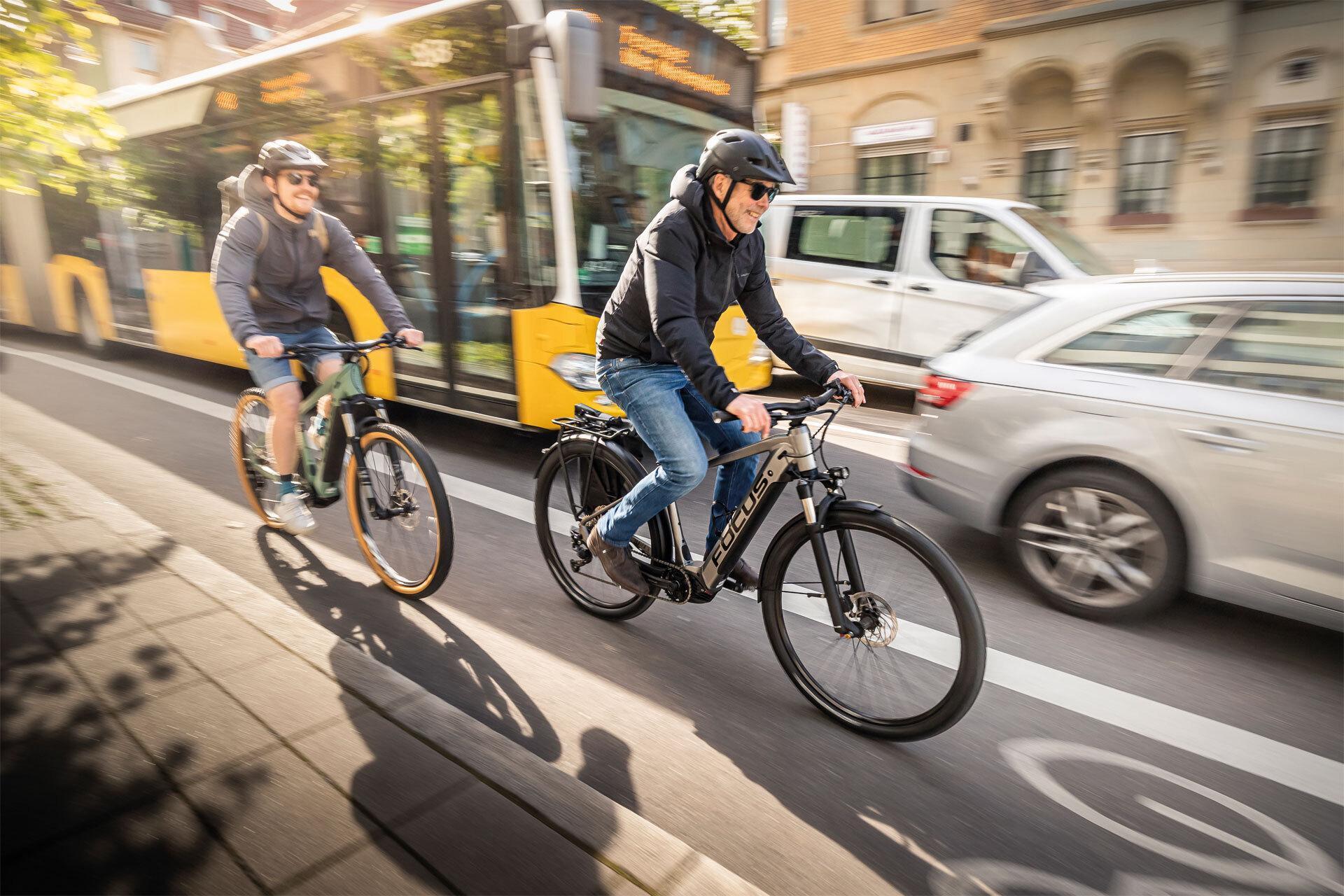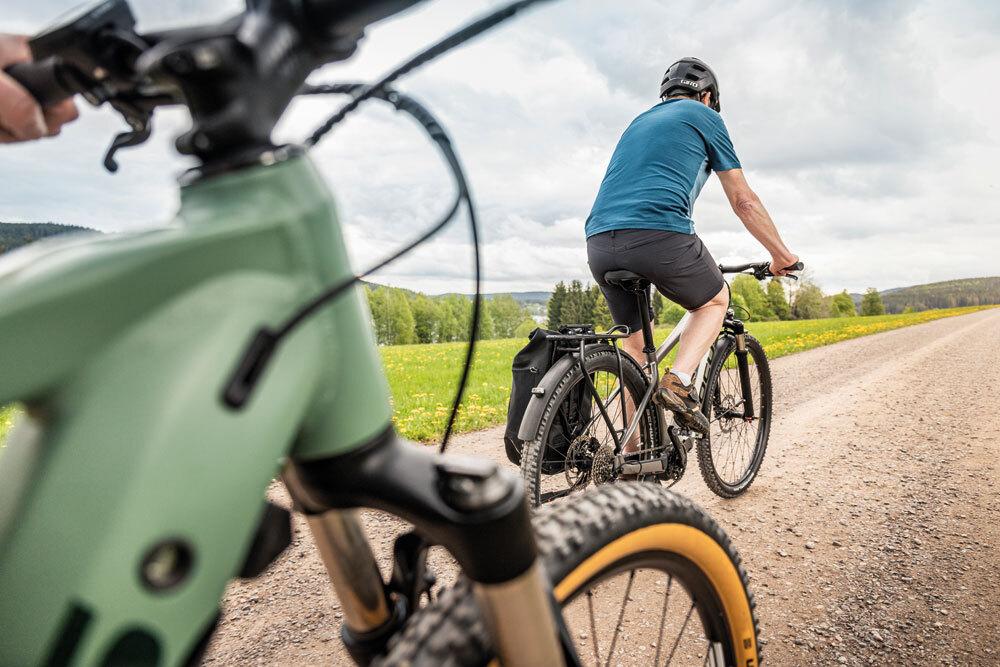 For longer rides, maybe even with bags and some sporty goals, touring and sport e-bikes are highly recommended. As their name promises, your position on the bike is more sporty but still ergonomic. The geometry can be compared to a mountain bike geometry, that's why you feel very confident even on trails. Ambitious riders are just right in this family.

Trekking e-bikes are at home on gravel roads. Their geometry is more relaxed so riders can fulfil a lot of miles without difficulty. The solid behaviour of trekking e-bikes is shown in their riding character: they ride very stable and smooth. This also helps everyone who wants to use them for transporting goods or equipment. Furthermore, bike packing trips are what trekking e-bikes are also made for.

Urban riders need comfort and a more upright position on the bike. With the PLANET2, they can roll relaxed on city streets. While cruising through town urban e-bikes should be on top agile enough to handle every traffic. And if an immediate emergency stop is necessary, it has to stay balanced and controllable. Urban riders need comfort and a more upright position on the bike. With the PLANET2, they can roll relaxed on city streets. While cruising through town urban e-bikes should be on top agile enough to handle every traffic. And if an immediate emergency stop is necessary, it has to stay balanced and controllable.
Which drive is the best for touring, trekking and city e-bikes?

Strong allround e-bikes need strong electric drives. Then they climb ascents and every uphill easily. In this segment, middle motors that are built directly in the bottom bracket, have proven their strength. Thanks to their power, the immediate support and the central position in the middle of the frame, they come with a lot of advantages.

Powerful engine: middle motor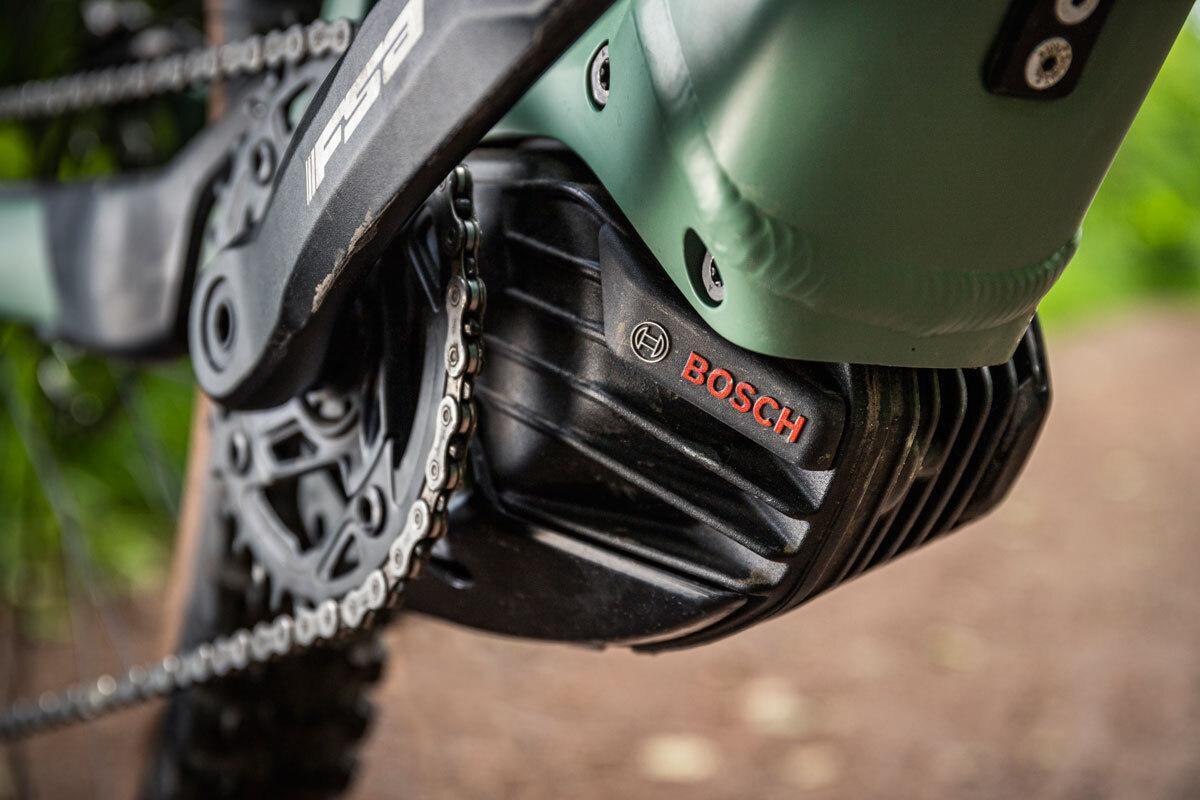 In all FOCUS allround e-bikes an e-drive of the powerful Bosch Series is working. And even the riding character benefits from the low centre of gravity: the electric bikes are pretty stable and smooth-running.
Which parts are important for allround e-bikes?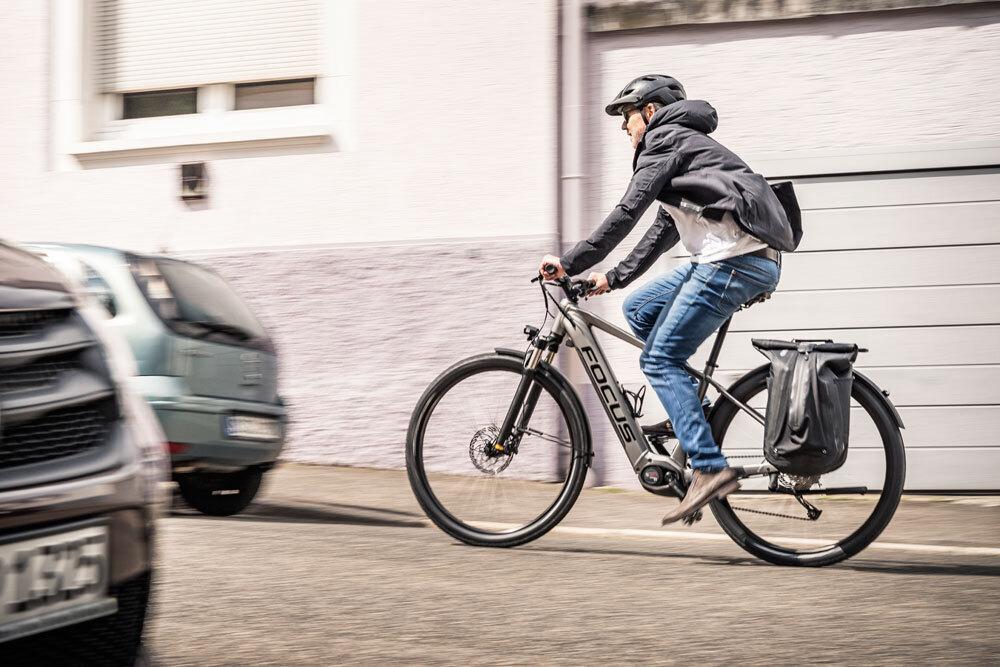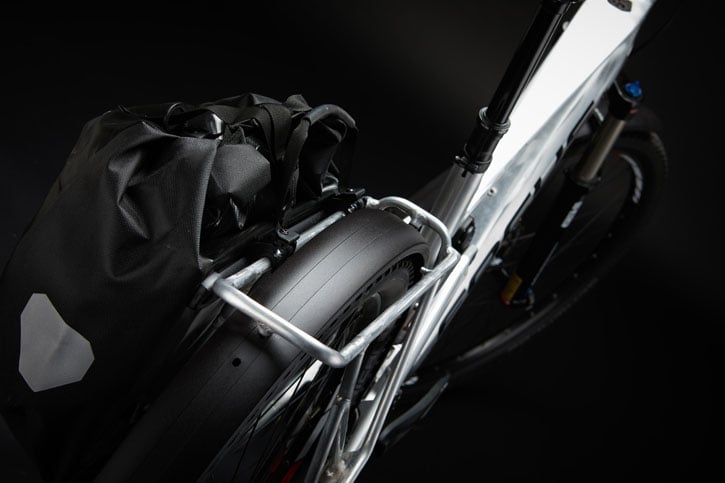 You should care about these parts
You want to rely on your e-bike in any situation. Especially in dangerous moments. An allround e-bike should have strong and solid brakes. All FOCUS allround bikes are set up with reliable disc brakes that provide safety.
Likewise, you don't want to spend a lot of thoughts about your gear shifting – it should just work as you want to. Brand New 1x12 groupsets are mounted to the sporty JARIFA2 and the AVENTURA2. For the requirements of the city, a smaller range is enough, that is why the PLANET2 gets a 9-gear-drive.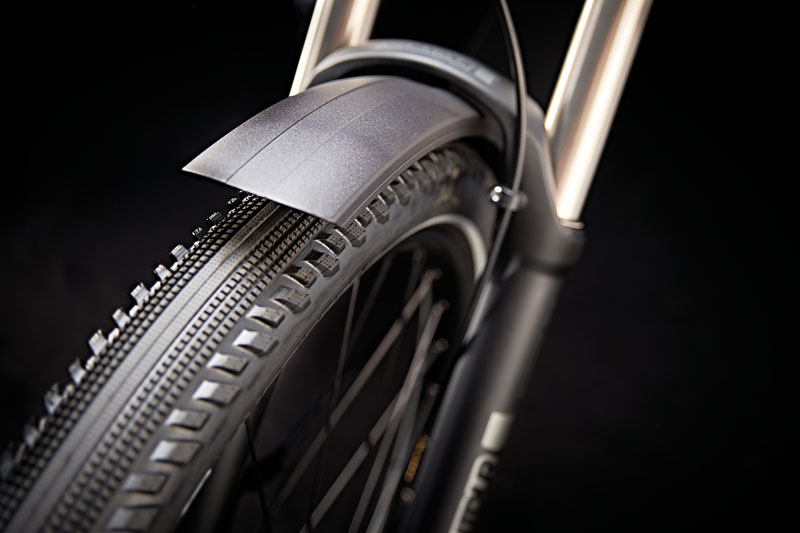 Depending on where you want to ride your e-bike, you should choose the right tyres. If you ride on trails and loose terrain, you'll get the best support out of mountain bike tyres with a tread pattern with knobs.
For trekking and touring e-bikes that roll on gravel roads as well as on regular streets, allround tyres will bring the most flexible performance on each ground. Broader tyres provide more grip, but as well to more comfort, which you will enjoy on rough terrain. Of course, the most important part comfort to the rider is the suspension fork: every FOCUS allround model from touring to trekking e-bike and city e-bike comes with a suspension fork.
The name of the allround category already promises versatile bikes, and our e-bike families are fulfilling this expectation. Even more, if you look at the additional parts like racks, fenders and lights. Following the demands of the rider, there can be added several parts for everyday life. Even the sporty JARIFA2 comes with the option to mount a pannier rack, mudguards and a stand. With these add-ons, it is not just equipped perfectly for daily commuting in every condition, but also your next bikepacking trip and bike journeys.
For our trekking e-bike AVENTURA2 the city e-bike PLANET2, all these parts are included with every model.