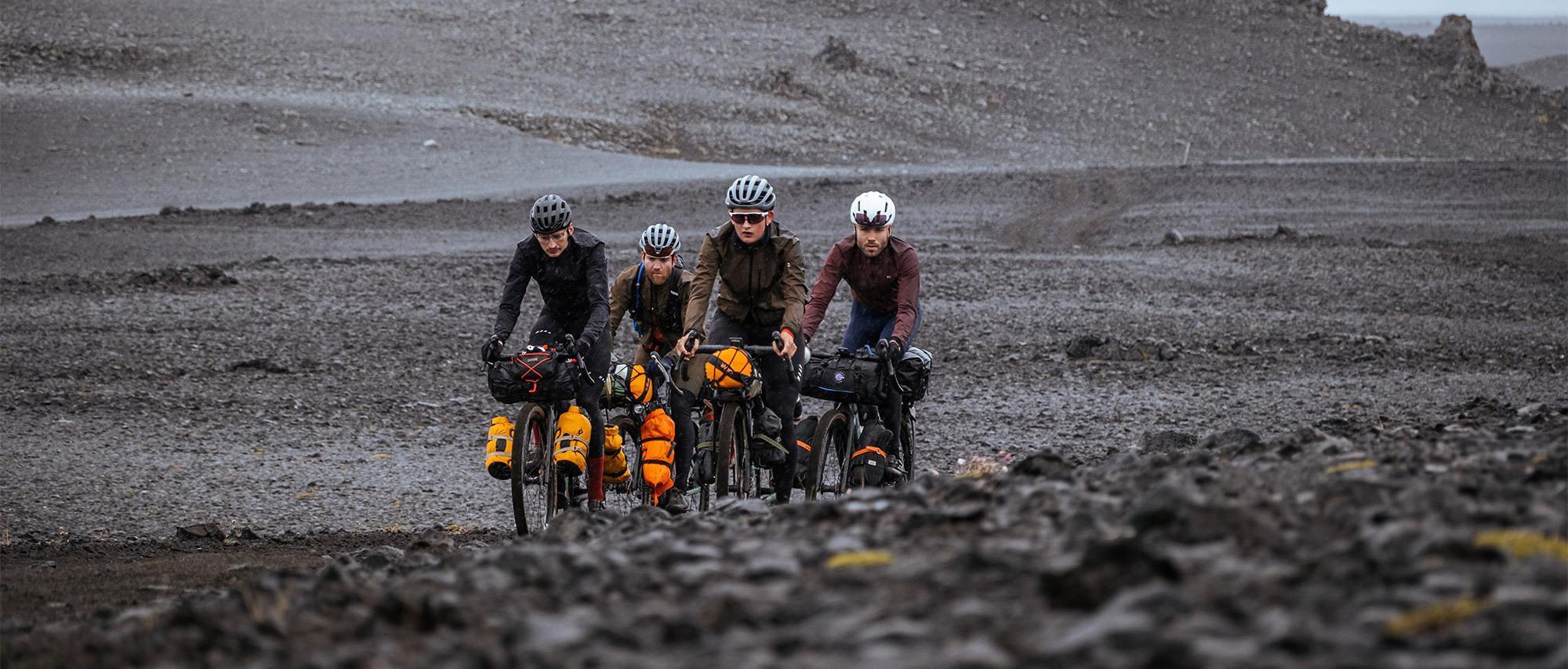 Between Fire and Ice. The Ride Beyond Crew in Iceland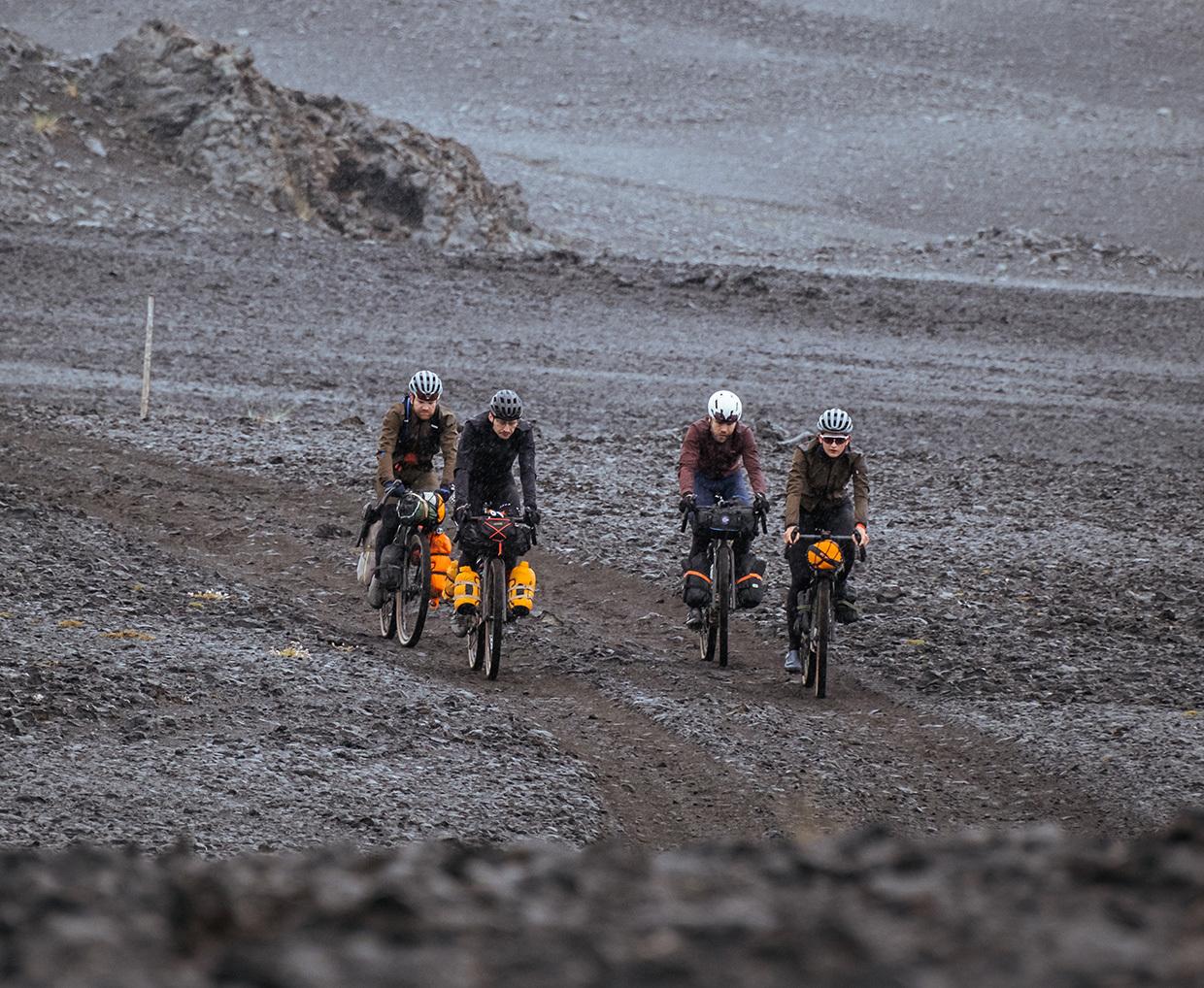 Between Fire and Ice. The Ride Beyond Crew in Iceland
Disclaimer: The rivet on top of the ATLAS' fork is NOT intended for mounting a front rack. The rivet is designed for mounting a light and is not meant to withstand higher loads as with a front rack. Please don't use it for that purpose.
Text by Jasmijn van der Zwaan & photos by Mike Vlietstra
---
There is this famous Icelandic saying that when you get lost in Iceland, you just have to stand up and you'll find the way. When we prepared for our big Iceland divide adventure and heard about this, we laughed about it, but also wondered: Are all trees really that small over there? What will the scenery look like? And also: How hard can this ride possibly be? Little did we know back then….
From Akureyri in the north to Reykjavik in the south west in 5 days
We really started our adventure in the picturesque town of Akureyri. The plan? To ride from Akureyri in the north of Iceland to Reykjavik in the southwest in 5 days. A route of around 600 km between two big glaciers and on almost only rocky and unpaved roads. With the famous Icelandic saying still in our mind, we made a little challenge for ourselves that started at the moment we left the 'habited world'. The person who finds the first tree wins!
To the inlands
of iceland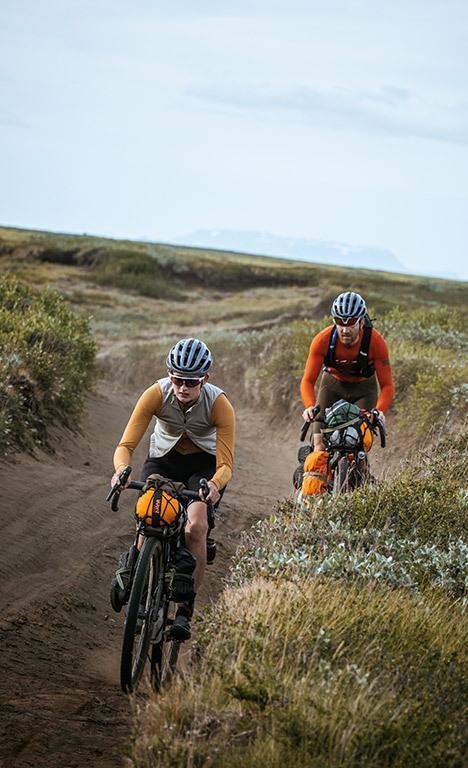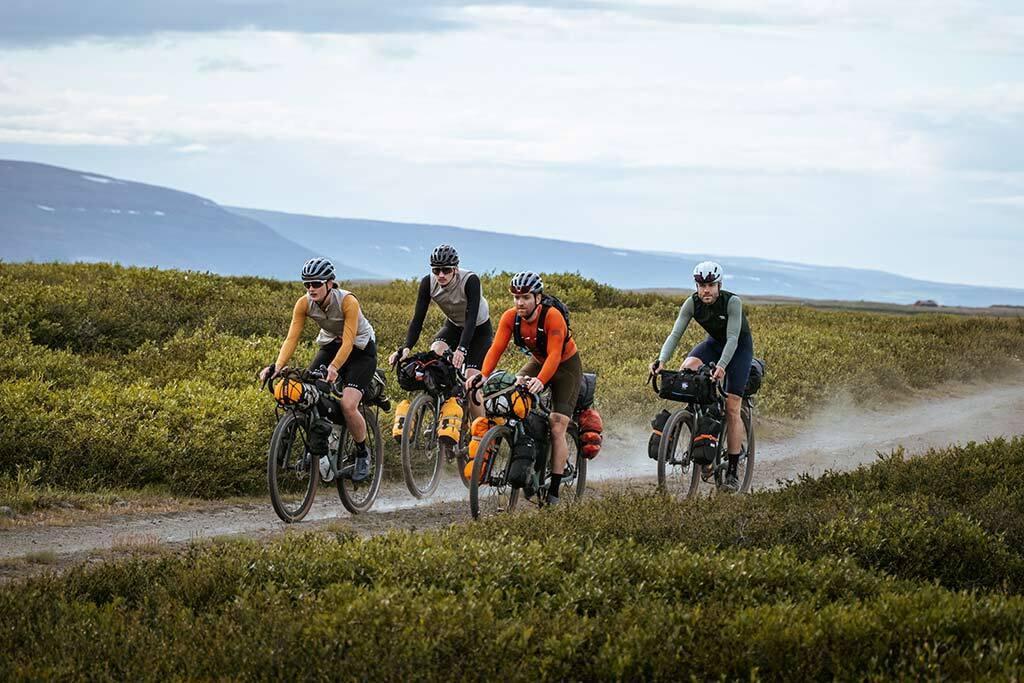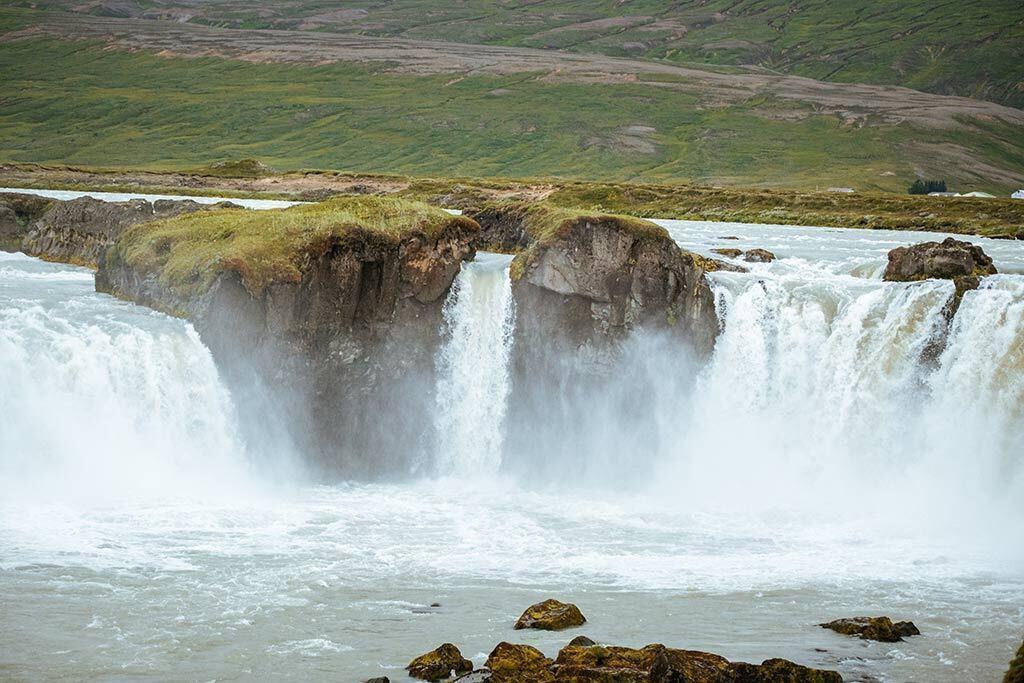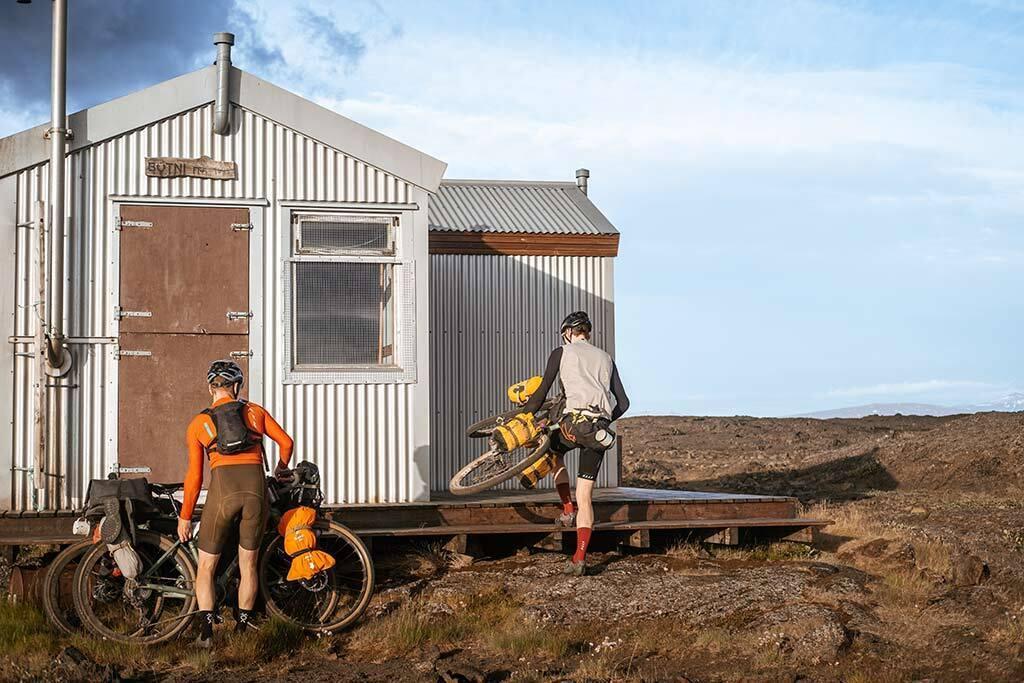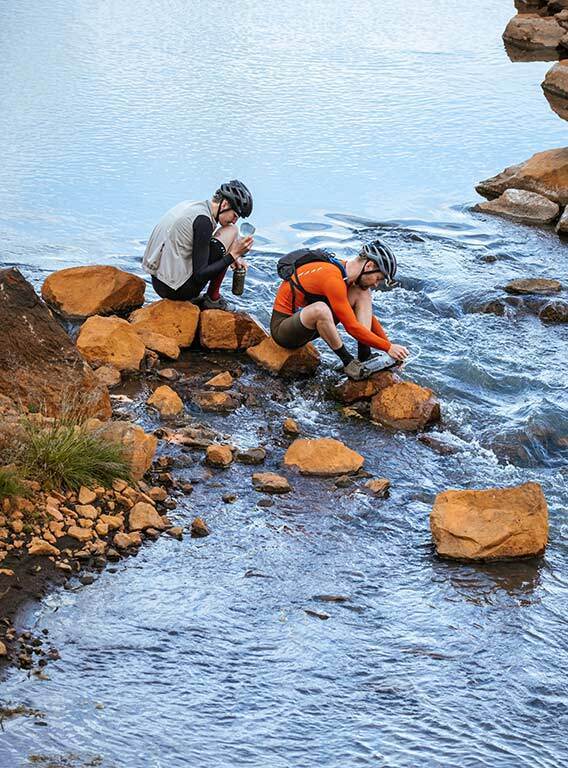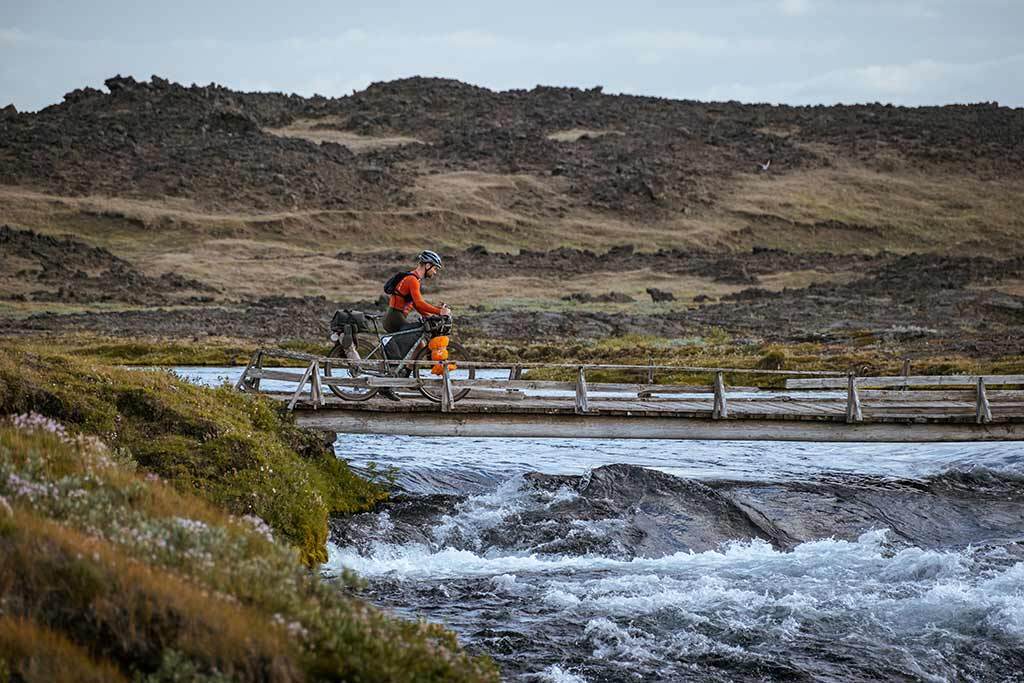 After a night of sleep in Akureyri, we were ready to take off! Oh well, almost ready. Roel's bike had a little issue and we figured it was better to get it fixed before leaving civilization. With the help of our Icelandic friend Briet (you're the best!!) we found a bike shop that solved the problem and now we were actually ready to start! The first kilometres were on tarmac, but the gravel fun started quite fast! Oh my… the roads and views were a-ma-zing! Endless roads and the views changed every few kilometres.
At first, the gravel roads were big and rolled well, but after we did a little stop at a big waterfall, we got in the inland and the roads got smaller, sandier and our pace was going down. And then, out of the blue, our route led us into lava fields… such a weird and surrealistic place to ride in. After around 130-ish kilometres, we found a so-called emergency hut: The Botni hut, and decided to call it a day. We filtered water from a very small lake, boiled it and made dinner (pasta bolognese, yum!!). We were treated by a beautiful and very late sunset and it was time to jump... into our sleeping bags.
"WHAT WOULD MAKE YOU HAPPIEST RIGHT NOW?"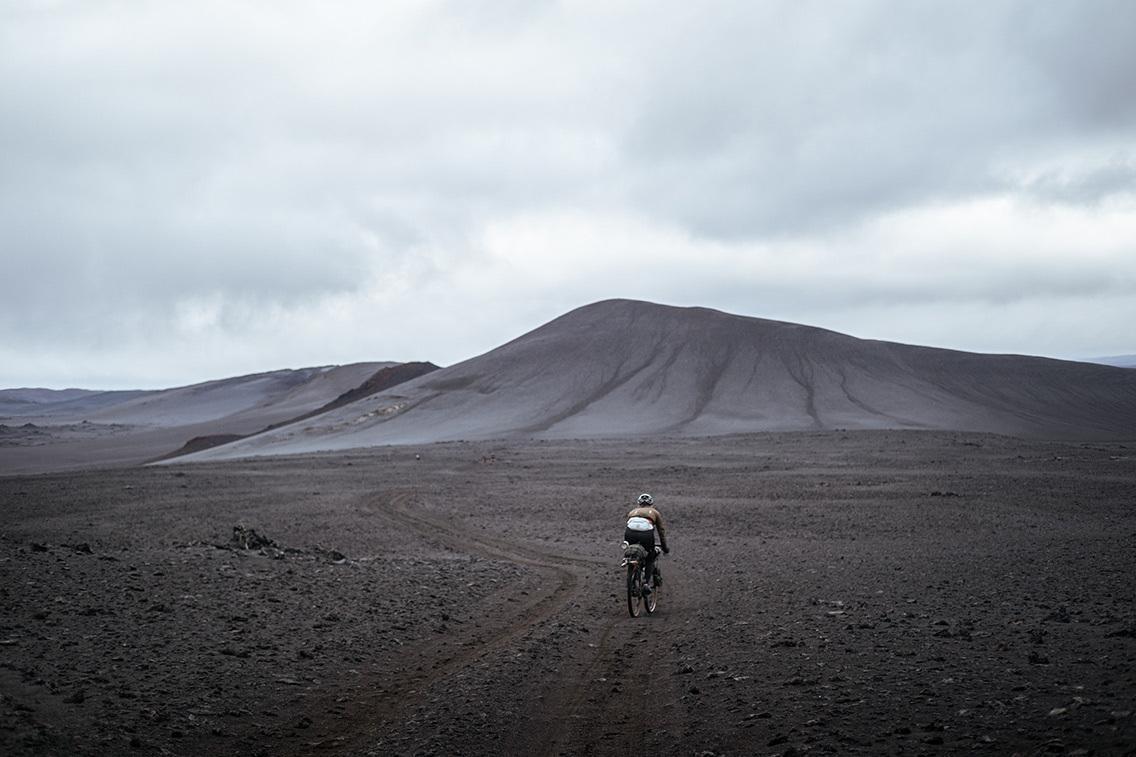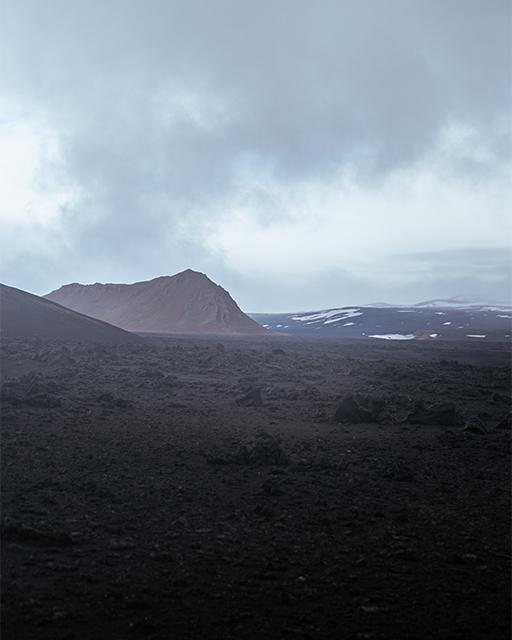 Most of us (not me!) had a pretty good night of sleep in the Botni hut and we were ready for day two. The weather of this day was going to be a different story from day one: It was looking gloomy, grey and rainy. But hey! We were in such a cool place, so we were totally ready for it. We knew that the first km's would still be in the lava fields, but exactly how many we didn't know. In the first hour, we only managed to ride (more like a walk) about two kilometres and we realized it was going to be a long, long day. It felt like the lava fields were endless and everything we saw was grey and black lava sand. After a few hours (and very few kilometres), we found another emergency hut and we decided to have lunch there and to warm up a bit.
Being out in the rain made us pretty cold. After lunch, we actually didn't want to leave the warm and cosy hut, but we had to. At this point, Martijn asked me: What would make you happiest right now? After a little bit of doubt, I answered: A hot chocolate. Of course, I knew that there was absolutely no chance to get a hot chocolate anywhere in the upcoming days because we hadn't brought any, but one can dream, right? We were pretty lucky with a good tailwind that blew us to some better 'roads'. We finally could make some kilometres on the black lava sand. But as we got closer to the biggest glacier on the island: Vatnajokull, the tracks got a lot rougher again. That meant we were getting higher and so it was getting colder. And it got worst: All of a sudden, the black lava sand turned into a big rocky area that had no visible path at all. But the route went right across it. It became about 10 degrees steeper and we still had to climb at least a couple hundred meters of elevation up to the glacier. This part was really surrealistic and heavy at the same time.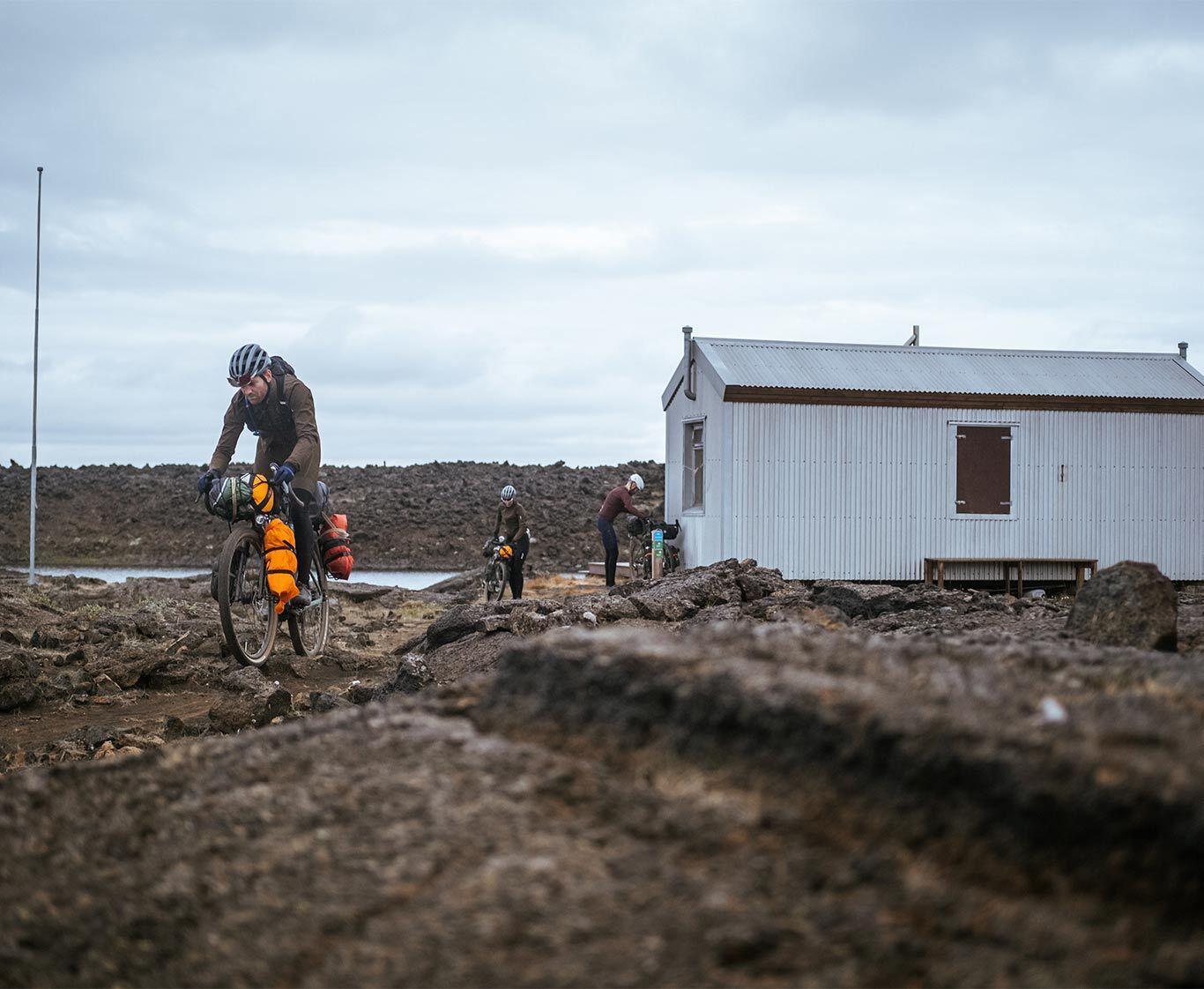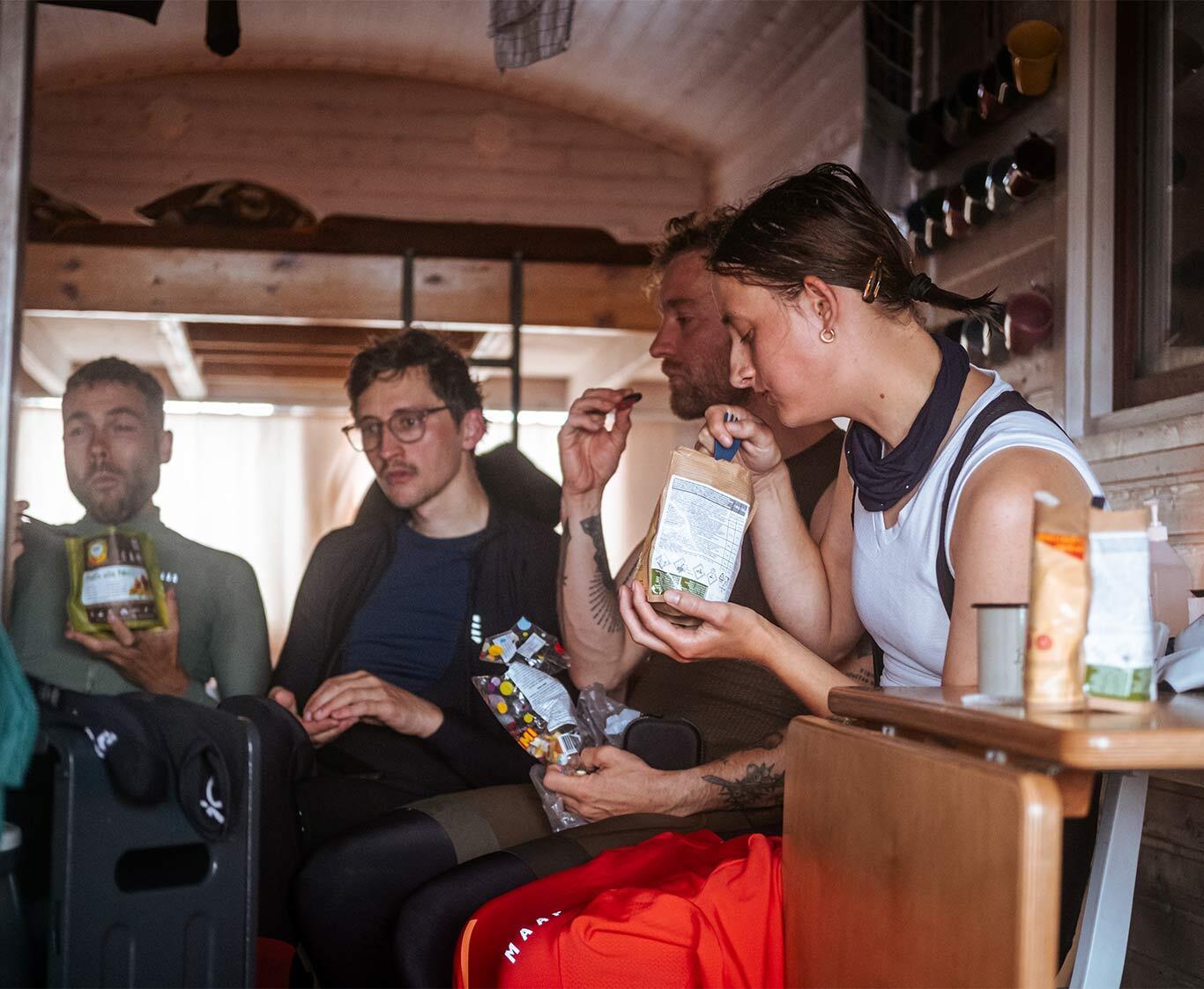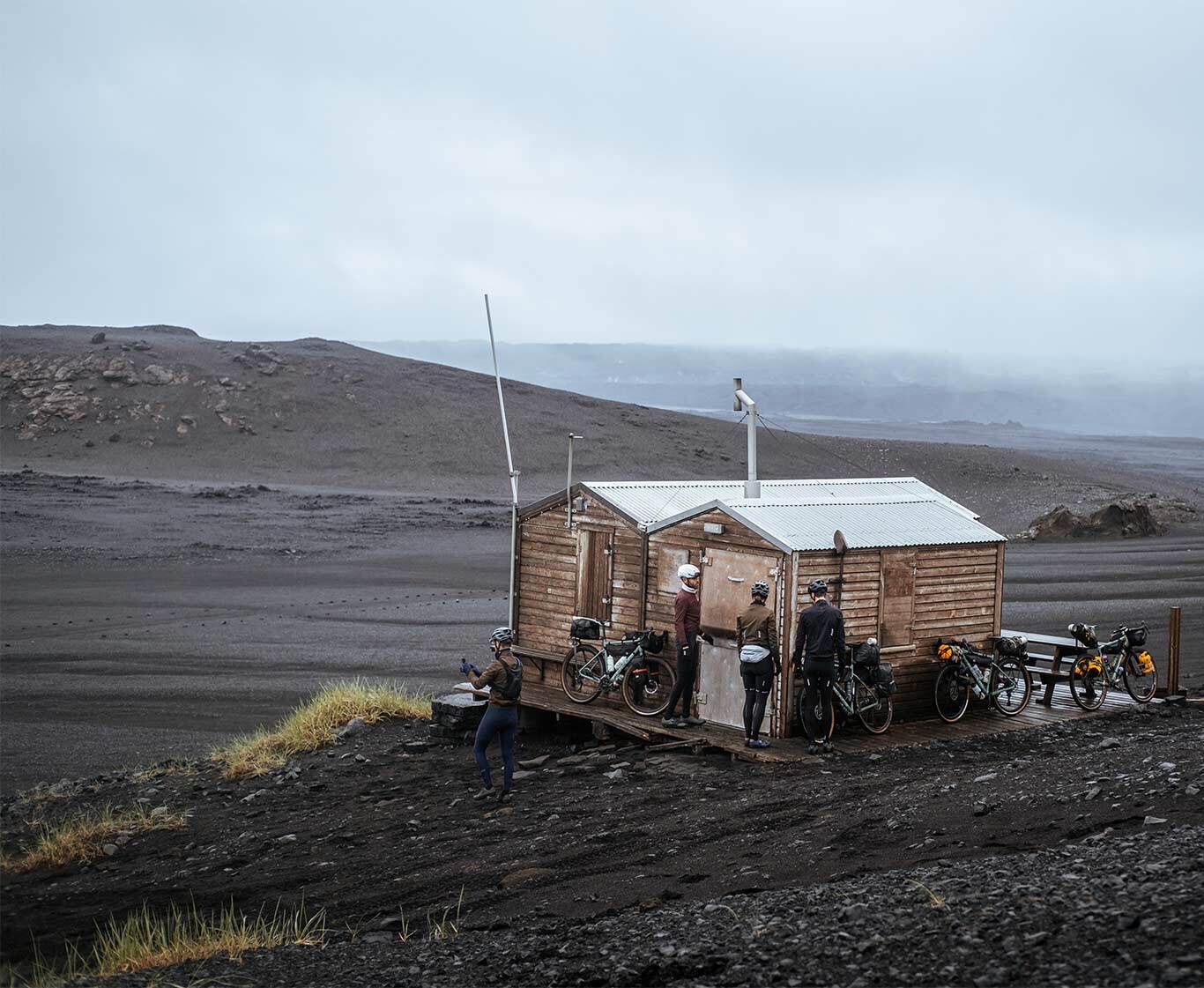 We knew that within a foreseeable time, there would be another emergency hut again. That sounded very good since it was getting colder and we were pretty tired already. The only thing was that the foreseeable time, turned out not to be very foreseeable because Jelmer got a puncture in his tire on a very windy and cold place and plugging it didn't work at all. After what seemed like ages, struggling to plug the hole and get some air back into the tire, it really got pretty dangerous. We were very very cold because we were still standing in the rain and nothing worked to fix the tire. After a while, we decided it was better that Roel, Mike and I got back on our bikes to not get hypothermia and look for the shelter. While Martijn en Jelmer stayed to repair the bike…
In the end, they managed to fix it (heroes!) and rode the last kilometres to the hut. When we all got there, we saw there were already people in the hut. We were so happy because that meant it was already heated! The two Icelandic men who were in the hut were actually pretty shocked when we got there because of how cold and tired we looked (they even wrote something in Icelandic about that in the guestbook of the emergency hut haha). And then, something magical happened: They offered us a hot chocolate!!! So after what we called a nightmare first, dreams became true :)."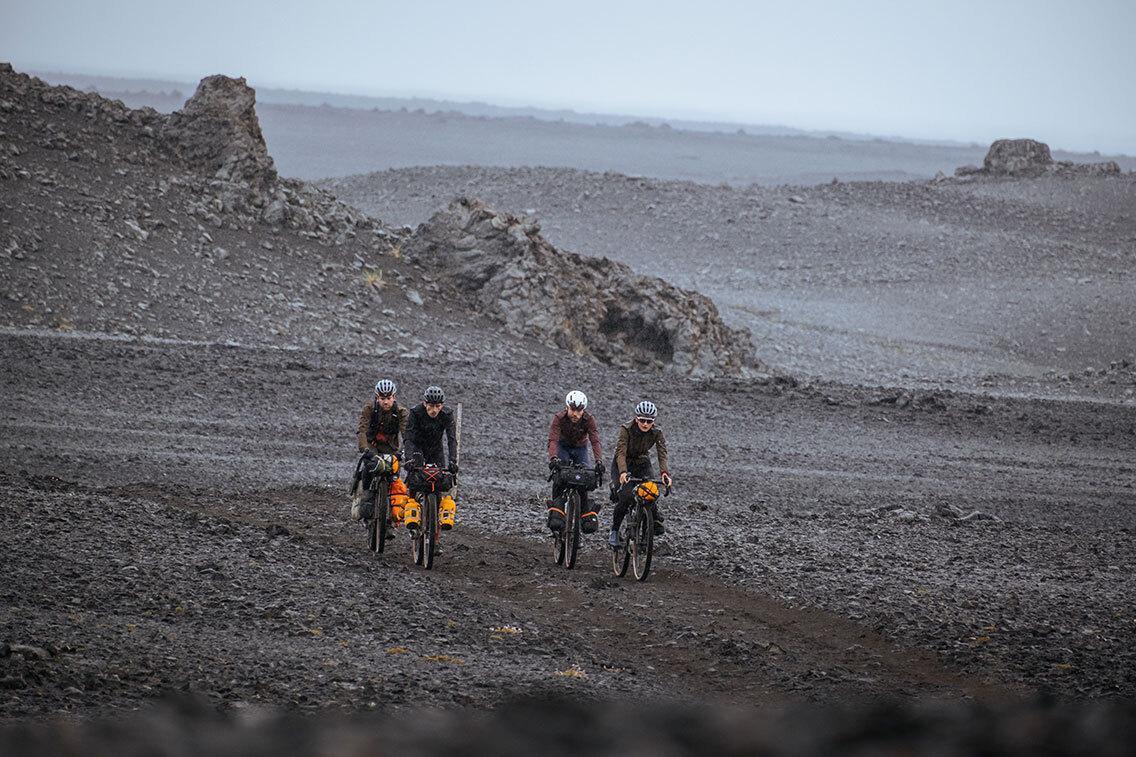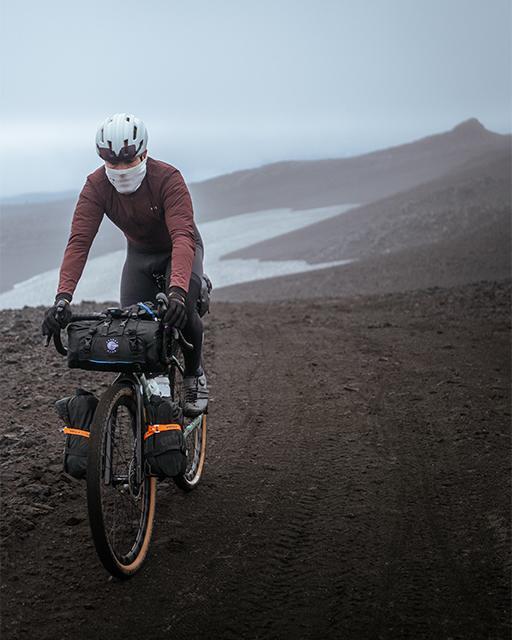 What is the least thing you want to to beeing cold already? Undressing and crossing rivers, exactly!
Following another night in a warm and cosy hut with the Icelandic lumberjacks (there's no lumber to be jacked in Iceland, but at least it sounded like that's what they were doing all night), we were somewhat ready for take-off again. The day started grey and rainy and after climbing to the edge of the glacier in the first few kilometres, we also encountered our first glacial river crossing. Because we were still so close to the glacier, you can probably imagine how cold it was…
And this was only the start of a lot of river crossings we had to go through today. Every single time: taking our shoes and legwarmers off and trying to go to the other side of the river as fast, safe, dry, and warm as possible. Some were easier than others. In a few the water flow was pretty strong. Just by helping each other out (this is a big thank-you moment from me to the guys!), we managed to get to the other side every time. In between the river crossings, the gravel was getting friendlier every now and then.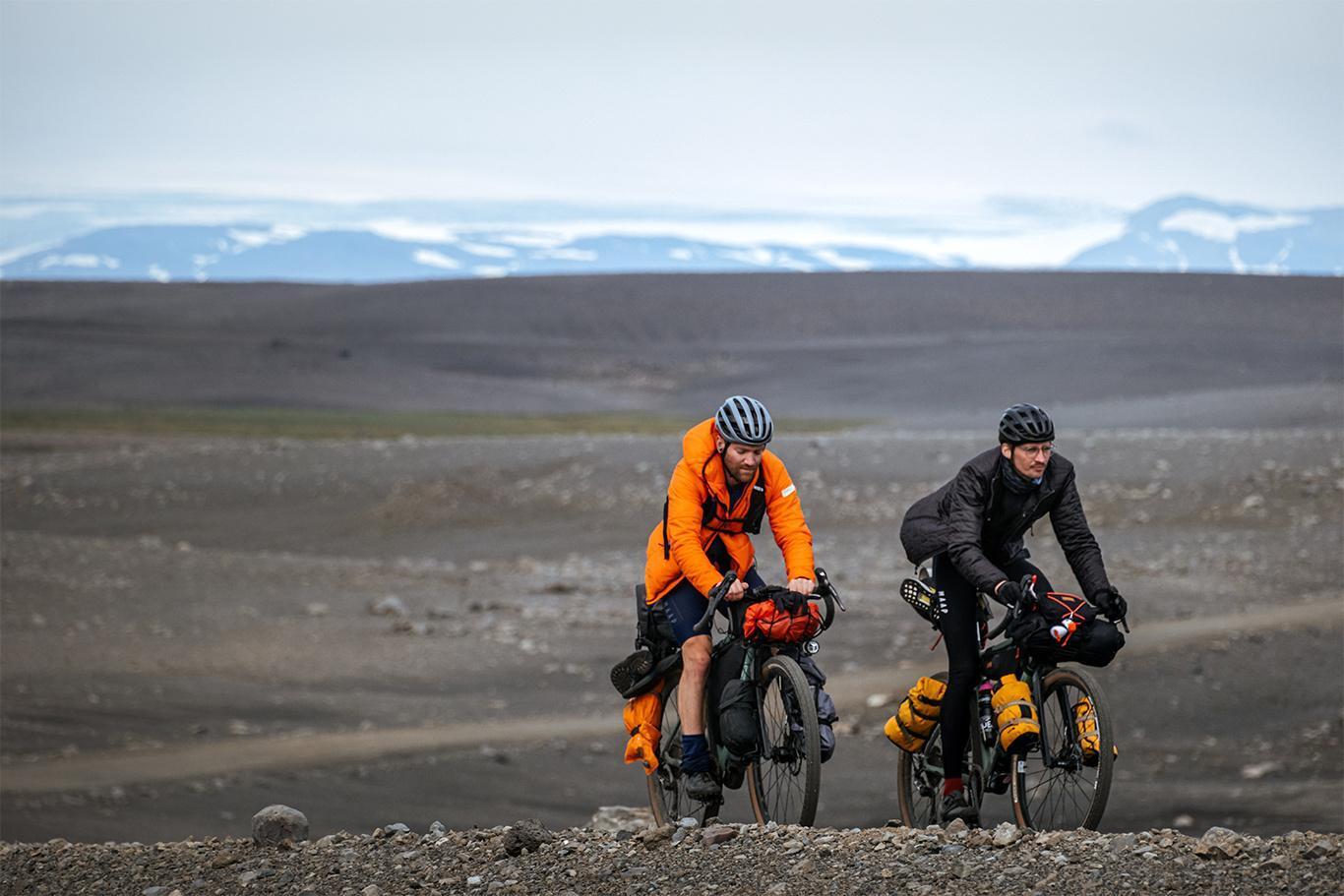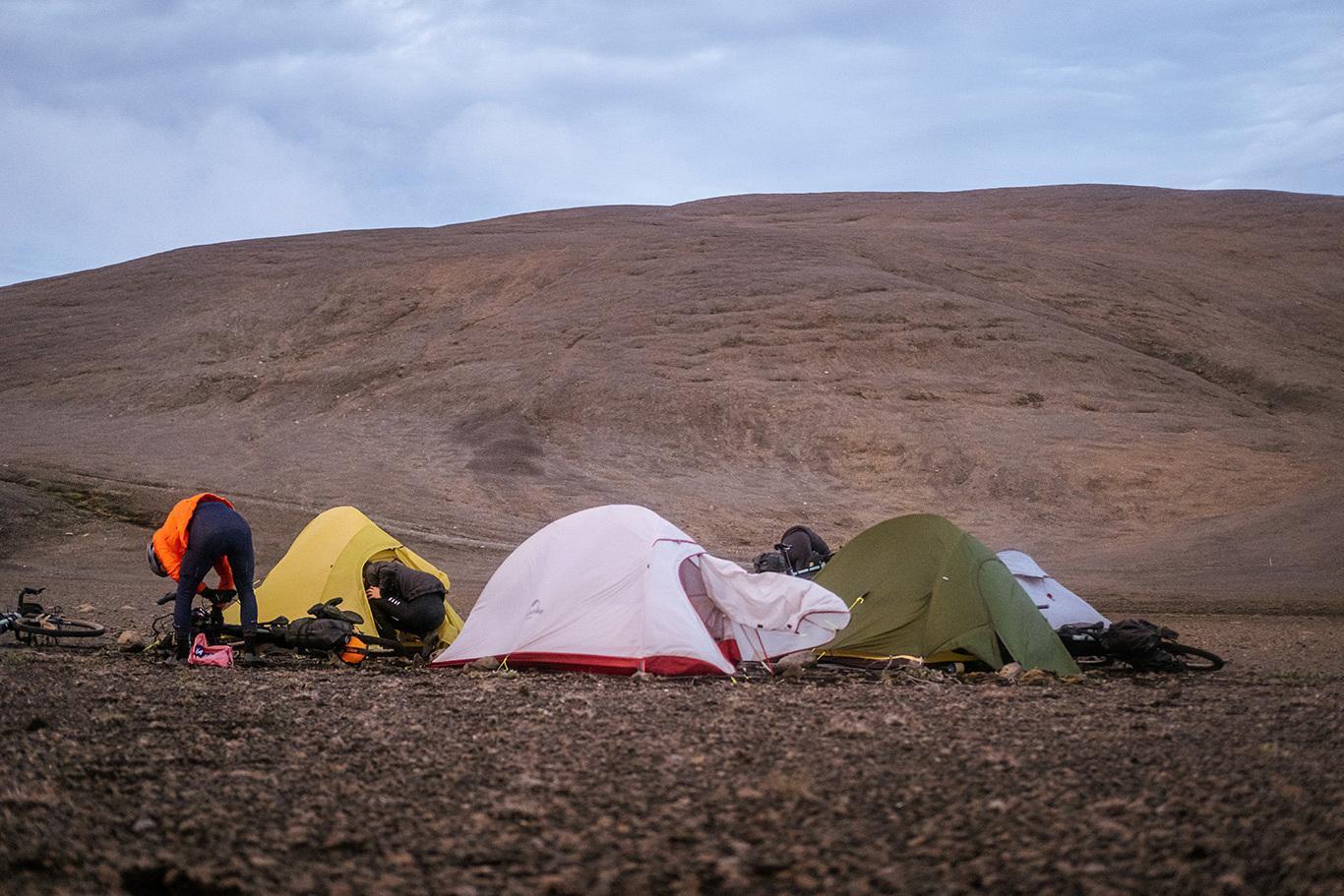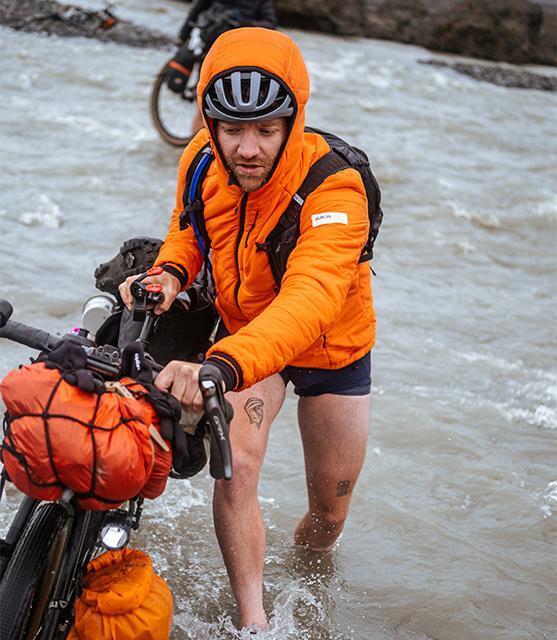 At around 7 PM we stumbled upon a really big hut and there were actually people!! And there was food! And drinks! The Icelandic boss lady looked pretty surprised when we more or less bought all the snacks they had and we very much enjoyed the chips and chocolate. While eating, we discussed if we should stay in this hut for the night or if we should try to ride for a few more hours. In Iceland, the sun sets very late in summer, so that really was an advantage for us.
Because we were behind our schedule, we went back on the bikes. When it was around 10:30 PM, we found a flat spot and decided to call it a day again. As soon as we started to pitch the tents, the wind got stronger and stronger and we knew this was going to be a long, long night. The wind was so heavy and the lightweight tents so flappy, that most of us barely slept for a few hours. Not a great start to a new day of being on the bike.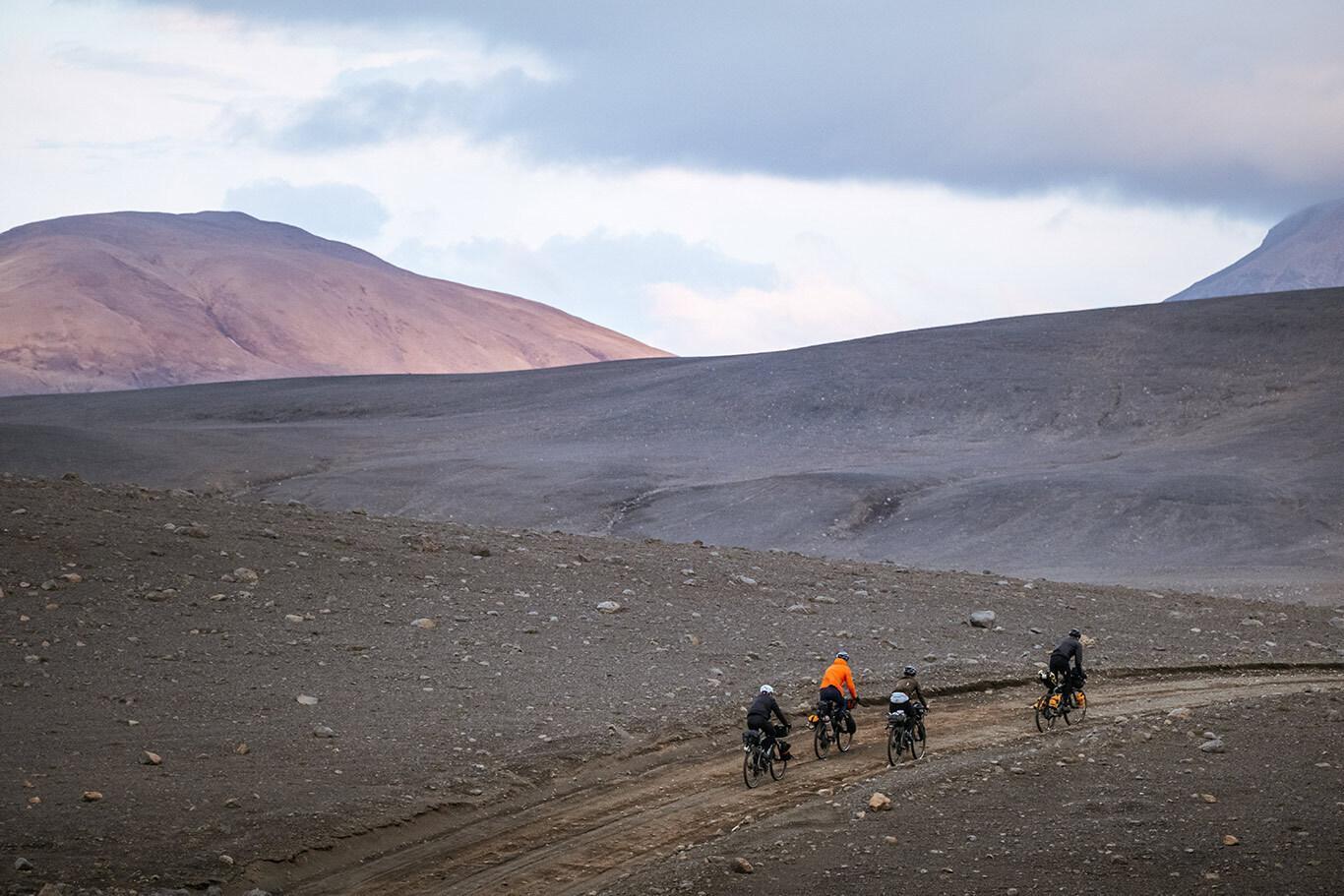 "WHEN YOU GET LOST IN ICELAND, YOU JUST HAVE TO STAND UP AND YOU´LL FIND THE WAY."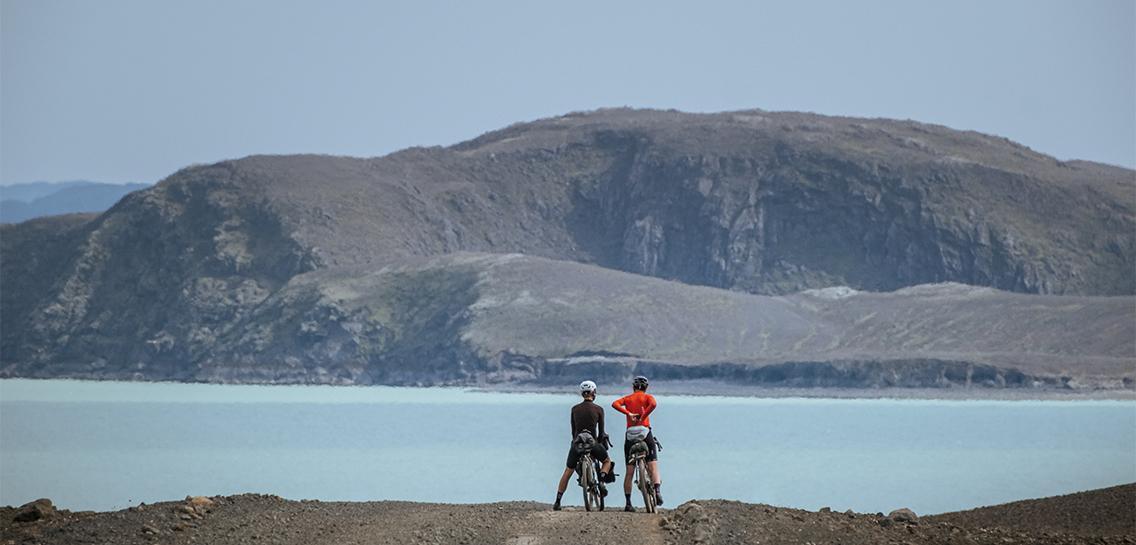 Because we all had a pretty rough night, we were awake early and knew it was better to start riding as soon as possible. This day was actually the day we would 'meet' tarmac again. But until that magic moment arrived, we had to make a lot of kilometres first. The surface was pretty humpy and bumpy, and when being pretty tired after some rough days, it was sometimes hard to focus on the surroundings. But the scenery got greener and filled with more life and the temperature rose as well, hallelujah! And then, all of the sudden, after a little climb, we saw the long-awaited tarmac. The excitement was real!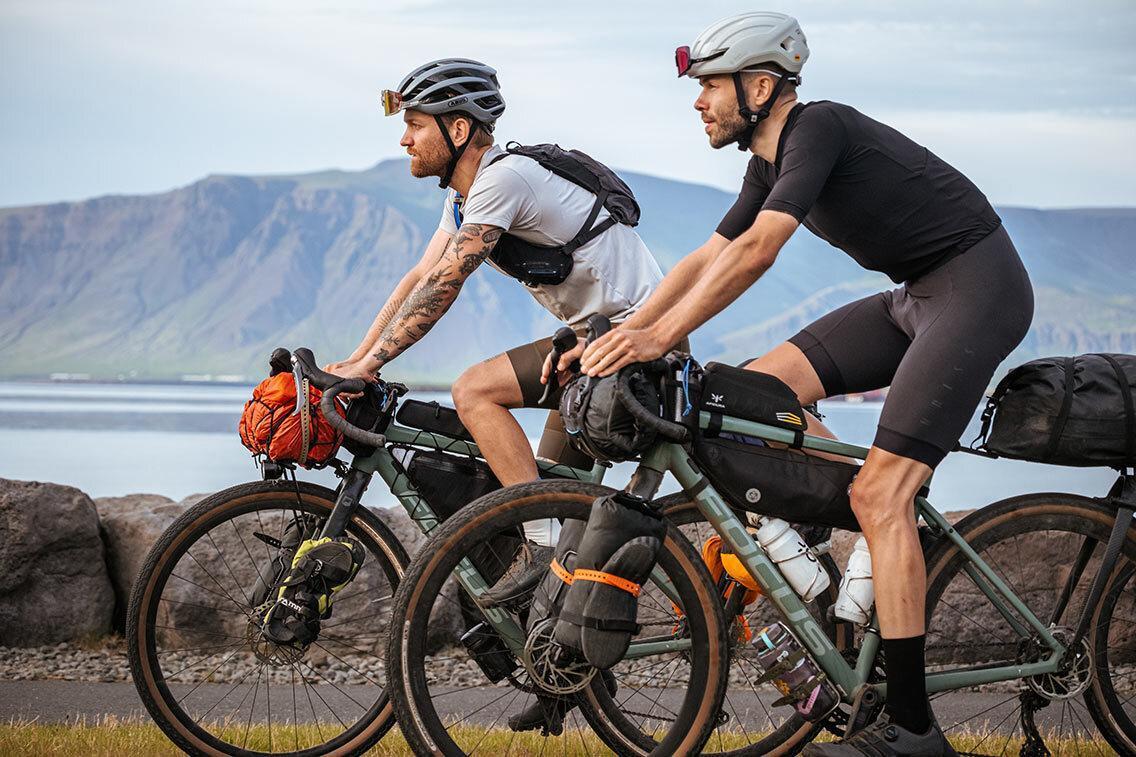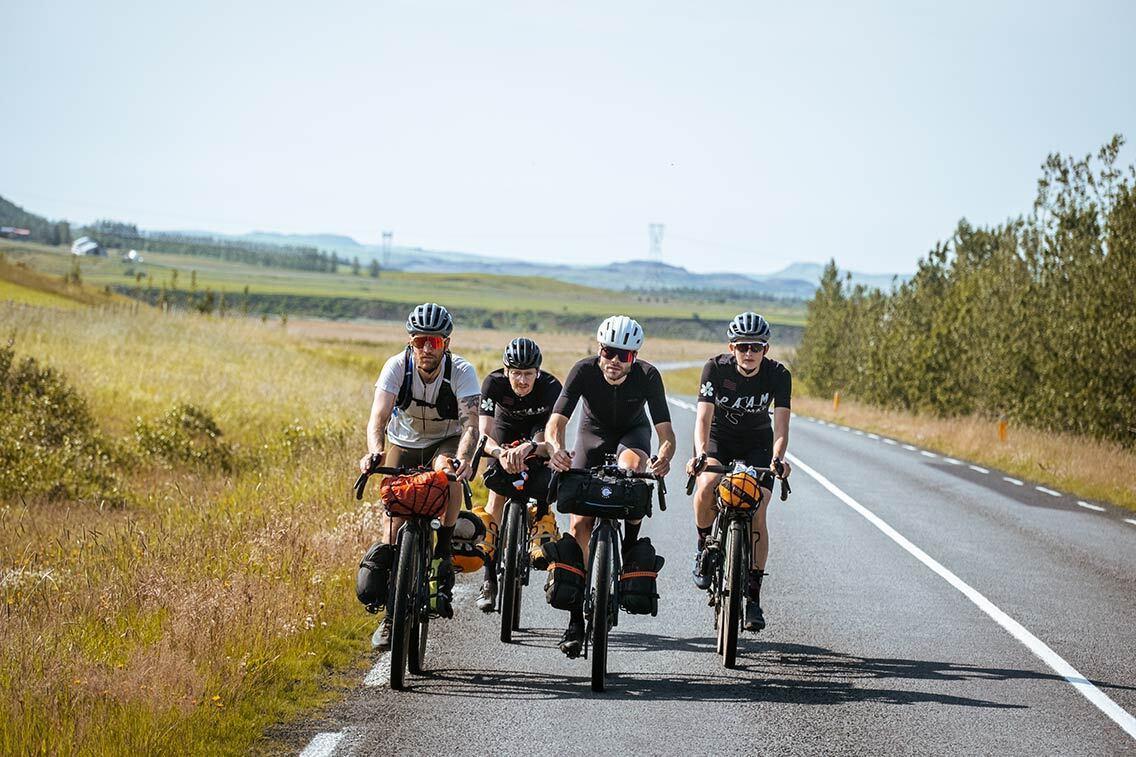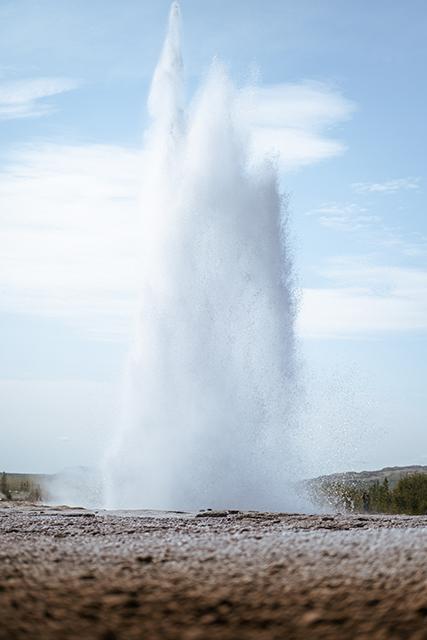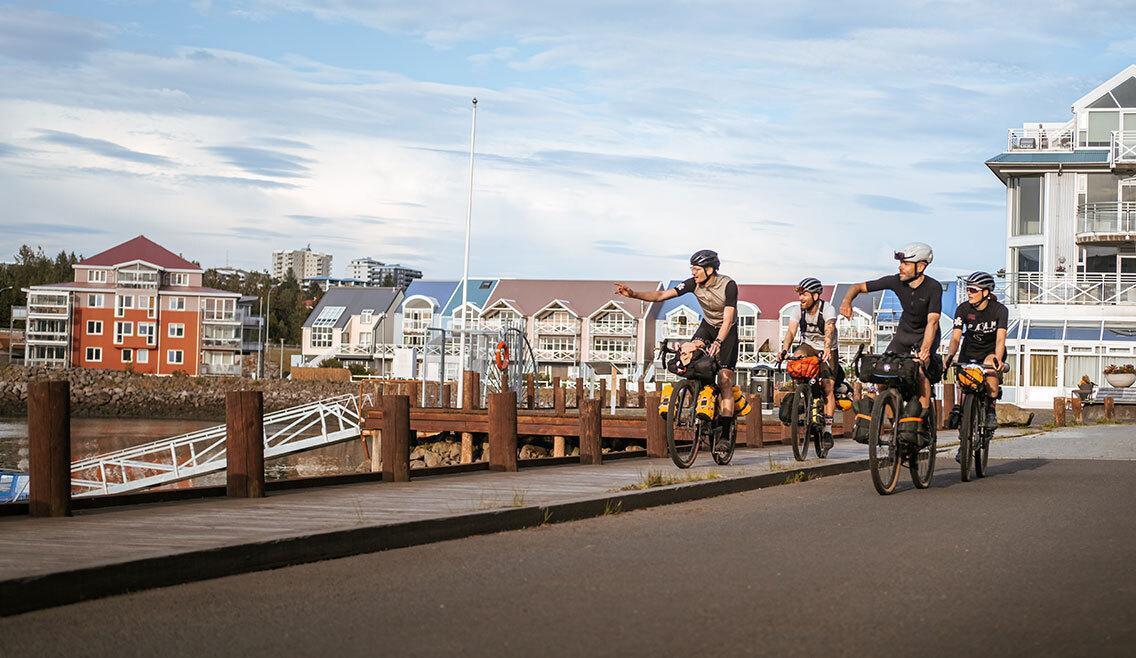 Reykjavik
is right in front of us
The final push! After 4 days of being on the bike, we only had one day to go to finish our adventure in Reykjavik. We were still a little behind on our daily 130 km schedule, but as it would be only on tarmac we were confident to manage this! After the first 40-ish kilometres, we passed one of the touristic highlights of Iceland: Geysers! We stopped to see this weird volcanic phenomenon. Following this crazy trick of Mother Nature, we had a greasy pizza (with banana?!) lunch and prepared for the final 100 kilometres.
The road was easy to ride on, but we faced A LOT of headwinds and some crazy steep climbs. So, unfortunately, the pace was a lot slower than we hoped. However, kilometer by kilometer, Reykjavik got closer. We reached a point of sheer exhaustion. This was the day we talked the least to each other and we all enjoyed our own music and podcasts for a few hours. At around 8 PM we finally arrived at Reykjavik! While having dinner it started to sink in: Holy mother, we made it!! We treated ourselves with an excellent hotel and slept like babies!
"Looking back on this crazy adventure it really was like a rollercoaster and definitely all of us had to go beyond" Jasmijn van der Zwaan