review 15.05.2018
Versatility is the key - PARALANE Ultegra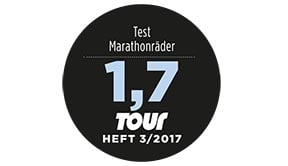 The specialist magazine Tour subjected the PARALANE Ultegra to a marathon aptitude test. The testers awarded it a rating of 1.7 – Very good – for its versatile top performance on any terrain and in all weathers. The testers were particularly impressed with its high spring comfort, lightweight design and wide-ranging gears. The German magazine also loved the mudguards, included in the price, and the R.A.T. thru-axle system with quick release. In fact, the testers were unable to find any negative points at all.
"What makes this all-rounder so interesting is the fact that it's impossible to pigeonhole".
"With the Paralane, Focus has successfully created a versatile performance bike that is at home on virtually any terrain".
Verdict: the lightweight design – just under eight kilos is light for a disc-equipped bike – enables comparatively dynamic handling. The proprietary carbon seat post ensures a smooth ride and the wide-ranging gears allow riders to find the right gear for virtually any terrain. The Focus-distributed, quick-release RAT system enables a quick wheel change in spite of the floating axles. Smooth-running 28" Schwalbe tyres round off the extremely impressive riding performance. The scope of delivery includes elegant mudguards from Cuarana that fit seamlessly on the smart integrated mounts.
The complete test report can be found in the 3/2017 issue of Tour magazine.